September 09, 2011 -
Barry Dorey
Scout's corner: Breaking down Nick Foles vs. Brandon Weeden
I spoke yesterday in my Arizona/Oklahoma State preview about the two main scouting points I would be watching for when breaking down the performances of Arizona QB Nick Foles and Oklahoma State's signal caller Brandon Weeden.
And for both quarterbacks, that consisted mainly in their abilities to be productive when asked to find secondary targets in the pass game.
Therefore, lets start with Nick Foles.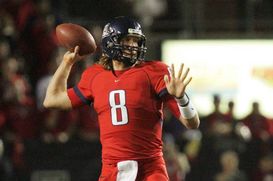 ICONFoles never looked comfortable when his initial man wasn't on.
There is no denying the natural arm strength and talent Foles possesses. And when his initial read was on I thought he displayed above-average accuracy, good confidence getting the ball out of his hands and was authoritative with the football.
However, he really struggled with his ability to decipher information quickly anytime his initial read wasn't' on. Now, I know he was playing behind a young offensive line, but I still wanted to see a more decisive quarterback in the pocket considering his experience. Foles really struggled to recognize coverages and find any type of a hot man all evening anytime he felt pressure. He didn't exhibit a real natural feel in the pocket, had a tendency to drift away from pressure instead of maintaining his balance and stepping up, and looked confused/overwhelmed anytime he needed to quickly locate a secondary option.
Plus, when/if he did find a check down guy underneath, his footwork was always so staggered that his accuracy and overall ball velocity was poor because of it.
Overall, even with the lack of ideal protection he had up front and the absence of his number one threat at receiver (Juron Criner), I still expected more from Foles as a decision maker in the pocket at this stage. His struggles in this area is something that has shown up on tape time and time again, and despite his gifted physical skill set, I don't think he's ever going to be able to handle the complexities of consistently moving the chains and making proper decisions vs. NFL caliber defenses as a starting caliber quarterback.
Weeden on the other hand I thought was much more decisive from the pocket all evening, making quicker decisions, looking off safeties initially and delivering the football on time. Weeden also did a much better job moving his eyes and feet in sync as well when he needed to find a secondary receiver, and to his credit has improved in that area from a year ago.
Now, there were still a couple instances when he felt pressure up in his face and instead of quickly finding a check down option, he drifted in the pocket, fell off his back foot and the ball fluttered away from his target. Which besides his age –will be 28 in October- how he handles pressure is one of the few reservations I have about the kid and is one of the main differences in the game of a quarterback like Weeden compared to say an elite QB prospect like USC's Matt Barkley.
Nevertheless, he threw the ball extremely well, his arm looked live and he tosses the fade into the end zone about as well as any quarterback I've seen.
Again, I think he falls further than his talent would suggest because of his age. But all in all he's still one of the top senior quarterback prospects in the draft, is a guy who warrants a potential starting look and a better overall grade than Foles.
Follow me on twitter: @WesBunting