September 14, 2011 -
Barry Dorey
Scout's corner: Defensive tackles rule
Observations and analysis from the second week of the college football season, including thoughts about some of the nation's top defensive prospects.
Don't bet against him…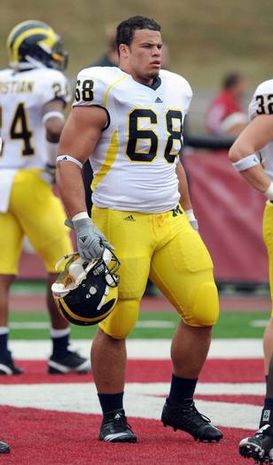 ICONMartin plays low inside.
Michigan DT Mike Martin is just one of those guys you don't want to bet against at the next level. He's a bit short at 6-1, 300-pounds, however, exhibits good ball awareness, possesses a "plus" first snap and maintains his balance well when threatening gaps inside. He's a former wrestler who plays with good leverage and uses his quick/powerful hands well to slip blocks when attacking up the field and working toward the action. Now, he is a linear athlete who isn't ever going to be a guy who can shed laterally and rush the passer. Nevertheless, as a one-gap, cover two type defender, Martin's motor, technique and overall ball awareness should serve him well as a potential starter in the NFL.
Find the football!
In a lot of scouting circles, Notre Dame CB Gary Gray was considered a draftable prospect entering the year with a possible mid-round grade according to some. However, when watching him on tape this summer I didn't really like what I saw then and I certainly didn't like what I saw Saturday night vs. Michigan as Gray was victimized time after time vertically down the field. And it wasn't' the fact he struggled to keep pace, as he is a solid straight-line athlete. It was his ability to look, lean and find the football that was downright atrocious. And it doesn't matter how good a defensive back's coverage skills are, if he can't find the football he's never going to make plays, which is my biggest fear concerning Gray as he looks nothing more than an "athlete" free agent at this stage.
USC up and down...
Watching the USC defensive line this past weekend vs. Utah I came away somewhat unimpressed by the overall lack of dynamic pass rushers the Trojans possessed. In particular inside at the defensive tackle position. Senior DaJohn Harris is a big kid at 6-4, 310-pounds and has the type of physical make-up of a guy who can play with both power and explosion off the line. However, he struggles to keep his pad level down off the ball, gets upright too often into contact and really negates his power at the point. Now, he is an above-average athlete for his size, but not the type who can suddenly shed blocks when he gets upright and close on the football. He used his hands well to eventually shed, but most of his pressures came when the QB fled the pocket prematurely and at this stage is more of a "size/athlete" free agent.
DE Nick Perry on the other hand looks like the Trojans best pure pass rusher off the edge. He possesses an electric first step, eats up grass quickly and has the burst to threaten the corner. He also does a nice job extending his arms into contact and displays the length/body control to maintain balance when fighting his way off blocks and accelerates toward the QB quickly once he gains a step. Now, I'd like to see him be more violent with his hands when trying to slip/disengage as he has a tendency to get caught up too easily in hand battles. He also is a bit inconsistent dropping his pad level around the corner. Nevertheless, he's explosive off the snap, has good length for his size and possesses the type of lateral suddenness to counter off his speed rush and threaten back inside as well. As of now, looks like a second tier type prospect as a 34 rush backer if he were to enter the 2012 NFL draft.
Driving me crazy...
Finally, the enigma that is Penn State defensive tackle Devon Still was on display once again Saturday vs. Alabama. At 6-5, 310-pounds Still is a tall, powerful kid with a powerful upper body, long set of arms and natural quickness when asked to fight off blocks. However, as a run defender he too often allows opposing blockers to get under his frame and initially can be washed out inside on contact. Now, depending on how motivated he feels he does have the natural power/athleticism to shed the block after contact, locate the football and close on the play with impressive explosion for his size. However, as he wears down he seems content to be blocked and for a guy with his skill set is too easily sealed from the action at times. The talent is there for this guy to be an impact caliber 34 DE or 43 three-technique who can play three downs at the next level. However, pad level at the point of attack and motor are two negatives that are definitely a cause for concern.