September 26, 2011 -
Barry Dorey
Scout's corner: Does Weeden now rank ahead of Tannehill?
Observations and analysis from the fourth week of the college football season, including thoughts about some of the nation's top offensive prospects.
The Tannehill/Weeden debate….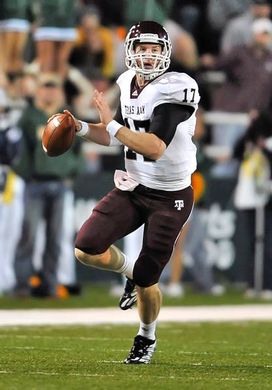 ICONTannehill's mobility gives him a major edge.
I know there's going to be a ton of opinions throw out there following the performance by both quarterbacks in this weekend's Texas A&M/Oklahoma State showdown. Despite Oklahoma State QB Brandon Weeden throwing for more yards and ultimately getting the win between the two, I still like Texas A&M QB Ryan Tannehill as the superior prospect. When watching Tannehill it's obvious that he's asked to do much more when handling the A&M offense compared to Weeden. His responsibility in going through his progressions and finding secondary receivers far outweighs Weeden and his typically more basic pre-snap read approach.
Also, I really liked how Tannehill kept his eye level up in the face of pressure, was very natural side stepping the rush and for the most part was able to maintain his balance while delivering the football. As opposed to Weeden who didn't look nearly as natural whenever he felt a rush, too often falling off throws and even started to feel phantom pressure once he got hit a couple of times.
Now, there is no doubt in my mind Weeden can make all the throws, much like Tannehill. However, after watching what both are asked to do at the college level, I think Tannehill will be much better prepared for the NFL game and will be able to contribute much earlier in his NFL career. And when you factor in the advantage Tannehill already has in mobility, pocket presence and overall upside, despite this one performance where you saw him throw three picks, I still like him long term as a better NFL prospect and future starting signal caller over Weeden.
Who is the nation's top guard?
When watching Pittsburgh OG Lucas Nix this weekend, it was clinical in the way he coiled up into his stance in the run game, snapped through the hips off the football and created an initial surge into contact. He's not a dominant power player, but he's balanced through contact, extends his arms well and can stick to blocks in-line. Add in the fact he's a "plus" athlete who is rangy/coordinated on the move and can mirror with ease in the pass game and you have a guy capable of starting early in his NFL career.
Therefore, when comparing Nix with a guy like Georgia LT Cordy Glenn --who will likely be asked to move inside to guard at the next level-- I see a guy who is more naturally powerful off the snap. However, Glenn doesn't bend nearly as well as Nix when sitting into his stance, he gets upright off the football and struggles with his balance through contact, at times falling off blocks prematurely. Both are coordinated in the pass game, but I thought Nix did a better job staying engaged and mirroring laterally.
Overall, I would rather have the more balanced/explosive guard prospect in Nix than I would a bigger, more naturally powerful waist bender who struggles with leverage and doesn't play nearly as physical as his frame would indicate in Glenn.
What kind of a tackle is he?
It's tough to be critical of Oklahoma State offensive tackle Levy Adcock after his performance Saturday afternoon considering he was asked to bounce back and forth between right and left tackle a number of times throughout the game due to injuries. Adcock is a natural anchor player who has the skill set to develop into a "plus" run blocker in the NFL and has enough range to push speed past the edge. However, he isn't a great lateral athlete through contact and needs to do a better job keeping his hands up and ready to punch in order to gain better leverage at the point. When he does engage he's a strong power player, but needs to improve his hand placement into contact. I see him more as a right tackle only who should warrant a dirty starter/potential starter grade, but he's going to need some time to get comfortable in more of a pro style offense before he's ready to start at the next level.
A slippery slot…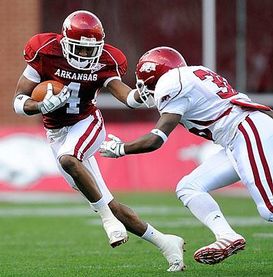 ICONWright is a tough cover inside.
With all the talent on the Arkansas offense it's easy to overlook wide out Jarius Wright and his 5-10, 180-pound frame. However, he not only possesses a real savvy to his game setting up routes from the slot. But he also displays impressive balance as a route runner, good short area explosion out of his breaks and the straight-line speed to run away from coverage. Plus, he's a tough guy who took a number of big shots vs. Alabama Saturday and held onto the football through contact over the middle of the field. He's limited to an inside player only at the next level. But certainly has the skill set to create in tight areas, separate underneath and create after the catch.