October 10, 2011 -
Barry Dorey
Scout's corner: ECU's Davis is exposed
Observations and analysis from the sixth week of the college football season, including thoughts about some of the nation's top prospects on both sides of the football.
He's back!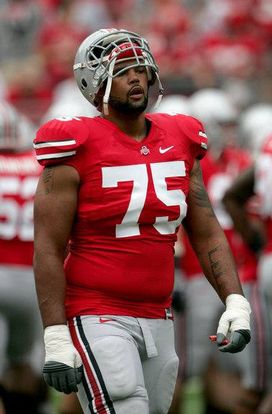 ICONAdams possesses great size for the position.
I wrote about Ohio State OT Mike Adams on Saturday, concerning if he in fact put in the time during his suspension to get better or if he was content to loaf. And after watching him Saturday night I can confidently say that Adams has been getting after it all off-season all. He was impressive in the pass game, was balanced on his kick slide, looked coordinated through contact and used his massive arms to keep defenders from getting into his frame. He also was very sticky in the run game and played with a mean streak all night finishing blocks. He still has a tendency to pop upright through contact in pass protection at times, but he can sink his hips when need be for a big guy and had one of the better performances at the offensive tackle position that I haven seen this year. Looks like a starting caliber left tackle in the NFL to me.
Get to know the name…
UAB left tackle Matt McCants is a tall 6-6, 295-pound tackle who possesses the natural width to continue to fill out his frame at the next level. He's a gifted, long-armed athlete with impressive range toward the edge, good fluidity/balance when asked to re-direct and is an elite athlete when getting out into the second level in the run game. He lacks ideal base strength and is forced to really widen his footwork in order to help anchor on contact. However, with a little physical maturity and added lower body strength, he's one of the few guys in the class with a capable starting left tackle skill set.
Is he a draftable QB?
It wasn't a pretty performance Saturday for ECU QB Dominique Davis, the 6-2, 212-pound signal caller was picked off three times and isn't nearly as impressive physically as many make him out to be. He stands upright in the pocket, doesn't generate much torque from his lower half and needs to wind up on his release in order to create velocity. He struggles to drive the football down the field, bucket throws really hang on him and overall possesses a very underwhelming arm. And despite his solid athleticism in the pocket, he's not the overly dynamic type athlete who will be able to run away from NFL caliber defenders consistently. Looks more like a developmental "athlete" free agent to me.
When will he show up this year?
Speaking of poor performances Texas DT Kheeston Randall finished the game this weekend vs. Oklahoma with one tackle and one quarterback hurry, nowhere near the production you would expect from a talent of his caliber. Randall displays a solid first step for his size and can threaten gaps at times off the snap. However, he plays with a questionable motor and his pad level is the real killer. He's not a real sudden athlete laterally and when he gets upright he loses any kind of power/balance, doesn't use his hands well and is easy to stick to through the play. Now, he's a gifted size/speed athlete, but looks more like a developmental type defensive lineman who is going to have to put in plenty of work if he hopes to stick to an NFL roster long term.
NFL ready…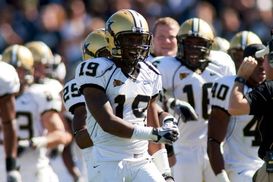 ICONHayward is an ideal cover two corner.
One guy who does look NFL ready is Vanderbilt cornerback Casey Hayward. He's a bit limited in the speed department –looks like a low 4.5 guy-. However, he's got a great feel for zone coverage, is balanced when asked to click and close, showcases the physicality to routinely disrupt timing off the line and locates the football extremely well. He did a nice job Saturday making it tough for the Alabama receivers to get off the line and routinely was proactive jumping routes and helping out in run support. He lacks a ton of upside, but as a cover two type guy he should be able to fill a niche early for an NFL defense.
Iowa State OT Kelechi Osemele (6-5, 347)
The good…
When watching Osemele as a senior he looks a lot more natural keeping his base down and sitting into his stance. He exhibits "plus" quickness for his size off the football in both the run and pass game and uses his length well to gain leverage into contact. As a run defender when he keeps his pad level down through the play he can create an initial surge and really drive defenders off the football. In the pass game he displays the natural fluidity to mirror through contact and protects his chest well by extending those long arms.
The bad…
In the pass game he's so athletic for his size he almost has a tendency to overset at times toward the edge and can fall victim to the inside rush. In the run game he will let his pad level rise after his initial surge at times and take away from his lower body leverage and overall drive/power.
Overall…
This is a talented kid with natural fluidity, range and power. And as he continues to mature at the position, -like he did this past year- there is no doubt in my mind he has the makings of becoming one of the NFL's better guards or right tackles who can win in both the run and pass game.