September 19, 2011 -
Barry Dorey
Scout's corner: Florida State/Oklahoma breakdown
Observations and analysis on some of the nation's top offensive prospects from the Florida State/Oklahoma match-up.
Oklahoma
A second tier quarterback prospect…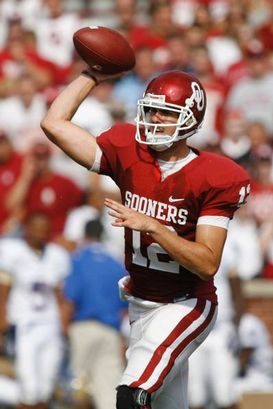 ICONJones had a number of flaws show up Saturday.
QB Landry Jones is a talented college signal caller. He's a big kid with a good enough arm, displays nice touch down the field and understands when to get the ball needs to come out. However, despite all his production at this stage, I don't think he's nearly the type of quarterback prospect many are making him out to be. When watching him this past week I didn't see a real gifted athlete who could quickly re-set his feet when trying to find secondary targets in the face of pressure and accurately deliver the football. I didn't see a guy who was a real quick decision maker when his initial read wasn't on. And I didn't see a guy who had the type of arm strength to be late with a throw down the field and get away with it.
To his credit when he does feel pressure he did a nice job keeping his eyes down the field and gave himself a chance to extend the play. However, he looked flustered throughout the second half of the game dealing with the blitz, trying to work through his progressions and accurately deliver the football. Now, when he did have time to balance himself in the pocket and step into a throw for the most part he was very effective. However, his ball placement was below average anytime he felt pressure and he didn't display the type of quick release to instantly snap the football out of his hands in order to avoid the rush.
All in all, I don't think he's one of the elite level quarterback prospects in this year's draft and I don't think he's in the same class as guys like Andrew Luck (Stanford), Ryan Tannehill (Texas A&M) and Matt Barkley (USC).
He has a role…
I posted my Ryan Broyles scouting report on Friday at the NFP and saw nothing Saturday night vs. Florida State that I haven't seen from him on tape over the past two seasons. Broyles is a savvy, fluid athlete who knows how to separate in the pass game. He knows how to change speeds, is sharp/balanced out of his breaks and does a nice job running through his routes and accelerating when changing directions. Now, he's not a dynamic size/speed athlete and I don't see him as a legit outside receiving threat who can consistently beat press man at the next level. Nevertheless, he's not some turtle either and as an inside slot guy, Broyles has the short area quickness to create after the catch; he can be physical when finishing and always seems to know where the down marker is. He's an ideal slot men who can move the chains and will be able to beat a two way go routinely in the NFL.
Better, but still has a long way to go…
Oklahoma left tackle Donald Stephenson looked improved from a year ago as he played more balanced as pass blocker, stayed lower initially out of his stance and displayed more recovery range than I saw from him on tape a year ago. He still has a tendency to double over at the waist into contact, which becomes apparent especially in the run game, as he can be easily slipped/side stepped on contact. But, he's coordinated on the move, can get into the second level and at 6-6, 307, you could do a lot worse when looking for developmental late round tackles.
Florida State
Offensive Tackle double trouble…
RT Zebrie Sanders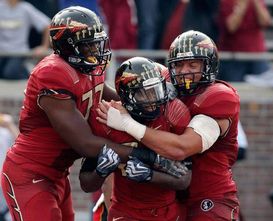 ICONDatko and Sanders both have the talent to start at the next level.
I was a fan of Sanders this summer on tape, as he performed very well vs. some of the top-tier competition in the ACC. And again, I thought he was solid once again Saturday night. As a pass blocker he displayed enough balance/range to reach speed off the edge and did a very nice job cleanly re-directing in space in order to pick up blitzing backers and/or recover on any kind inside move.
Now, I'd like to see him improve on his punch. He isn't real compact to uncoil, doesn't always protect his chest and has a tendency to stop moving his feet through contact, which resulted in a 4th quarter sack and a first half holding call. Nevertheless, I thought he was impressive sticking to slide down blocks off his frame, was very effective on the move reaching defenders at the second level and looked like a zone type tackle to me who with a little coaching should be a solid starting option potentially at the next level.
LT Andrew Datko
Datko on the other hand is the rangier athlete off the edge. He had no trouble at all reaching speed vs. Oklahoma and is a "plus" caliber athlete in space. He did a number routinely in the run game on DE Frank Alexander, not only sticking to him through contact on slide down blocks, but when needed was able to gain leverage and get a push off the football as well.
Now, as a pass blocker, I don't think he's as naturally balanced/fluid as Saunders laterally and will struggle to make up for a false step. Also, his one main pressure was when he was caught trying to get aggressive off the line, got overextended into contact and was side stepped laterally once he lost his balance. He also gets a bit upright into contact at times and can be bullied vs. the bull rush. To his credit he does re-work his hands well through the play, but initially will give up leverage and can be rocked on contact because he lacks the same type of natural length that Sanders possesses. Overall, I think as an athlete Datko has the ability to mature into solid starting caliber left tackle at the next level. But is going to need some time to get stronger as he might have an issue with power players initially.