October 03, 2011 -
National Football Post
Scout's corner: How did Crick perform this weekend?
Observations and analysis from the fourth week of the college football season, including thoughts about some of the nation's top defensive prospects.
Michigan State DT Jerel Worthy
The good… Worthy's explosive off the ball and routinely is able to anticipate the snap count. He possesses the burst and pad level to knife his way into the backfield and uses a compact/nifty swim move to defeat blocks on contact. When he can win with his first step, the guy has the talent to dominate inside.
The bad…
If he doesn't win with his first step Worthy is a very average football player. He allows his pad level to get upright through contact, doesn't showcase much in the form of lateral quickness and doesn't use his hands well to disengage from blocks. He was held up routinely inside by Ohio State pivot Michael Brewster in pass protection and needs to be more than just a one trick pony off the snap.
TCU LB Tank Carder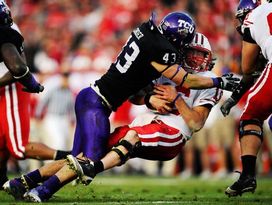 ICONCarder needs to play in tight-quarters in order to be effective.
The good…
He's an instinctive linebacker who finds the football quickly, will extend his arms to fight off blocks and displays just enough short area quickness to avoid contact and put himself around the action. Plus, he uses his length well to wrap up in tight quarters and overall is a very sound tackler when asked to play in a phone booth.
The bad…
However, anytime Carder is exposed to space he really has a tough time re-directing quickly, collecting himself and making a play on the ball carrier. He's a tight-hipped kid who struggles to keep his pad level down when changing directions, doesn't generate much depth at all in his drop and lacks the range to turn and run with receivers down the field. Now, he does have some savvy when trying to get his hands on pass catchers in tighter quarters, but overall he's a guy who will be limited to only playing in a 34 scheme where they can limit the amount of space he'll play in. Looks more like a reserve only.
Texas A&M CB Coryell Judie
The good…
Despite still being hampered by a hamstring injury Judie showcases natural cover skills in both press and off man concepts, sitting low in his drop, keeping his feet under him and fluidly getting out of his breaks with a burst. He displayed improved patience off the line in press coverage -shooting with the proper hands- while also playing to his strengths dropping into zone, feeling routes around him and using his "plus" burst to range toward the football and get his hands on the throw. A corner who can do a lot in a secondary and won't end up lasting long on draft day because of it.
The bad…
There wasn't too much to nitpick about his game this weekend, however when in press bail and zone concepts he still needs to do a better job disrupting the timing of the receiver and creating some kind of bump/contact off the line. He trusts his natural range in his drop so much that he is content at times just to work to his boundary without creating any contact. Nevertheless, I would like to see him be a bit more physical at times off the line.
Texas A&M DT Tony Jerod-Eddie
The good…
He displays a good first step, was able to threaten gaps off the football initially and possessed the natural balance/coordination to change directions as a pass rusher and use his length to fend off blocks. He was sudden into contact, was a really tough to mirror inside and once he gained a step, he routinely could fight through contact and create pressure both inside and outside the pocket in pursuit.
The bad…
Overall, his pad level was pretty poor. He pops upright off the snap initially, struggles to keep his base down vs. both the run and pass game and can easily be sealed away from the football inside vs. the run. He has the athleticism/range to make plays of his frame, but too often they come 5-plus yards down the field because he doesn't anchor with proper leverage and can be worked off the football. He certainly has the talent to make a roster and play in the NFL, but needs to learn to play with a more consistent pad level to have a shot.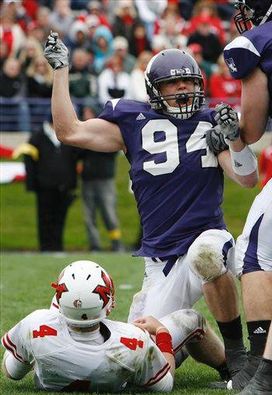 ICONBrowne has the passion, but doesn't offer a ton athletically.
Northwestern DE Vince Browne
The good…
A mature kid who plays with a great motor, has a long/angular frame and eventually can work himself free on contact. Also, fires off the ball low for his size in the run game and initially can create a surge.
The bad…
He simply doesn't possess any physical/athletic quality dynamic enough at the next level to win consistently as a pass rusher. He lacks a great get off, doesn't change directions well and isn't' powerful enough to routinely work the bull rush. He didn't create any pressure at all this week vs. one of the better offensive tackles in the country (Illinois' Jeff Allen) and overall doesn't have the upside needed to warrant a pick at the next level.
Nebraska DT Jared Crick
The good…
There is a natural get off burst to his game as he has the ability to threaten gaps off the football and does extend his arms well into contact. He showcased some violence at times in the run game as well when asked to shed and possesses "plus" range and motor off his frame when working in pursuit.
The bad…
Against a powerful Wisconsin offensive line, outside of the first play of the game where he was driven off the ball initially, shed and found the ball carrier I though Crick failed to make much of an impact. His higher pad level took away from his effectiveness as a pass rusher as he could routinely gain a step, but struggled to fight his way through contact. And vs. the run game he didn't demonstrate the kind of anchor needed to hold his own vs. a bigger, more physical front consistently as a defensive tackle at the next level.