November 14, 2011 -
National Football Post
Scout's corner: Is Melvin Ingram the most versatile prospect in the draft?
Observations and analysis from the 11th week of the college football season, including thoughts about some of the nation's top prospects on both sides of the football.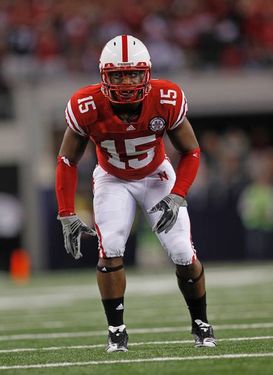 ICONDennard has improved his feel in off-coverage.
• Nebraska corner Alfonzo Dennard has become a bit of a measuring stick for me vs. the top Big-Ten receivers. And Saturday he again looked physical off the line, was able to re-route and tackled well on the edge. However, most impressive was his improved feel in off-coverage and his lack of wasted motion clicking and closing on the football. He did a nice job quickly recognizing the three-step game, staying low in his drop and closing on the football. He possesses a talented skill set, good physicality and the ability to play in a number of schemes at the next level as a starter.

• I love the versatility of South Carolina defensive lineman Melvin Ingram. At 6-2, and nearly 280-pounds he's an impressive pass rusher inside at DT firing off the football, keeping his pad level down and using his long arms to keep himself clean while knifing his way into the backfield. He's comfortable rushing from the edge as well, but also showcases the athleticism to drop off into coverage, stay compact and get good depth in his backpedal. He's a guy who has the skill set to play in any number of schemes and create miss-matches picking on the weak link off an offensive line. Looks like a very capable starter because of it.

• Clemson hasn't had any trouble producing quality NFL defensive linemen over the past five years. And DT Rennie Moore exhibits the initial burst and athleticism to potentially make a splash in a one-gap scheme at the next level. However, he still has a tough time keeping his pad level down into contact as he struggles with leverage and doesn't stay balanced enough to be effective disengaging from blocks. He needs to win with his first step in order to be effective vs. the run game as well, as he routinely loses the leverage battle and can be washed out easily on contact.

• There is no doubt that Mississippi State left tackle James Carmon had some troubles vs. Alabama this weekend. The 6-7, 330-pound lineman was called for three false start penalties in the first half and still doesn't look comfortable yet on the blind side. However, not only is he a former JUCO kid, but was recruited by Mississippi State as a defensive lineman and has limited experience on the O-line. Now, to his credit he can bend, has some natural athleticism to his game with a long set or arms and a really heavy set of hands. There is also some initial quickness to his game as well in pass protection. But he has a tendency to get overextended trying to reach speed off the edge that he seems capable of reaching and he hasn't quite figured out how to sink his hips when anchoring. Nevertheless, despite being benched at halftime he's a gifted athlete for his size who at worst is worth a developmental/free agent grade. He's the type of lineman I would love to have/develop on my practice squad for a year.
For more prospect breakdowns click to page two...