September 15, 2011 -
Barry Dorey
Scout's corner: Key scouting points to look for in tonight's LSU/Mississippi State showdown.
A look into five keys that scouts will be breaking down throughout the Mississippi State/LSU matchup Thursday.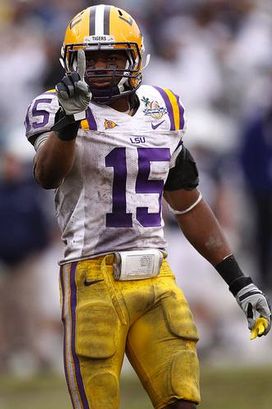 ICONTaylor is a talented kid, just needs to check out medically.
Is LSU safety Brandon Taylor ready to breakout? Taylor was among the Tigers best defenders last year until a leg injury caused him to miss the final portion of the season. He's taken on more of a leadership role this year and when healthy he can change directions, breakdown and tackle in all areas of the game. It's just a case of seeing if he's healthy enough to improve off his 2010 play. If so, he could be one of the few draftable senior safeties in this year's class.
Watching Mississippi State offensive guard Quinton Saulsberry last year, I came away impressed with his athleticism and thought he held up well in pass protection and on the move as a run blocker. He's a four-year starter now who made the move inside to center this season. However, the biggest qualm I had with his game was his overall lacking awareness and inability to get off the ball on time. Physically/athletically I gave him a draftable grade, but I really worried about his overall feel for the game. Therefore, checking in to see how he's handling the rigors of the center position –making the line calls, being decisive picking the blitz- will be key in determining his final grade as a senior.
LSU TE Deangelo Peterson looked to be on the verge of having that breakout season, opening up with four catches for 63-yards vs. Oregon. However, the on again, off again Peterson had only one catch vs. Northwestern State last week and consistency to his play is still his biggest question. He's a "plus" athlete who can run, get down he seam and track the football. However, he doesn't pay much attention to detail and watching to see if/when the light ever goes on with this kid will be key. Because if it does, he's got the skill set to be one of the draft' top receiving tight end prospects.
Can LSU quarterback Jarrett Lee turn himself into a late round pick? Lee has some talent, he's got sneaky arm strength for his size, when he sets his feet he is accurate with the football and seems to be getting more comfortable in the offense. He's a tough kid as well who isn't afraid to hang in the pocket and take a lick. But, I want to see him improve his footwork, maintain balance in the pocket and consistently stride toward his target and not fall off so many throws. However, he's a kid who has battled adversity and I expect to get better as the year goes on.
Finally, one of the toughest parts of the game for younger corners to handle is staying focused vs. a team who doesn't throw the ball much. Therefore, when watching LSU junior corner Morris Claiborne it will be important to see how into the game he stays. There is no doubt he's a talent kid with good size, body control and natural explosion. However, big time corners like Claiborne like to make plays and get their hands on the football. Therefore, it's vital he doesn't try to force the issue, jump a route that isn't there or get lackadaisical with his technique. Basically, is he mature enough at this stage to maintain focus throughout?