September 08, 2011 -
Barry Dorey
Scout's corner: Key scouting points to look for in tonight's Oklahoma State/Arizona showdown.
A look into five keys scouts will be breaking down throughout the Oklahoma State/Arizona matchup Thursday.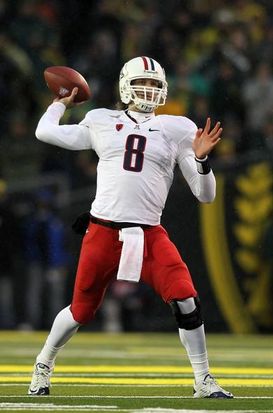 ICONFoles has the talent, but does he "get it" from the shoulders up?
• Has Arizona QB Nick Foles continued to develop in the mental aspects of the game? We all know the guy has a big time arm; he can make all the throws and really spin the football. However, has he improved his ability to find secondary targets not only off his initial read, but across the field as well? Too often last year he got caught locking onto his primary target and trying to use his big arm to force the ball into coverage. He's got the physical talent, but I want to see where he's at as a decision maker early in the year.
• The same can be said about Oklahoma State QB Brandon Weeden, but to a lesser extent. Weeden does a better job than Foles finding secondary targets in the pass game and is more consistent working the entire field. However, where Weeden will get himself into some trouble is throwing blind into coverage and getting sloppy with his footwork when asked to re-set his feet. Therefore, watching to see if he has a better feel of recognizing defenses and if he plays with a wider, more balanced base when asked to re-set and throw are the two keys I will be watching from him tonight.
• Protecting Weeden on the right side will be OT Levy Adcock who at 6-5, 322-pounds adds a lot of physicality to the O-line with his ability to get after it in the run game. However, I'll be watching to see how his footwork has improved from a year ago in pass protection as he too often had a tendency to get upright and overextended with his initial kick-step off the edge. He's a coordinated kid who can bend and slide his feet laterally, but coming from a JUCO there were some raw parts of his game I'll be looking to see if he cleaned up. And if he does, he'll end up ranking as one of the draft's top right tackle prospects on my board.
• Did WR Justin Blackmon take the off-season seriously? There is no doubt in my mind Blackmon has the ability to dominate at the college level both after the catch and down the field. However, at times when you get a prospect with his credentials coming back after giving some thought to the NFL draft, they might get a bit complacent. Therefore, watching to see if his combination of power and short area quickness off the line is as good as ever will be the key I'm looking for tonight.
• Finally, I really liked what I saw on tape from Arizona CB Robert Golden this summer. He has experience at both corner and safety, is physical in coverage and exhibited natural balance/re-direction skills to his game. He held his own with Blackmon in their match-up last year. Therefore, I'll be looking to see if he has improved to the point tonight vs. Blackmon where he should be considered one of the nation's top senior cornerback prospects, or if he's more of a safety only at the next level.
Follow me on twitter: @WesBunting