September 06, 2011 -
Barry Dorey
Scout's corner: Maryland/Miami have sophomore studs
While watching the Miami/Maryland showdown Monday night, there were a number of senior prospects who I wanted to check up on. However, I found myself glued to a pair of sophomores throughout who both played like legit NFL prospects.
NFL ready…
I'll start with Miami redshirt running back Lamar Miller who at 5-11, 212-pounds displayed an impressive blend of power, initial explosion and straight-line speed. He finished the game Monday with 18-carries for 119-yards and a touchdown on the ground and was really the Hurricanes only dynamic threat on offense the entire game.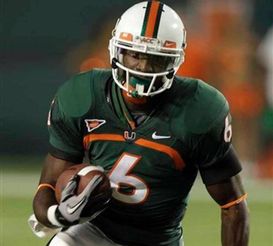 ICONMiller looks like a future NFL feature back.
However, for such a physically gifted back, Miller looked really natural feeling his way through traffic inside. He pressed the line of scrimmage quickly, exhibited impressive foot quickness and a fluidity in the hips when forced to jump cut laterally and/or make a man miss. And he accelerated extremely well away from defenders with straight-line speed to outpace angles in the open field. He also kept his pad level down well initially when attacking the line of scrimmage, stayed low when changing directions and finished behind his pads with a strong leg drive.
Overall, he's a more dynamic back than any other senior runner I've seen this year and outside of junior RB Trent Richardson from Alabama, I don't know if there's a back that's draft eligible that possesses a similar type skill set.
Now, he is only a redshirt sophomore and this is just one game. However, Miller is draft eligible after the year and if he does decide to come out, I could very easily see him not only being a potential first round pick, but end up challenging Richardson as the draft's top back come April.
He's the complete package, but remember speed gets you drafted high at the running back position and Miller has plenty of it.
He gets it, but needs some more time…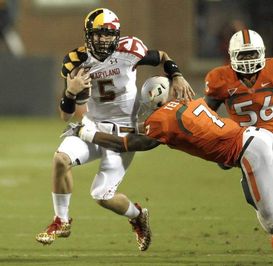 ICONO'Brien was in control of the offense all night.
Maryland on the other hand has a signal caller in Danny O'Brien who isn't nearly as NFL ready as Lamar Miller. However, if O'Brien continues to mature physically, he's a guy who could end up being a starter for an NFL team as well.
I came away really impressed with the redshirt sophomores overall feel for the game. From the get-go he seemed in control of the Maryland offense, no moment or situation was too big for him and he bounced back quickly from the mistakes he made without batting an eye.
At "6-3, 215-pounds," the rail thin quarterback prospect looks all of 200-pounds soaking wet. He's narrow framed through the upper body, possesses a skinny set of arms and needs to continue to fill out and mature physically. He does throw a very catchable ball and displayed the ability to get the ball outside the numbers and stick it into some tight areas down the seam. However, he still only possesses an average NFL arm at best.
But, his arm strength will improve as he fills out physically. He's a fundamentally sound kid who sets quickly from under center, remains balanced in his drop and does a great job keeping a wide enough base in the pocket and transferring his weight without being forced to step up into a throw. There just isn't a lot of natural power/girth on his frame to generate a ton of torque at this time. But, again that will improve as he fills out.
He got the ball out of his hands quickly and exhibited an excellent feel for the pass game for only a sophomore. Watching him go through his progressions across the entire field and being decisive with the football made me think that he was ahead of most of the senior quarterbacks I watched this summer on tape from a mental standpoint. He understands how to throw receivers open, displayed a good feel in the pocket and is a sneaky athlete once he breaks contain.
Now, unlike Miller in my view he's not an NFL ready prospect physically at this time. He's a guy who is going to need to continue to fill out if he hopes to end up being a high pick in either 2013 or 2014.
Nevertheless, I love what I saw from him from the shoulders up -which is rare for a kid his age- and I think there's a real future for him in the NFL with some further physical development, which should come as he continues to mature.
Follow me on twitter: @WesBunting