September 05, 2011 -
National Football Post
Scout's corner: Miami/Maryland preview
The top five senior prospects eligible to play in tonight's Miami/Maryland showdown.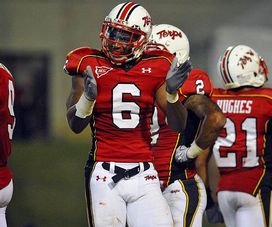 ICONTate is making the move to linebacker this year.
1. OLB/SS Kenny Tate: Maryland (6-4, 220)
I'm not a huge fan of taller safeties, so in my mind his best spot might be to add weight and play as a 43 OLB in the NFL. He's an athletic, naturally powerful kid who uses his long arms to shed and tackles well on the football. Plus, he's got good ball skills and instincts and I can definitely see him making plays sideline-to-sideline as a cover two backer.
2. RB Davin Meggett: Maryland (5-8, 215)
A shorter, thick back with a strong lower half, runs low and has the quickness/acceleration to pick his way through tight areas and explode toward daylight. Lacks a great feel, but has solid enough feel inside to be effective in the NFL both from the gun and from more tradition I-formation sets and should be able to work his way into a running back rotation as a productive piece.
3. WR LaRon Byrd: Miami (6-4, 218)
Is a big kid with natural ball skills, but I just don't think he's a wide out who will be able to separate regularly in the NFL. Guys with his size with this type of athlete and a dime a dozen and he looks nothing more than a 4th or 5th wide out in the NFL.
4. TE Blake Ayles: Miami (6-5, 265)
A former USC transfer who doesn't have a ton of production in the pass game. However, he's a natural bender who can win in the run game and is a coordinated pass catcher. Looks like a potential late round/free agent pick who could stick as a reserve short yardage guy.
5. OLB Ramon Buchanan: Miami (6-1, 222)
A gifted straight-line athlete who can run sideline-to-sideline and close on the football when he sees it. However, he's too slow to decipher information, plays tentatively and struggles to keep himself clean in traffic. Looks more like an intriguing special teams guy only as of now because of his size/speed combo.