October 11, 2011 -
National Football Post
Scout's corner: Mid-Major risers
A look at some Mid-major prospects who have really popped out to me on tape this year….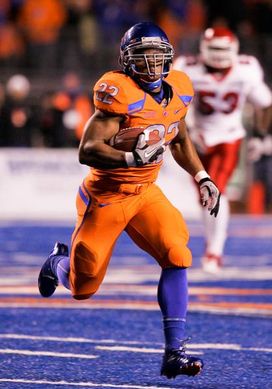 ICONMartin is the top ranked senior back on my board.
RB Doug Martin: Boise State (5-9, 215)
Martin isn't a dynamic size/speed athlete, but there aren't many negatives to his game as a back. He plays fast, runs low, is natural through the line of scrimmage and has a skill set somewhat similar to former Alabama RB Mark Ingram last year. He might fall a bit because he doesn't run overly well, but he has the skill set to start in the league.
OLB Miles Burris: San Diego State (6-3, 235)
A nasty, hard working football player who displays good instincts, a great motor and a lot of explosive elements to his game. At worst is a stud special teams guy with the ability to start at the next level. Can play either inside or out as well.
OT Matt McCants: UAB (6-6, 295)
Possesses a great looking frame that has the ability to get bigger and mature physically. Athletically all the tools are there for this kid to play left tackle in the NFL, just needs some time to make the jump in competition and mature physically.
DE Shea McClellin: Boise State (6-3, 255)
McClellin is a productive pass rusher with a big motor, good skill set and can get after the QB in a number of ways. Looks like a potential starter at the next level.
QB Case Keenum: Houston (6-2, 210)
Looks a little more physically gifted than former Texas Tech QB Graham Harrell and should be able to find a similar nice niche as a reserve quarterback in the NFL.