September 28, 2011 -
Barry Dorey
Scout's corner: My five most overrated prospects
With the college football season already four weeks in, here is my list of the top five most overrated prospects at this stage in the draft process…
Also be sure to listen to this week's edition of Scout Talk featuring CBS College Football Expert Bruce Feldman. We breakdown the top LSU secondary prospects as well as two of the nation's top senior quarterbacks.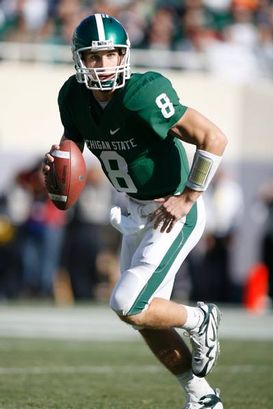 ICONCousins hasn't been overly impressive so far this year.
5. QB Kirk Cousins: Michigan State (6-3, 205)
A solid athlete who isn't overly impressive physically, but he has enough of a skill set to make it in the NFL. Nevertheless, he needs to take that next step in his understanding of the offense this year and cut down on the mental errors. Something he has yet to do. Cousins has struggled some in his last two outings, but has the big stage vs. Ohio State this week to prove he can perform with consistency vs. good competition. He's a good kid, a hard worker and possesses a number of similar qualities to some of the senior quarterbacks who came off the board early in 2011. (Ponder/Dalton). But, his struggles with pressure could hold him back from ever becoming an NFL starter.
4. DT Tydreke Powell: North Carolina (6-3, 310)
I think Powell might have been the most frustrating prospect for me to evaluate all summer and that's saying a lot considering I broke down about 350 kids. The guy can bend; he's explosive off the snap, athletic in pursuit and a naturally strong lineman. However, he's just not a real natural football player. He struggles to get off the ball on time, routinely stands upright causing him to play with little/no leverage and lacks the awareness to keep himself clean and find the football. His talent says top-100 pick, his play says free agent. If the light ever goes on, watch out. However, at this stage I have yet to see even a flicker.
3. OT Matt Reynolds: BYU (6-6, 322)
Reynolds has been atop of lot of draft boards in media circles for sometime now, however, when evaluating him vs. "plus" caliber competition all I see is an over hyped college left tackle who looks better suited to play on the right side or inside in the NFL. Plus, he's a bit older than most prospects, struggles with any kind of athletic change of direction move and in my mind looks more like a reserve/swing lineman in the NFL only.
2. DL Jared Crick: Nebraska (6-6, 285)
I do like the fact that Crick is a long armed kid with some natural change of direction skills to his game and knows how to use his hands to fend off blocks. He's a high motor player as well and displays a nose for the football. However, he plays too high inside, will struggle to anchor with any consistency in the NFL vs. the run game and I don't think he's explosive enough to be a big time threat as a pass rusher off the edge. He looks best suited to add some weight and play as a 34 five-technique where he has the frame to stack and shed and create some pressure off the edge. But that doesn't mean he warrants a top-ten pick in the NFL draft. Looks more like a solid starter only without much game changing potential.
1. OLB Brandon Lindsey: Pittsburgh (6-2, 250)
To his credit, Lindsey does showcase the ability to get after the passer in a number of ways and is at his best using his sudden lateral quickness to work a counter off his speed rush and come up and under. However, he just isn't dynamic in any area as a pass rusher. Lindsey isn't a great speed guy; he gets upright on his counter and possesses average power on his bull rush. He does extend his long arms well, but isn't overly compact/violent on contact. He's a guy with some upside, but I don't see him even as the prospect that former Pitt Panther teammate Jabaal Sheard was a year ago who went in round two.