November 21, 2011 -
National Football Post
Scout's corner: Notre Dame LB Manti Te'o is NFL ready.
Observations and analysis from the 12th week of the college football season, including thoughts about some of the nation's top prospects on both sides of the football.

Disappointing small school QB…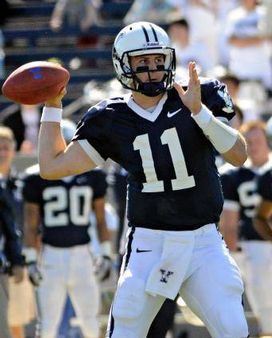 ICONWitt has a lower than ideal release point.
There has been a lot of hype surrounding the prospects of Yale quarterback Patrick Witt. The 6-4, 230-pound signal caller has a good looking frame, is a sneaky athlete in the pocket and to his credit does a nice job deciphering info and finding secondary targets. However, he's got a lower, sidearm like release, struggles with his footwork both in the pocket and from under center and doesn't possess ideal arm strength. His release point is also a bit inconsistent on the move and he just simply really struggles to spin a real clean football and generate much velocity into his throws at the second level. A number of throws this week vs. Harvard either hung on him outside the numbers or would just nose dive at the feet of receivers. Therefore, he needs to do a better job transferring his weight and playing a bit lower and with better knee bend in the pocket in order to create more torque from his lower half. So, there is some room for improvement and he should get a look in a camp. However, the idea he's a potential mid-round pick, in my view I think that's a bit ambitious.

Un-guard…

There are some athletic qualities to the game of Rutgers OG Desmond Wynn that I like. For a taller lineman he can bend, sit into his stance and showcases some natural quickness laterally in pass protection and even average range when asked to pull. However, at 6-5, 295-pounds he really struggles with leverage inside. He gets upright off the football in the run game, allowing defenders to get under his frame and easily work him into the backfield. In the pass game he displays some initial quickness and good length, but struggles with pad level, gets caught doubling over at the waist in order to anchor and will fall off blocks. Plus, when asked to pull, despite reaching his targets quickly he offers no pop at the point of attack when trying to kick out defenders in the hole. Overall, looks like a solid athlete with a long frame, but is going to have a really tough time handling power in the NFL.

Improving weekly…

If you want a defensive end who looks the part, Penn State's Jack Crawford fits the bill. The 6-5, 275-pound defender is a physically built kid with a long frame, powerful set of arms and is finally starting to put it all together. He's doing a much better job using his long arms and powerful hands to keep himself clean and disengage from contact in the run game and work the club as a pass rusher toward the edge. Now, despite his good motor and ball awareness he isn't a real explosive kid. He gets upright and there is some definite tightness in his hips, as he's not a guy who can drop his shoulder and flatten out on the edge. But, at worst he looks like a solid run guy who should be able to help out as a rotational defender early and possesses the upside to possibly mature into blue-collar starter.
For me breakdowns click to page two...