September 05, 2011 -
National Football Post
Scout's corner: offensive breakdown
Observations and analysis from the first week of the college football season, including thoughts about some of the nation's top offensive prospects.
Dynamic Baylor duo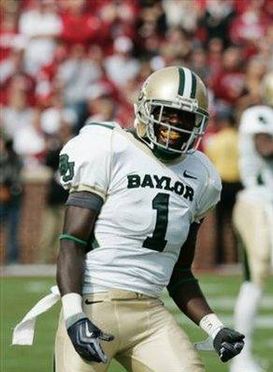 ICONWright is a big play waiting to happen.
WR Kendall Wright: (5-10, 190)
Watching Wright on tape this summer, I saw a guy with impressive straight-line speed who consistently was able to get behind defenses and track the football. However, he worked nearly exclusively from the slot last year and was more of a vertical route runner who was faster than quick. Well, watching him Friday night, he still is a bit tight as a route runner, as he really rolls into his breaks. Nevertheless, he's a well built kid at 5-10, 190-pounds who gets up to speed quickly, can absorb contact and has that second gear to go get the throw once it's in the air. He reminds me a lot of the kind of prototype receiver the Pittsburgh Steelers currently have on their roster in Emmanuel Sanders and Mike Wallace, as Wright gives you the ability to play both inside and out, create plays vertically down the field and routinely run away from defenders in man.
QB Robert Griffin III (6-2, 220)
You don't have to be a scout to notice the immense talent possessed by Robert Griffin III in either the run or pass game. The guy was absolutely brilliant Friday night and seems to have taken big steps forward as a passer this off-season. His touch/accuracy down the field on bucket throws was clinical all evening. However, what impressed me even more was his willingness to try to be more of a pocket passer and leader at the position. He seemed to be in control of the offense the entire game, did a better job initially looking off safeties in order to set up the deep throw and when he did plant his back foot, transfer his weight and stride toward his target, his accuracy was impressive in the intermediate pass game as well. Now, he's still raw with his overall footwork at times and when he breaks contain he's more of just an athlete throwing the football. However, he's got the unique ability to make tough throws from just about any angle and as a dual run/pass threat, the NFL hasn't seen a prospect of this caliber since Mike Vick back in 2001.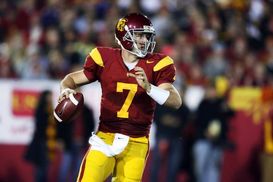 ICONBarkley is taking that next step as a QB.
In control
Speaking of being in control, QB Matt Barkley looks to really be growing in the USC offense under Lane Kiffin. He did a great job getting his team in and out of plays at the line of scrimmage, changed tempos throughout the game and was much more authoritative and decisive getting the ball out of his hands. When you watch the highlights your going to see his deep bucket throw down the field over and over, which he dropped in stride to his target. However, what stood out most to me was his ability to find secondary targets instantly in the face of an unblocked rush, stand in the pocket and deliver an accurate football. Those are the kind of plays that shows toughness, mental decisiveness and the ability to create when things breakdown. A must at the NFL level.
Out of control
On the other hand, Notre Dame quarterback Dayne Crist had a really rough performance Saturday vs. South Florida going 7-15 for only 95-yards and a pick. He looked tentative throwing the football all afternoon as he consistently locked onto his intended read and just didn't seem comfortable really striding toward his target and letting go of the football with much authority. His accuracy suffered throughout game because of it and when you have a quarterback struggling with accuracy, confidence and decision-making, the results aren't going to be pretty, which was the case this weekend.
Sleeper alert
It didn't take long for me to notice Utah State senior wide out Matt Austin Saturday vs. Auburn. When I first turned the game on Austin was lined-up outside on the boundary vs. press-man, where he used his combination of short area quickness and physicality to get inside on the corner, accelerate into his route and with ease pluck the football off his frame in traffic. He then ran through the football and outpaced an initial angle into the Auburn secondary before being brought down for a 30-plus yard gain. He isn't a burner, but plays quick and physical for a big guy, has natural hands when asked to pluck the football and was rather impressive a year removed from missing the 2010 season with a knee injury. Austin didn't make the National or BLESTO reports this year, but you don't find many guys at a non-BCS school beating press coverage vs. SEC caliber corners look so easy. Now obviously I'm going to have to watching him again throughout the year, but after only one performance, in my view, this is a guy worthy of a late round pick.
Follow me on twitter: @WesBunting