December 01, 2011 -
Barry Dorey
Scout's corner: prospect stock watch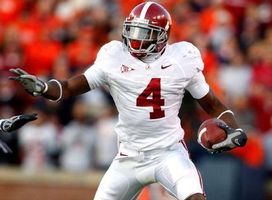 ICONBarron has improved his feel in the deep half as a senior.
DE Melvin Ingram: South Carolina (6-3, 276)
He is an impressive pass rusher who can get after the QB in a number of ways. Ingram is raw with his technique and can get better, but his suddenness, length and natural feel for the game makes me think he's one of the draft best senior pass rushers.
DT DaJohn Harris: Southern California (6-4, 310)
Improved his pad level, balance and hand usage as a senior and looks like one of the better senior DT prospects. Looks like an intriguing rotational guy with some long term upside.
SS Mark Barron: Alabama (6-2, 218)
Has the makings of a heck of a special teams player who can attack downhill, play inside the box and drive on the football in front of him in the pass game. Isn't going to be a threat turning and tracking the football, but his improved instincts makes me think he can certainly start in the league.
Click to page two for the fallers...
Follow me on twitter: @WesBunting