September 01, 2011 -
Barry Dorey
Scout's corner: prospects worth watching tonight
A look at five keys scouts will be breaking down throughout the Wisconsin-UNLV matchup Thursday.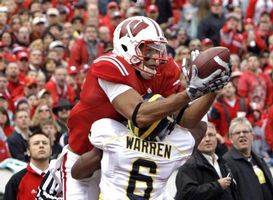 ICONToon has the talent to dominate at the college level.
• Does Wisconsin wideout Nick Toon have the type of dominant impact his skill set says he should? Toon at 6-2, 220 pounds is a coordinated receiver who accelerates well out of his breaks, uses his body to shield defenders and knows how to snatch the football. However, he still only managed to finished 2010 with 36 receptions for 459 yards. But with a new quarterback manning the offense Toon should have more chances to make plays vertically down the field and prove he's worth the kind of dirty starter grade his skill set says he should be.
• Speaking of the Wisconsin quarterback, how does former NC State transfer Russell Wilson handle the Badgers offense in his first year at the helm? He'll be asked to work more off play action this year and set and read from the pocket. He's a gifted athlete who is at his best on the edge, improvising with his feet and creating plays. Nevertheless, when he sets his feet he can still spin the football and exhibits "plus" touch down the field as well. The biggest question I have is… Can he be effective from the pocket in a pro-style passing game? At only 5-11, Wilson is going to struggle to see over the massive Wisconsin offensive line and routinely find throwing lanes, which could cause him to drop his eye level prematurely and look to run far too often. Therefore, his presence in the pocket will be a key evaluation point tonight.
• One of those massive offensive lineman Wilson is going to have to see over is OG Kevin Zeitler. Zeitler at 6-4, 318 pounds displays a good initial burst off the snap, extends his arms well and can run his legs through contact as an in-line guy. However, he does have his struggles in pass protection and a lot of that stems from him not getting off the snap count on time. Therefore, look to see if he improved his snap awareness as a senior, which could go a long way in boosting his draft stock as one of the top senior guard prospects.
• On the defensive side of the ball for the Badgers, free safety Aaron Henry has an athletic skill set that really caught my eye on tape this summer. He's a former corner with good range, body control and closing speed. However, as a first-year safety he struggled to read and react quickly, took himself out of plays and overall had a tough time routinely finding the football. His skill set says potential starter, his actual play says specials teams guy. Therefore look to see if he improved his instincts/awareness this offseason in his second year as a safety.
• Finally, be sure to check out UNLV wideout Phillip Payne. The 6-3, 205-pound target could give some of the smaller Wisconsin defensive backs fits on the outside. Plus, it will he one of his best chances all year to prove himself vs. BCS-caliber competition and show NFL teams he warrants a draftable grade. He's the top prospect I will be watching tonight from the Rebels.
Follow me on twitter: @WesBunting