December 05, 2011 -
Barry Dorey
Scout's corner: Ranking the Draft's Top 5 QB Prospects
Observations and analysis from the 14th week of the college football season, including thoughts about some of the nation's top prospects on both sides of the football.
Another prospect's stock inflated due to a poor class...
There are definitely some aspects of Oklahoma State OT Levy Adcock's game that I like. He's a tough, strong kid who has some snap off the football and can get into defenders frame and create a push in-line off the football. He's also a good athlete off the snap as well who can reach block on the edge and/or get into the second level. However, in order for tackles to get high draft grades in the modern day NFL they need to be "plus" pass protectors and at this stage Adcock isn't. He possesses above average initial quickness off the snap, but struggles with balance into contact. Too often he will stop moving his feet and buckle over at the waist at the point of attack and isn't a natural mirror player. Looks like a potential right tackle only because there is some athleticism and foot quickness there, but he's going to need time to tighten up his footwork and learn to help his base under him if he hopes to mature into a consistent starter.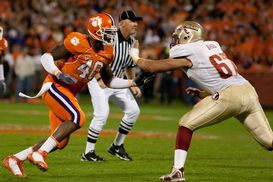 ICONBranch uses his length well to slip blocks.
The more I watch him the more I like him…
Clemson has a history of sending talented defensive linemen to the next level. And defensive end Andre Branch looks like the next prospect ready to make his presence felt in the NFL. The 6-4, 260-pound defender is a better athlete than I gave him credit for and despite being a little tight around the edge, he still knows how to use his impressive length and hands to keep opposing lineman from getting into his frame when trying to work the corner and turns speed into power well when fighting through blocks. Looks like a potential second round type prospect who can earn playing time in year one and fight for a starting role possibly the following season.
He threw it well…
Honestly, the Big Ten Championship game was the best I saw Michigan State quarterback Kirk Cousins spin the football all year. He displayed more velocity than he did at any point during this season when I watched him on tape and was much more efficient fitting the ball into fights windows in the intermediate pass game, something he has struggled with in the past. The biggest reason why? He played indoors. Cousins possesses a very average skill set and playing in the cold, windy, wet conditions of the Big Ten week in and week out isn't easy on a quarterback. Therefore, I can certainly see dome teams and warmer climate teams putting a higher grade on Cousins as a potential starting quarterback than say the AFC North squads who might view his average skill set as more as a back-up only.
For the top five quarterback rankings and more click to page two...
Follow me on twitter: @WesBunting