September 02, 2011 -
National Football Post
Scout's corner: snippets from Wisconsin/UNLV
Five keys I took from last night's game...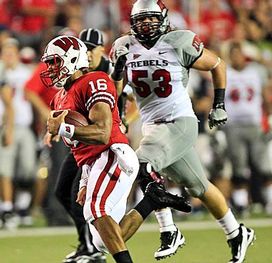 ICONWilson can be a threat with his legs.
1. Wisconsin quarterback Russell Wilson is going to add a big time threat to the Badgers offense this year with his legs. He plays fast in tight quarters and is a strong kid who accelerates well. However, his footwork in the pocket is a major work in progress. He doesn't keep a real natural base, fails to consistently stay balanced and routinely bounces up and down in order to see over the line of scrimmage. He missed on a number of throws last night due to his poor footwork and if he doesn't improve in that area, inaccuracy is going to be a problem that follows him around all season.
2. It was anything but the kind of performance UNLV wide out Phillip Payne wanted to have vs. a BCS school in front of a national audience. Payne simply looked overwhelmed at times last night causing him to lose focus and put two very catchable balls on the ground. Plus, he isn't a real sudden/explosive kid, struggled separate on any level of the field and was unable to fight through the contact of a 5-8 corner near the red zone and go pluck the football. Payne needs to play big in tight areas/jump ball situations if he hopes to have a shot of making it in the league. However, his lack of balance and inability to gather himself quickly and attack the throw at its highest point was alarming last night.
3. Speaking of that 5-8 corner, there is no doubt that Wisconsin's Antonio Fenelus is undersized. But the guy is balanced in his drop, fluid when asked to turn and run, and consistently is able to find the football. He stood out to me on tape as a natural cover man this summer and in my mind was clearly able to cover up Payne in their individual match-ups Thursday. Now, he isn't a guy who is physical enough to hold his own in press at the next level –as Payne was able to initially fend him off-. And his height is definitely going to hurt his draft stock come April. But as a football player I still think he can earn a spot on an NFL roster as a sub package inside player.
4. One kid who certainly passed the eyeball test Thursday night was Wisconsin right tackle Josh Oglesby. The 6-7, 330-pound lineman has a massive set of arms and for a big guy showed some bend sitting into his stance. However, despite some natural body control/coordination on his kick slide in pass protection, he wasn't a real compact/explosive puncher into contact. He would also get upright off the ball in the run game and struggled to gain leverage throughout. Now, he was so much more physically gifted than his opponents that he could get away with it most of the night. However, his inability to fire off the ball low and not waste motion off the snap in the run game are two aspects of his game that could end up being exposed once we get into Big Ten season.
5. On the other hand, watching RG Kevin Zeitler keep his base down, snap through the hips off the ball, gain leverage with his hands and run his legs through contact was very impressive all night long. Again, he was playing against a lower level of competition, but he looked explosive, powerful and played angry all night. And when it's all said and done, he might end up grading out as the nation's top senior guard prospect on my board.
Follow me on twitter: @WesBunting