November 02, 2011 -
National Football Post
Scout's corner: Stock Watch
The latest look at which prospects are rising and falling on 2012 NFL draft boards.
Risers…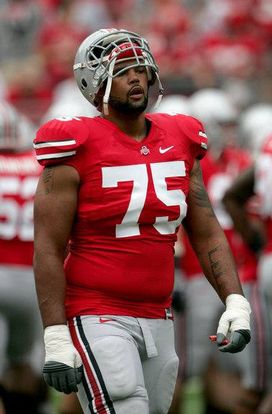 ICONAdams has been very good since his return.
DL Devon Still: Penn State (6-5, 310)
Still is really starting to put it all together as a senior as he currently has 15.5 tackles for loss to go along with his 4.0 sacks. He's an explosive kid who is doing a better job playing lower and using his hands to shed. If you can keep him motivated, he certainly has the talent to mature into a very good starting caliber lineman at a number of positions in the NFL and potentially warrants a top-20 pick.
OT Mike Adams: Ohio State (6-7, 320)
He's a talented kid with a big frame, long arms and natural movement skills. He's played about as well as any offensive tackle in the country following his suspension during the early part of the season and from sources we talked with the Buckeye coaching staff has been giving him very good reviews from a character standpoint to all scouts who have asked.
CB Casey Hayward: Vanderbilt (5-11, 188)
A smart, productive corner who will make plays on the football. He's not a guy who can consistently hold up in man on the outside in the NFL. However, he's shown the ability to routinely get early jumps on the football and come down with the catch. Hayward has gathered five picks as a senior and looks like one of the safer prospects in the draft as a cover two type guy.
Fallers…
OT Andrew Datko: Florida State (6-6, 321)
Datko is a solid athlete who can bend, re-direct and block in space. However, he's had some struggles with power this year when trying to stay engaged through the play. To make matters worse, he's also currently out for the season following shoulder surgery. Looks like a potential starting NFL caliber tackle, but might need a year to adjust and get stronger.
WR Greg Childs: Arkansas (6-3, 210)
A big, coordinated possession type receiver who can win in the three-step game and create some big plays for a team in jump ball situations as well. However, he needs to prove he is fully healthy after the season. Childs has looked like a shell of the guy we saw last season as simply doesn't exhibit the kind of burst needed in order to separate. His medical will be huge following the season.
ILB Tank Carder: TCU (6-2, 237)
Lacks the athleticism needed to play in space and isn't the kind of "plus" power guy to overcome/overlook his deficiencies inside as an athlete. Looks like an overachieving middle linebacker to me who you can't count on as a potential starter.
Check out the NFP's NEW 2012 DRAFT PAGE...