November 07, 2011 -
National Football Post
Scout's corner: The next Adrian Peterson?
Observations and analysis from the tenth week of the college football season, including thoughts about some of the nation's top prospects on both sides of the football.
Man-child….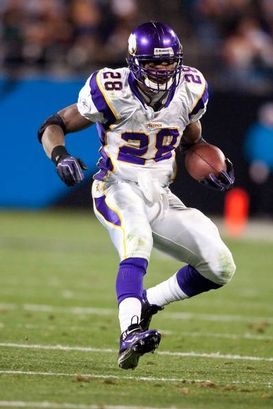 ICONIs Richardson the best RB prospect since Adrian Peterson?
Alabama RB Trent Richardson really does look like a man amongst boys even vs. top-tier SEC caliber competition. His aggressive running style paired with his combination of power and initial explosion really is rare. The guy breaks about as many tackles as I've seen at the college level since Adrian Peterson. However, what stuck out to me even more so about his performance Saturday evening was…
1. His ability to catch the football down the field.
2. His creativity and ability to simply make defenders miss in space.
3. His improved patience at the line of scrimmage.
Richardson isn't just a size/speed back who is limited in other areas of the game. This guy can create in the open field, be a reliable option catching the football and most impressively create on his own in tight areas. He currently ranks as the number two overall prospect on my board and looks capable of becoming one of the leagues better backs early in his NFL career.
Underrated safety…
In a star studded LSU secondary it's easy to overlook a guy like senior strong safety Brandon Taylor. However, ever since watching him on tape last year, all the guy does is make plays on the football. He's instinctive, balanced in his drop, showcases natural fluidity out of his breaks and good range closing on the football. He made a nice drive on the football coming downhill early against Bama this weekend and then showcased his range when asked to turn and run on a vertical route. Now, he did take a bad angle on Trent Richardson inside the box and whiffed on him once more in the open field. However, late in the game he displayed his "plus" instincts and feel for the game knifing into the backfield and creating a key tackle for loss. Taylor isn't a big time safety prospect, but in a weaker class, I think he's one guy who deserves more attention and is certainly one of the better prospects of the group.
Weak class helps his cause….
Speaking of weaker position groupings, the defensive tackle class in 2012 is about as soft as they come. Therefore, in one aspect it's going to help prospects go a bit higher than they typically should. But at the same time it's going to be tough to find legit potential starting caliber guys after the early rounds. Connecticut's Kendall Reyes fits this description to a tee. He's a nice athlete with a good get off and when trying to shoot gaps inside he can be a threat off the ball. However, too often he gets upright into contact in both the run and pass game and has a tough time disengaging. Now, he's a naturally strong kid with some coordination and eventually can fight his way through contact and find the football. However, there isn't a real sudden/explosive element to his game when looking to shed. And despite being one of the higher rated senior defensive tackles because of the poor class, he still looks like a guy who is going to have a tough time being a every down guy inside at the next level.
Finally healthy…
<strong>Oklahoma CB Jamell Fleming returned this week after missing the Sonners past two games following his knee scope. And he finally looked healthy and seems poised to take that next step as a prospect with a strong second half of the year. He's a well-built corner at 5-11, 191-pounds and has the ability to be balanced/physical off the line, turn and run and adjust to the football. He's got a good feel for the pass game, locates the ball well routinely and is a tough guy to separate from. He's not an elite athlete, but plays fast because of his natural body control/balance and looks like a guy capable of winning a starting job at some point within his first couple years in the league.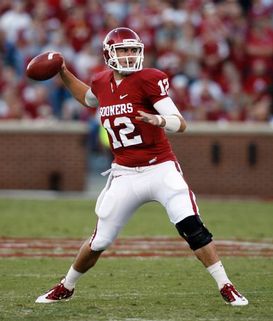 ICONJones will struggle with pressure.</p>
Quarterback points: What I saw from these two this weekend…
Landry Jones: Oklahoma
- He doesn't like pressure. Has a tendency to get happy feet and drift from the pocket when he feels any kind of rush.
- Isn't a great athlete inside the pocket, struggles buying himself time.
- Has done a much better job this year finding secondary options across the entire field.
- Exhibits good footwork when asked to reset his feet and deliver the throw to a secondary target, displaying good accuracy in the process.
Ryan Tannehill: Texas A&M
- Can make all the throws with ease. Spun a pretty deep out from the opposite hash early in the game where the throw was on time and in a tight window.
- Does have his struggles with touch on bucket throws.
- Will still throw blind into coverage at times when trying to find secondary options.
- Doesn't always decipher the defense well.
- Generates excellent torque and "plus" arm strength on the move when throwing down the field.
- In order to come up with a grade on Tannehill, you CAN NOT judge him based solely on where he is at now as a quarterback prospect, but instead look at where he can be. Remember, he's only started 15 games at QB at the college level, the equivalent to about one season. He's a bright kid and a hard worker with an impressive skill set who has the ability to be a very good starting NFL quarterback with some more time and development.
Follow me on twitter: @WesBunting