September 02, 2011 -
Barry Dorey
Scout's corner: The top five prospects worth evaluating tonight
Who you should be evaluating tonight…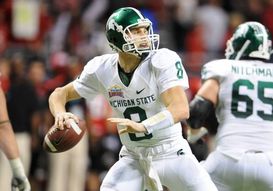 ICONCousins is considered by many as one of the top senior quarterback prospects.
1. QB Kirk Cousins: Michigan State (6-3, 205)
A solid athlete who isn't overly impressive physically, but he has enough to make it in the NFL. Needs to take that next step in his understanding of the offense this year and cut down on the mental errors. However, he's a good kid, a hard worker and has some real similar qualities to some of the senior quarterbacks who came off the board this year (Ponder/Dalton). Nevertheless, his struggles with pressure could hold him back from ever becoming an NFL starter.
2. ILB Tank Carder: TCU (6-2, 236)
One of, if not the best tackling linebacker in the country. Carder can consistently make plays in a phone booth as well as tackle in space. He's a better athlete than given credit for and he plays fast because of his read and react skills and ability to quickly diagnose plays.
3. SS Trenton Robinson: Michigan State (5-10, 195)
Not a dynamic athlete in any area of the game but does everything at a solid NFL caliber level. Looks like a guy who can contribute early on a defense and special teams and mature into a starter with time.
4. WR Kendall Wright: Baylor (5-10, 195)
A speedy slot guy who is more fast than quick. Can make plays down the filled and get on top of corners, but seems like a vertical inside route runner. Good fit for a team like the Eagles who love to run those deep-crossing patterns. More of an inside reserve, but can make plays at the next level.
5. WR Keshawn Martin: Michigan State (5-10, 188)
His ability to create with the ball in his hands gives him a chance and makes him an attractive later round/free agent type wide out. Needs to get a little stronger, but he's explosive, balances and fluid when asked to break defenders down. Just needs to learn to become a more polished receiver because the tools are there.
Follow me on twitter: @WesBunting