November 29, 2011 -
National Football Post
Scout's corner: Top 5 NFP favorites
Looking at five prospects who we think could surprise in the NFL…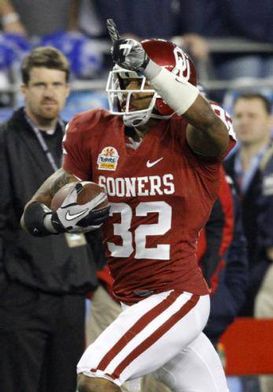 ICONFleming is starting to come into his own.
OT Jeff Allen: Illinois (6-5 315)
He's not an overpowering run blocker, but is smooth and coordinated in pass protection, can keep his base down and warrants a higher grade because of it.
FS Corey Mosley: Virginia (5-10 200)
Isn't a big time size/speed guy. However, plays with a passion for the game, has an explosive element as a striker and could be one of the better safety prospects to come out of this class when it's all said and done.
CB Jamell Fleming: Oklahoma 5-11 191
He's a balanced, coordinated kid who keeps his feet under him when changing directions and can turn and run. Doesn't give up much separation, knows how to make plays on the football and if he can improve as a tackler looks like a guy who warrants a starting job in the NFL down the line.
OG Kelvin Beachum: Southern Methodist (6-3 306)
Possesses the size/power to win as an in-line guy and the athleticism to pull in power situations and get out into the second level as well. He's a coordinated pass protector on the edge and has the skill set to mature into a potential starter with some development.
SS Brandon Taylor: Louisiana State (6-0 195)
He can tackle in the box and in space, despite being a bit inconsistent at times. Displays some natural coverage ability and looks capable of maturing into a potential starting caliber safety in the NFL in my mind.
Follow me on twitter: @WesBunting
Check out the NFP Draft Page here...