September 07, 2011 -
National Football Post
Scout's corner: USC has a talent on the D-line
Observations and analysis from the first week of the college football season, including thoughts about some of the nation's top defensive prospects.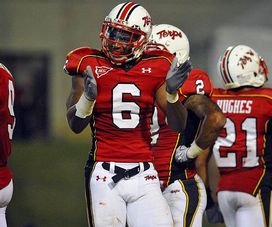 ICONTate looks more like a strong safety only.
Please move him back…
When I watched Maryland tape this summer, SS Kenny Tate was the one guy who repeatedly jumped out to me. He played fast, was aggressive attacking downhill and consistently wrapped on the play. However, after watching him this week vs. Miami as he made the transition to outside linebacker, my initial thoughts were he simply isn't as impactful. He's a tall, long kid who was routinely washed out on contact and took himself out of far too many plays trying to run around blocks. Plus, he wasn't as effective trying to tackle in space reading sideline-to-sideline compared to when he was able to attack downhill. He did hold up well in man coverage out of the backfield. However, he's just not asked to play to his strengths as a linebacker. Tate is a guy who needs to attack the line of scrimmage with a head of steam where he can pick his way through traffic, find the football and make plays. Something he wasn't asked to do Monday night, as he was pretty much a non-factor.
A semi bright spot…
Minnesota standout Troy Stoudermire has always had the talent. But the 5-9, 196-pound DB has also had his fair share of run-ins with the coaching staff during his time as a Gopher. However, after making the move back to corner last year, he flashed for me on tape this summer and did the same at times vs. USC this weekend. He's still raw with his footwork and doesn't do a great job angling his drop toward the sideline in zone coverage at times. Nevertheless, he displays good click and close ability once he collects himself, takes proper angles toward the football and when he wants to tackle he can wrap. However, what was even more impressive was his physical natural off the line in pressman. Again, he's more of an athlete playing corner who will lose balance a bit through contact. But, he did a nice job shooting his hands quickly off the line, sliding his feet laterally and re-routing initially. His overall size hurts his chances of playing on the outside in the NFL and his technique isn't ideal for the slot. However, if he continues to develop at the position he has a shot to make and play on a roster, but looking over his past that's still a big if.

Not buying the hype…
When watching USC linebacker Chris Galippo, there's simply nothing about his game that I think he does at a "plus" level. He's a big kid at 6-2, 250-pounds, but he isn't overly instinctive when asked to read his run/pass keys. Lacks the initial violence/suddenness to shed blocks inside. Doesn't exhibit much range off his frame to make plays sideline-to-sideline. And plays too stiff to be much of a factor in coverage at the next level. He's an average college player in my view whose draft stock seems to be a bit inflated because of his pedigree coming out of high school. But based on his play alone, he isn't a guy that would earn a draftable grade on my board.
Late riser…
However, the one guy who made Galippo's job a lot easier inside was USC's starting nose tackle Christian Tupou. The 6-2, 300-pound lineman is built like a brick. He's thickly put together through the base, possesses a powerful set of arms and can keep his pad level down off the snap. He's not a natural pass rusher or a real fluid/shifty athlete. However, he's a powerful run defender who can get off the ball quickly, gain leverage and run his legs through contact, making him a bear to block inside. He exhibits enough natural range to make plays off his frame as well and should improve his overall ball awareness as the year goes on. He looks like a better nose tackle prospect to me than Stanford's third round pick Sione Fua from a year ago and Tupou should be able to make a move up boards with a strong year.
It's only one play…
Finally, Maryland CB Cameron Chism did return an interception for a touchdown to secure the win against Miami Monday night. However, it was a route he sat on and a pass that should have never been thrown.
As for the rest of the night, he was still just as leggy and unbalanced in his drop as he was the previous year, allowing receivers to get on top/behind him quickly because of his struggles to stay low and transition out of his back-pedal when asked to turn and run. And overall, I still don't think he's worth more than a "speed" free agent grade at this stage.
Follow me on twitter: @WesBunting