October 24, 2011 -
Barry Dorey
Scout's corner: Why UNC DL Quinton Coples is falling
Observations and analysis from the eighth week of the college football season, including thoughts about some of the nation's top prospects on both sides of the football.
Wide receiver rundown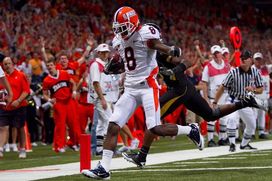 ICONJenkins has the speed to be a threat down the field.
A.J. Jenkins: Illinois
While watching Jenkins this week, you can tell that opposing defensive backs do fear his initial burst off the snap, his ability to quickly build speed and get down the field. And to his credit Jenkins does a nice job settling his feet, even at top end speed on the comeback and is patient stemming his route on the post/slant. He's also a natural plucker of the football and can run after the catch. However, he's not the most physical of receivers and has a tendency to drift on throws vertically down the field. There is no doubt his big 2011 season has helped his cause as a prospect and if he runs as fast as he plays, he looks like a potential mid-round pick. However, he's going to be limited to more of a vertical route runner who would be best suited in a scheme like the Eagles where he can use his speed to separate on deep crossers as opposed to his technique on sharply breaking routes.
Rueben Randle: LSU
I wrote about Randle on Saturday, wondering if he had the ability to separate routinely enough for a big receiver initially out of his breaks. And while watching him, at 6-4, 208-pounds there is a natural burst to his game off the line and into his route. He's a coordinated receiver who changes gears well, can accelerate out of his breaks and displays deceptive vertical ability down the field. He builds speed as he goes because of his long stride and exhibits the power to fend off defenders who want to try to get physical through the route. Now, he's still developing as a route runner and will get sloppy even on vertical routes, gliding into/out of his breaks. But, he's a "plus" size/speed option with natural coordination catching the football and knows how to set up routes. He looks like one of the top receivers in the junior class.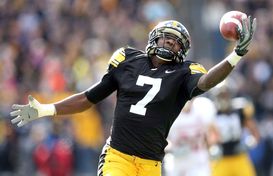 IcONMcNutt possesses great range when asked to go get the football.
Marvin McNutt: Iowa
Is there a more uncoverable receiver in college football right now than Iowa's Marvin McNutt? Even when he is covered up on the fade, his ability to slip/fight through contact, adjust and pluck the football makes him pretty much impossible to defend. Plus, for a 6-4, 215-pound receiver he displays good short area quickness for his size off the line, can set up defenders, use his length to slip contact and get into his route quickly. As a former high school quarterback he's got a feel for the pass game, showcases natural balance out of his breaks and despite not being the sharpest or most explosive of route runners, he's coordinated and knows how to box out defenders and pluck the football once he gains a step. He's never going to be a legit number one type in the NFL, but there is a role in the NFL for a guy who can win in the red zone and consistently go get the football. And when looking over the "plus" size possession type receivers in the draft, McNutt is near the top of the class.
No longer number one…
Coming into the year I didn't think there was a better senior prospect in the country than North Carolina DL Quinton Coples. At 6-5, 290-pounds he had the ability to create mismatches both inside and out and exhibited the skill set to win with both power/quickness routinely as a pass rusher. However, watching him early in the year and keying in on him this Saturday, the motor/passion just doesn't seem to be there consistently enough. Now, he still has the talent to win at the college level even when he isn't fully invested in the game. Nevertheless, you have to wonder if he's playing his senior year at this point not to get hurt? The one big thing I noticed is that he rarely gets his hands up in passing lanes when he doesn't reach the QB. A minor detail, but when defensive lineman put their arms up they expose their frames and are more open to a potential injury on the way down because they can't protect themselves. I still love Coples as a physical talent, but his motor and passion are two areas of question and when you have those questions, it's tough to sell that guy as the top prospect in the class.
He's got a place in the NFL, just isn't a big time prospect…
A lot of readers have been asking me about Virginia DE Cam Johnson. The 6-3, 270-pound lineman has made the move from OLB to DE this year and has the physical make-up to win in both the run and pass game at times in the NFL. He's got an explosive element to his game coiling up into his stance and does a nice job keeping himself clean in the run game. However, despite being a "plus" athlete for his size he's not a dynamic pass rusher. He's recorded only two sacks this year through six games and doesn't have the type of bend around the edge to routinely flatten out, making himself easy to push past the play. He's more of a power player who is effective on his bull rush gaining leverage and is at his best on his counter on the up and under. However, he struggles to routinely keep his pad level down when changing directions and can get held up initially on contact. He's a guy who I eventually expect to mature into a starter because of his ability to play both the run and pass. But I see him slightly below a prospect the caliber of former second round pick Jabaal Sheard from a year ago.
Love the motor, but not dynamic…
At 6-5, 271-pounds Arkansas DE Jake Bequette possesses the size and motor to intrigue as a three down player. He has an idea of how to rush the passer, extends his arms well and fight vigorously to disengage. However, he's a limited athlete with a very "blah" get off and is too stiff to drop his pad level around the edge. And the more I watch him, the only time he really has success consistently getting after the quarterback is against offensive tackles who lack base strength. Therefore, he can use his bull rush to overwhelm and relentless motor to fight off blocks and close. However, vs. tackles with solid base strength he fails to generate the same type of push limiting him as a pass rusher. Overall, he looks like your typical overachiever who will find a way onto an NFL roster because he locates the football well and plays full tilt 100% of the time. However, I don't see him as anything more than a rotational reserve only.