September 20, 2010 -
National Football Post
Scout's notebook
A scout's take on the good, the bad and the ugly from the third week of the college football season concerning some of the nation's top prospects.
My takes…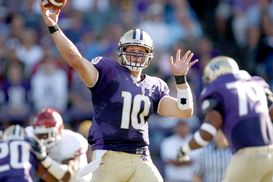 Locker seems to have quickly lost his confidence in 2010.
The No. 1 overall quarterback prospect is anything but clear-cut
Where do you even begin with Washington quarterback Jake Locker? Locker is a guy who I had as my No. 1 overall prospect last year, banking on a consistent improvement to his game over the next year or so. However, we have seen anything but that, as the guy struggled in week one vs. BYU and now had one of the worst statistical performances ever by an NCAA quarterback, completing only 4 of 20 passes against Nebraska on Saturday. Now, you can make the case that he was going against a really talented Cornhuskers pass defense. However, the fact remains that Locker was playing at home and if he really is a top-tier quarterback prospect with the kind of intangibles needed to win consistently at the next level, there is no way in my mind he allows his team to take a beatdown like this at home with such a punchless effort on his part throwing the football.
Again, Locker has all the talent in the world and does throw some of the prettiest balls you will ever see. But, he still does not do a good enough job recognizing coverages down the field, he forces too many throws into his initial read and worst of all he's starting to lose confidence. He just strikes me as too much of a project at this stage to feel comfortable with taking him high in round one, as there is simply too high of a bust potential with his lack of overall intangibles in my opinion.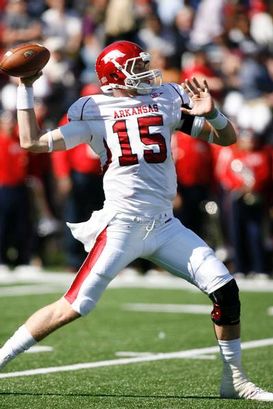 ICONMallett might always struggle with his completion percentage, but the NFL is all about big plays and that's what this guy can give you.
One of the competitors steps up
As for Arkansas quarterback Ryan Mallett, he's another guy we keeping hearing about as a prospect who has all the tools, but needs to improve his footwork and overall completion percentage in order to really take his game to the next level. Now, I do agree that there are times where he needs to do a better job resetting his feet, striding toward his target and not trust his arm so much when throwing the ball down the field. However, he reminds me a lot of what Michael Lombardi used to say about Redskins quarterback Donovan McNabb.
(Paraphrasing)
"You can never judge McNabb on his completion percentage, more so you need to judge him on the amount of big plays he's able to create for you in the pass game"
And that is exactly the case I see with a guy like Mallett. At 6-7 it's tough for him to consistently reset his feet when pressure is baring down on him, as he will throw off his back foot and fall away from this target, causing his accuracy to get spotty. However, watching him vs. Georgia Saturday, he seems to have improved tremendously in his ability to feel pressure around him in the pocket, keep his eyes down the field and throw on the move. He's not a great athlete, but he's big and nimble enough to buy time for himself, take proper care of the football and throw strikes through the defense when stepping up inside.
Plus, from a mental standpoint, he has also improved in his ability to quickly decipher information both in the pocket and on the move. Now, he does have a tendency to throw blind at times on backside throws and his long, lethargic footwork in the three-step game will get him into trouble. However, I thought he showed a lot of poise in crunch time leading his team to a last-minute victory Saturday while making a big-time read on his last touchdown pass. Deciphering the cornerback's jump on TE D.J. Williams and throwing a strike into a tight soft spot vs. cover two to WR Greg Childs before the safety could get over — a big-time throw by NFL standards. And if given the opportunity to work off the play-action game at the next level, I feel like this guy could be a productive vertical passer for an NFL team and could be efficient enough underneath to win games for you on Sunday.
A sleeper?
Finally, one quarterback who has made some noise early in the season and showed really well for himself Saturday evening against a disciplined Iowa defense was Arizona quarterback Nick Foles. Foles is a tall, 6-5, 245-pound kid who exhibits nice touch down the field on bucket throws, working well off the play-action game and dropping the ball into tight areas. Plus, he displays a good arm and possesses a nice blend of accuracy and timing in both the short and intermediate pass game. However, what jumped out to me most when breaking down tape of him last year compared to his performance Saturday was the improvement in his overall mechanics. He's doing a much better job transferring his weight from his back foot to his front foot, generating more torque and power from his lower half and keeping his eyes down the field more consistently. Plus, the game is really starting to slow down for him at this stage, as he looks more comfortable in the pocket, manipulating safeties and quickly get the ball out of his hands vs. pressure.
Now, his footwork still gets sloppy resetting his feet when trying to locate a secondary target and for the most part he's still a bit limited reading only one side of the field. However, the guy understands coverages and blitz concepts on his pre-snap reads, stays poised and level-headed throughout the course of the game and was at his best Saturday night in the red-zone and in the fourth quarter, fitting the ball into some really tight spots against a very good Iowa defense. I still think he needs some more time to develop at the college level and work toward showing a better understanding of going through his progressions, but if he can make the type of improvements he made following the 2009 season, there is no reason to think this guy can't be a very solid starting quarterback for an NFL team. Reminds me some of Rams quarterback Sam Bradford.
Live from Penn State
The National Football Post will be live on location at a number of games this season, bringing you the best coverage on the web. This week: notes from Penn State/Kent State played at Beaver Stadium.
Penn State
No second gear
I know I'm beating a dead horse on the Evan Royster issue, but watching him live is even less impressive than on tape. There is no suddenness to his game in tight areas, he's slow to change directions and exhibits no real burst in any area of the game. He's the type of back that the offensive line needs to block for twice off the snap in order for him to gain a yard and it is no shock at all to me the guy didn't see much tick in the second half due to the effort of backup RB Stephfon Green.
Highly rated defensive linemen fail to stack up as well
I also came away really unimpressed with the performances of DE Jack Crawford and DT Devon Still. Crawford is a big, long-armed 6-5, 256-pound kid who certainly looks the part. However, there isn't a real explosive first step to his game off the ball, isn't real sudden on contact and he's simply just a guy who relies on his length to eventually fight his wa y off blocks. He didn't start for Penn State this week and was said to have had his best game of the season, and even that was far from impressive in my view.
Still, on the other hand, was a bit better, showcasing some natural power on contact off the snap. However, he looked stiff trying to get out of his stance, wasn't real fluid when asked to change directions and lacked much awareness when asked to find the football. Again, both guys look the part; they just weren't real dynamic in any area of the game to be tapped as big-time players.
No linebackers at "LB U" this year
Senior outside backer Bani Gbadyu struggled when asked to set the edge when run at, wasn't real physical at the point and looked stiff when asked to break down on contact as a tackler. He does display some natural range as a linear athlete once he gets going, but isn't an NFL-caliber option.
The best of the bunch
DT Ollie Ogbu continues to impress with his ability to fire off the football on time, play with natural leverage and be sudden and violent with his hands on contact. Now, he lacks the power to be real effective vs. any type of double and fails to display the kind of body control/awareness to consistently make a play on the football once he gets into the backfield. However, he can be disruptive as a one-gap guy inside and I definitely think he has what it takes to make a roster as a reserve type lineman.
Kent State
A hidden gem?
I talked about Kent State senior safety Brian Lainhart in my Saturday primer and I came away impressed again with the guy's overall game. Now, Penn State isn't real explosive on offense, but Lainhart showcases impressive balance, body control and awareness in coverage and did a nice job cleanly changing directions and closing on his target. Now, he does lack great range sideline-to-sideline, but plays faster than he times because of his instincts and even did a nice job in man coverage, being physical off the line.
Plus, he was asked to play more near the line of scrimmage in this game than I have seen on past tapes and displayed a willingness to work hard and close the back door in pursuit. Now, he still is maturing as a tackler when asked to break down, but has some natural pop and should be able to develop in this area with some more time. He's one of the most underrated safeties in the entire class and because of his blend of instincts and balance, I think he has a chance to definitely see the field as a nickel guy and possibly fight for some starting playing time down the line.
NFL draft/college football questions? Get them answered at Wes.Bunting@nationalfootballpost.com
Follow me on Twitter: @WesBunting
Click here to win cash today playing fantasy football with the NFP and FanDuel.