September 22, 2010 -
National Football Post
Scout's notebook
A look at a hodgepodge of offensive line prospects, some standouts from Nebraska and a cornerback that isn't quite as ready for the NFL game as many are making him out to be.
My takes…
The good, the bad and the verdict on Arkansas OT DeMarcus Love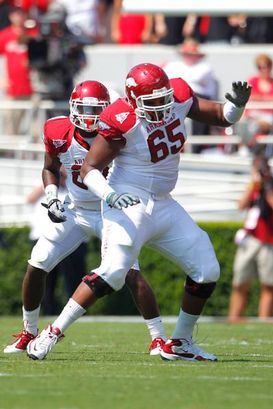 ICONLove needs to tighten up his footwork off the edge.
The good
I love his overall physical make-up. He possesses a thicker, well-built lower half and has the ability to sit into his stance, extend his long arms and anchor with consistency on contact when he has his feet under him. Plus, the guy is a gifted athlete who possesses good range off the edge, has the athleticism to recover quickly laterally and can stick to blocks through contact. Looks really comfortable playing from a two-point stance and displays much better balance and coordination toward the corner. Plus, he has some upside from a technique standpoint, as he consistently is forced to bounce back and forth on both sides of the line of scrimmage throughout the entirety of a game. Therefore, if given the opportunity to really hone in on either tackle or even a guard spot, my bet would be he could dramatically smooth out his overall footwork at either spot.
The bad
For a guy who is only 6-4