October 13, 2010 -
National Football Post
Scout's notebook: defense
A scout's take on the good, the bad and the ugly from the sixth week of the college football season concerning some of the nation's top prospects.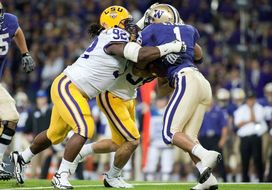 ICONNevis just continues to dominate up front.
He's making a believer out of me
I have been rather critical of LSU DT Drake Nevis as a prospect this season, not so much for his play on the field, but more so for his overall lack of size and stature — 6-1, 290 pounds. However, after watching his performance this weekend vs. a bigger offensive line from Florida, it was Nevis who was the man among boys. He possesses a great first step off the line, strong and violent hands working his way into the backfield and has a motor that runs nonstop. The guy made play after play Saturday night and looks like an effective three-technique in the NFL if allowed to one-gap and get up the field. And I will let the tape rule over the guy's size/speed numbers, because he simply is a bear to block inside.
Small school plays big
Had my second chance to watch the Richmond Spiders this season and the one thing that becomes blatantly obvious on the defensive side of the ball is the overall closing speed of cornerback Justin Rogers. Rogers is a predominantly off/zone corner who does a great job sitting on routes, keeping his feet under him and quickly exploding out of his drop and closing on the football. He's a really rangy kid with good ball skills and exhibits a good feel for the game when the play is in front of him. He also possesses good awareness and understands how much depth needs to be given off the line in order to still click and close on the throw. Nevertheless, like most small-school guys, he is raw in the finer points of the game and will struggle with his balance when asked to redirect and change directions in man. But, overall, he's a good enough athlete with plenty of upside to at least warrant a possible nickel job at the next level.
"Up and down" results against the big boys
When you watch a guy who has been as productive as Central Michigan middle linebacker Nick Bellore throughout the course of his career, it's imperative that you break down at least a couple of games of him vs. non-MAC competition. Because with all do respect to the MAC, the caliber of athlete in the power conferences are simply of a different caliber. Therefore, watching Bellore Saturday vs. Virginia Tech was a great opportunity to see how he would fair vs. some of the "bigger boys" and here are some things that jumped out to me.
1. He's a better straight-line athlete than given credit for. He lacks a great initial burst and closing speed, but is a good enough athlete to make plays off his frame.
2. His impressive instincts show up play after play. Despite the fact he was playing a faster game vs. a faster team, he still diagnoses plays quickly, is always moving toward the football and has a real feel for finding the football inside.
3. He isn't the most impressive of tacklers in space. Too often he will fail to wrap up on his man in pursuit and slide off ball carriers too easily when asked to tackle off his frame. This is something that doesn't show up much vs. MAC competition, but against the bigger and faster athletes at Virginia Tech it was something that caught my eye.
Overall, his instincts, production and better than advertised athleticism should give him a chance. I wouldn't grade him out as much more than a reserve type option who has some limitations that he can't overcome. But he's a tough guy who has a passion for the game and could fill out a linebacking corps on an NFL roster and be a solid contributor on special teams.
Doubt is creeping in
One guy who entered the year with aspirations of making a major move up draft boards was South Carolina pass rusher Cliff Matthews. However, this past weekend vs. Alabama was the third time this season I saw him and came away thinking "he's just not dynamic enough in any area of the game to warrant a potential starting caliber grade in the NFL." He's a nice-looking athlete with good size and length, and he does have the overall body control to eventually work himself free from blocks. However, he lacks the first step to consistently threaten the edge and doesn't seem real confident when asked to disengage from blocks on contact. Matthews does have above-average change of direction skills on his up and under move, but he is really only effective with plenty of space to work with as anytime an opposing lineman can get a hold of him he's slowed easily and stalled. There is some upside to his game as the guy does have some intriguing physical tools to work with. However, you have to wonder how hard this guy is willing to work in order to become a good pass rusher in the NFL, considering his subpar senior year.
Remember the name
California defensive lineman Cameron Jordan is a guy who seems to be on everyone's "hot" list of players who has performed well this year and making his move up draft boards. However, what a lot of draft experts don't realize is just how good of a player this guy really is. And to be honest neither did I until I just watched my first two games of the guy from this year. I had him as a potential starter at the next level based off his junior tape, but now I think this guy is someone who can come in, start early in his career and mature as a very good starting caliber lineman for an NFL team.
Jordan has a lot of things going for him — he's big, strong, explosive, versatile and can win in both the run and pass game. He is inconsistent extending his arms and using his hands properly at this stage. But at 6-4, he possesses a really thick hindquarters and has an ideal build for maximizing his football strength inside. Plus, he's a natural bender who plays hard and has been at times downright dominant this year. When watching tape of him and Tyson Alualu from a year ago, I truly believe that Jordan is the better prospect. Does that mean he will go top-10? No. However, this guy looks like one of the best defensive line prospects in the entire draft and has the makings of a first-round talent through the early portions of the 2010 season.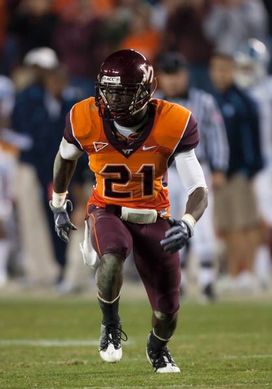 ICONCarmichael has the makings of a very solid off/zone corner in the NFL.
Moving on up
I have been impressed with the play of Virginia Tech cornerback Rashad Carmichael throughout the first part of the season as well. We knew coming into the year that the guy can really run. However, his ability to locate the football, adjust to the throw and get his hands on the pass has popped up routinely during the past couple weeks. Plus, he does a nice job clicking and closing quickly on the football when asked to squat on routes. He is a bit thin at about 182 pounds and isn't the most technically sound when asked to open up his hips and play in tight man coverage, as he allows himself to get a bit leggy and will lose balance at times. But, I certainly think he ranks as one of the better zone/off coverage corners in this year's draft who has the ability to come in and play early as a potential nickel guy and untimely mature into a potential starter on the outside with some time.
NFP weekly snippets
I like Nebraska DB DeJon Gomes as a college slot man. He's physical, has a nose for the football and does a nice job maintaining his balance when asked to change directions. However, he isn't the most fluid of kids, lacks a great first step and routinely will give up initial separation out of his breaks. And if that's a trait that shows up at the college level, I don't like his chances in the pros.
From sources I have spoken with, UCLA outside linebacker Akeem Ayers is all but out the door and really has scouts buzzing about his play. He isn't the sharpest or most instinctive of football players, but his freaky athleticism is drawing a lot of interest from potential 3-4 teams and seems like he will be quite the commodity come draft day.
Finally, one guy who has done well for himself this year is Oregon defensive lineman Brandon Bair. At 6-6, 270 pounds, he possesses a unique skill set and offers some versatility as a potential 5-technique guy in the NFL. However, the biggest knock that keeps coming up with Bair at this stage isn't what he's doing on the field, but the fact that he will be 26 years old come draft time. Therefore, even though I like him as a prospect, I can't see him being much more than a late round/free agent type prospect.
NFL draft/college football questions? Get them answered at Wes.Bunting@nationalfootballpost.com
Follow me on Twitter: @WesBunting