December 01, 2010 -
National Football Post
Scout's notebook: defense
A scout's take on the good, the bad and the ugly from the thirteenth week of the college football season concerning some of the nation's top prospects.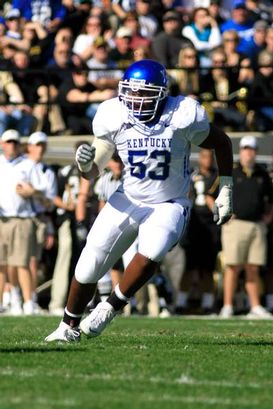 ICONLumpkin could draw some interest from 3-4 teams.
Size and anchor give him a little chance…
Coming into the season I thought Kentucky DT Ricky Lumpkin wasn't much more than a free agent with good overall height and length for the position. However, he has put on a fair amount of weight this season, has done a better job keeping his base down vs. the run game and possesses the type of length and power to anchor with some consistency inside. He still struggles to consistently find the football and will take himself out of plays. However, at 6-4 and nearly 310 pounds, Lumpkin might be able to generate some interest as a potential 3-4 DE. He still isn't a real gifted pass rusher, allowing his pad level to rise very quickly and he's at his best when asked to stunt and use his length to keep himself clean on the move. Because when trying to disengage from blocks inside once engaged, he really doesn't showcase much lateral suddenness or power because of that pad level. Nevertheless, looking over the DT class, there aren't too many defensive linemen with his combination of size or length, and at a position usually starved for prospects every year, Lumpkin could force himself into a later round draftable grade in this weaker defensive tackle class that lacks some depth toward the back end.
The new NFL is killing him…
The safety spot in my opinion is quickly becoming easier and easier to evaluate because of the evolution of the pass game in the NFL. Gone are the days where teams want bigger, more physical athletes who can act as extra linebackers inside the box, as more and more defenses want four guys who can cover in the secondary and hold their own in man coverage. Therefore, a long, leggy defensive back like BYU's Andrew Rich, despite doing a nice job being physical and savvy in coverage, doesn't really have much of a chance to play in an NFL secondary because of his lacking physical skill set. At 6-3, 218 pounds, he looks really stiff in the hips, struggles to get back up to speed quickly out of his transition and doesn't possess the kind of range or second gear to make up for any kind of a false step. He is a willing tackler, but isn't overly explosive into contact and just doesn't seem to warrant the upside needed to be kept on as a special teams guy considering his limited upside as a pass defender.
ICON
Miller has been on a terror in recent weeks.
He's back…
Just about everyone was jumping off the Von Miller bandwagon during the early part of the season, as he only registered three solo tackles through his first three games and exactly zero sacks. However, during that time Miller was nursing a nasty ankle sprain that really took away from his play and instead of sitting down and allowing himself to heal, he decided to show some real grit, fight thought the pain and try to do what was best for the team, putting his lofty NFL draft stock aside in order to try to win games.
Nevertheless, he's now just about back to full strength and has rattled off 8 sacks during his past five games and is showcasing the same type of initial burst and edge speed that made him such a feared pass rusher during the 2009 season. However, what makes Miller so efficient getting after the QB is his ability to cleanly drop his pad level around the corner when flattening out along the edge, giving opposing tackles very little area to hit. Plus, he's a balanced kid with good fluidity and suddenness when asked to stunt and change directions inside and makes it tough for tackles to get their hands on him in space. He's still not the most physical of defenders when asked to play the run and despite the fact he can slip blocks initially, he will struggle to anchor consistently vs. tight ends and isn't a guy who will be able to hold up on the line with his hand on the ground at the next level. However, he still looks like a very gifted standup 3-4 backer who has made the most of his late season performances and will be a premium prospect for all 34 defenses looking to add to their pass rush.
What has happened to him?
Coming into the season I thought after watching the limited tape of USC cornerback Shareece Wright that the guy had the making of maturing into one of the top senior cornerbacks in the country. He was physical off the line, fluid when asked to turn and run and did a great job locating the football and making a play on the throw. However, this season, he hasn't been nearly as physical off the line — whether that's coaching or not — and has given up a ton of completions underneath all season long. The reason? The guy isn't the most natural of benders when asked to play in off-coverage, quickly allows his pad level to rise, gets too long and leggy with his footwork before trying to regain balance and wasting a lot of motion before he can actually close on the football. The touchdown pass he gave up right before halftime was a play that needs to be made consistently at the next level, where he's not asked to cover a ton of ground in the red zone and still wasn't able to click and close quickly and drive on the football underneath. It's a negative that has popped up time and time again for him all season long and I not only think it has really hurt his draft stock, but it really limits him more so to a press scheme, because he has proven when asked to play in off/zone concepts the guy is simply a very average college corner.
More raw cornerback play…
There is no denying the explosiveness and overall second gear possessed by Maryland cornerback Cameron Chism. The 5-10, 190-pound junior displays great straight-line speed, closes quickly on the football down the field and has shown some real physicality as a tackler as well. However, if he were to decide to come out early the guy is going to need some time to mature in the finer points of being a corner. He consistently allows himself to get too high in his drop, will open up his hips prematurely in an effort to turn and run with receivers and struggles to quickly regain his balance/footing when asked to click and close on throws out of his breaks. He's at his best when he has time to recover and make up for a false step, but he does have some tough spots to his game. With that being said, there is also plenty of upside as well, but he's going to need some time before he's ready to contribute at a high level on an NFL defense. Best bet in my opinion, stay in school for one more year.
Where to play him?
I'm having a tough time giving a good grade to Iowa DL Karl Klug. The 6-3, 270-pound interior defender has done a nice job all season creating havoc inside. He possesses a good first step, is sudden when asked to slip contact and has some of the better hands of any defensive lineman I have seen this year. However, the big question is where can this guy play and be effective at the next level? He possesses the size more so of a defensive end, but his skill set seems more fitting as one-gap penetrator inside. Nevertheless, he&rsq uo;s simply a football player, there's no doubt about that, but I simply don't see a team spending much more than a later-round pick on a guy who is a bit limited athletically and has question marks about where he can play for a defense at the next level.
Follow me on twitter @WesBunting