October 06, 2010 -
National Football Post
Scout's notebook: defense
A scout's take on the good, the bad and the ugly from the fifth week of the college football season concerning some of the nation's top defensive prospects.
My takes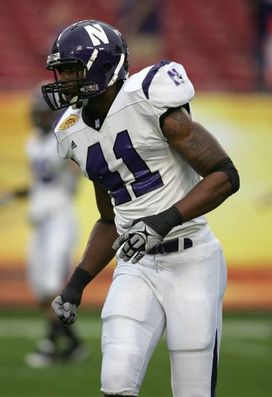 ICONDavie is a high cut kid who I can't see playing with much power at the next level.
He's a little more than just a guy
Northwestern outside linebacker Quentin Davie has received a lot of praise up until this point in the season due to his strong play and was one guy who seemed to be building some momentum during the early part of the year. However, I wasn't a big fan of his on tape this summer and was going to hold off on my reservations on him until I saw him vs. some Big Ten competition. And in all honestly after seeing him this weekend, I wasn't real impressed. He's a high cut kid who does display solid range for a guy his size. However, he isn't real physical at the point of attack even vs. the tight end, doesn't display much power on contact as a bull rusher and gets too leggy when asked to drop and redirect in coverage. Now his size, length and above-average athleticism will likely get him drafted, but the idea this guy can be a dynamic starting outside linebacker in the NFL is completely off base in my mind.
What is he?
Clemson defensive back Marcus Gilchrist had his fair share of ups and downs this week vs. Miami trying to cover massive wideout Leonard Hankerson. Gilchrist moved from safety to corner as a senior and despite his above-average athletic ability, balance and body control, he just doesn't look real confident trusting his eyes and driving on the football. He's a guy who possesses good fluidity changing directions and getting in and out of his breaks. But when asked to play in off coverage and sit on routes, especially when playing with outside leverage, he seems to really struggle to quickly recognize routes, gets too wide with his footwork and fails to quickly click and close on the football underneath. Now, he did come down with a pick in the end zone to stall out a Miami drive, but initially he was beaten with a sudden inside slant by Hankerson and was able to recover because the throw was so late.
Plus, I do have reservations about his overall deep speed when asked to turn and run down the field. Therefore, overall I think he's a guy who can play in an NFL secondary and because of his past at both safety and cornerback he initially could see some tick as a nickel guy, and with some time mature into a possible starting caliber free safety. However, I am not buying the idea that this is one of the top senior cover men for 2011.
A man on a mission
So much was made of the dominant night by Iowa DE Adrian Clayborn Saturday evening. However, the one guy who continues to make an impact for me up front is DT Christian Ballard. For a guy his size — 6-4, 300 pounds — I don't know if there is another defensive lineman in the nation who can run sideline-to-sideline as well as he can. Plus, he's explosive off the snap, uses his hands well to slip blocks and plays with good leverage. Plus, he offers a lot of versatility in terms of the next level, as I could see him as a three-technique in more of a one-gap scheme. I could see him playing as a strong side end and kick inside on passing downs in a 4-3. And I could certainly see him as one of the prized five-techniques in the entire draft. He possesses good length/athleticism, plays hard and because of his versatility this guy looks like one of the safer potential three-down starting caliber linemen in this year's draft.
His competition
However, one guy who could knock Ballard down a peg or two as far as the fight for the top five-technique position battle goes is Alabama's DL Marcell Dareus. Dareus, at 6-3, 306 pounds, possesses one of the largest lower halfs in the country and is really able to sit into his stance, generate a burst off the football and keep his pad level down into contact. However, what makes him such a unique prospect is his combination of lateral suddenness, body control and power. He has the ability to slip blocks on the outside as a pass rusher, knife his way up the field and fight off blocks in order to get after the quarterback. He plays the run with good integrity as well, anchoring routinely at the point of attack and knows how to set the edge on the outside and work in pursuit.
However, what might have been the most impressive facet about his game this week was when he lined up as the nose in passing downs and was able to simply overwhelm Florida center Mike Pouncey on his bull rush like a rag doll and make his way into the backfield. Plus, the guy was still banged up with an ankle injury from a week ago and the way he is able to slip a block, recognize the second blocker and generate a strong punch to knock him off balance was really impressive. Dareus is the kind of guy who can play a number of spots in both a 3-4 and 4-3 defense, but he just seems like a potential blue-chip five-technique guy to me at the next level.
Weekly one-liners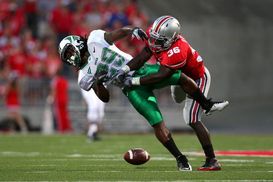 ICONDespite his size, Rolle is as tough as they come.
There's just something about Ohio State linebacker Brian Rolle that I love. He's only 5-11, 220 pounds, but he plays fast, showcases really good instincts when asked to locate the football, is rarely out of position and pound for pound is one of the toughest son of a guns you will ever see. Now, because of his size I don't think you will see him getting drafted early, but if put into the right kind of scheme, I think this guy could end up starting for an NFL team on the outside as a weak side cover two type option.
Illinois DE Clay Nurse is a good looking athlete who hasn't played a lot of football so far in his career and I thought after watching him as a junior he could be one of those guys to really develop as a senior. However, that has yet to be the case. He still struggles with his pad level on contact, isn't real sudden and doesn't understand how to use his hands to fend off blocks. He really looked overwhelmed this week vs. Ohio State and isn't worth much more than free agent/camp body grade at this stage.
Oklahoma State DE Ugo Chinasa is slowly starting to put it together as a pass rusher off the edge. He seems to be doing a better of a job using his length and hands to stay clean, looks a little more sudden on his counter and did show a little more versatility dropping into coverage and rushing from a two-point stance. Now, I am still not a real fan of his game and don't think he's much more than a practice squad guy in year one. But at least he's showing some flashes of life at this stage.
Talked with a scout the other day who said Washington OLB Mason Foster was the best senior prospect the Huskies had to offer. I like Foster, don't love him, but it was interesting nonetheless.
Finally, I like Texas cornerback Curtis Brown as a cover man. He showcases good balance and footwork off the line, can keep his base down and when he wants to he can be a very effective press player. However, the biggest reservation I have on the kid is the overall lack of toughness/physicality I see i n his game. At 6-0, 184 pounds he doesn't showcase much pride as a tackler, fails to routinely break down on the edge and even in the pass game can be easily bumped just enough to lose his footing and struggle to go up and make a play on throws in jump ball situations — see Ryan Broyles. Now, he does have the frame to continue to add a bit more weight, but at this stage he's more of just a pure cover man than all-around cornerback prospect.
NFL draft/college football questions? Get them answered at Wes.Bunting@nationalfootballpost.com
Follow me on Twitter: @WesBunting