November 17, 2010 -
National Football Post
Scout's notebook: defense
A scout's take on the good, the bad and the ugly from the eleventh week of the college football season concerning some of the nation's top prospects.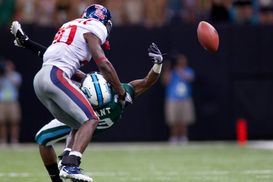 ICONBrown isn't afraid to bring the wood.
Grasping for straws
When looking over the senior safety class there are some intriguing guys toward the top end, but depth seems to be a real overall issue. Therefore, throughout the year some safety prospects have been "forced" up draft boards in my opinion in order to try to combat the lacking talent. One of those guys in recent weeks has been Ole Miss DB Johnny Brown. Brown is a big, thick safety with a long set of arms and seems to have some pop as a striker. However, he isn't a great athlete in space, looked stiff when asked to redirect and struggled to get back up to speed quickly. On top of all that he wasn't overly instinctive either, taking himself out of plays in the pass game which further displayed his lack of make-up speed in pursuit. He does have a passion for the game, but as I wrote earlier in the year, the safety position is becoming more and more about finding athletes who can run, cover and make plays on the football — three things that Brown doesn't grade out real highly in.
More nickel rusher than 3-4 backer
Watching Central Florida standout pass rusher Bruce Miller this weekend, it was refreshing to see a guy play with the type of passion and motor he brings down in and down out. He's an undersized DE prospect at 6-2, 249 pounds and sees his fair share of chips and doubles on the outside. However, he displays a good first step, can play with leverage initially, generate a pop on his bull rush and uses his violent hands well to slip blocks and work his way toward the quarterback. But, he isn't a real rangy athlete closing on the QB once he gains a step — in tight quarters or in space — and he looks stiff when asked to redirect and doesn't seem to possess the type of fluidity you want in a potential 3-4 rush linebacker. Therefore, despite the fact his body type and frame screams 34 rush guy, he looks more like a nickel rusher to me who can play on third downs and create pressure because of his work rate, hands and suddenness on contact. However, at this stage he doesn't look more than a part-time player to me.
Didn't quite live up to the hype
Mississippi State inside linebacker Chris White has been one of the most productive players in the SEC this season as he leads the Bulldogs in tackles, tackles for loss and sacks. Therefore, I was interested to see how his play stacked up vs. a very efficient and physical Alabama offense this weekend.
First thing that stuck out was that White is a strong kid. He did a nice job taking on blocks inside and attacking downhill, jarring linemen on contact, staying low and displaying the ability to anchor even vs. pulling guards in the hole. However, he doesn't play real long armed or sudden and struggles to consistently shed through contact. Plus, he wasn't nearly as instinctive as I assumed going into the game. For the most part he was able to get early jumps on the play and flow toward the action, but too often he had a tendency to overrun the football and struggled to quickly redirect and put himself in position to make a play on the ball carrier. And in the pass game he played a bit high and stiff hipped, lacking ideal range in pursuit and wasn't much more than a bull rush guy when asked to rush the passer. Overall, he's a big, strong kid who can take on blocks, but looks more like a jack backer in a 3-4 or a two-down guy in a 4-3.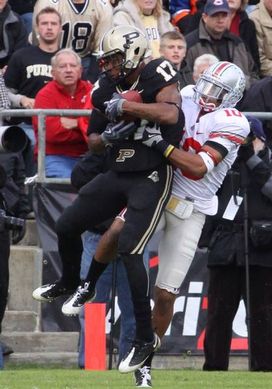 ICONThis isn't the first time we have seen Torrence struggle in coverage.
Used and abused
Watching Ohio State CB Devon Torrence at times this year has been downright brutal. Besides that fact that the guy is stiff in the hips, struggles to sit into his stance and gets leggy any time he's asked to make any kind of transition out of his breaks, he simply isn't a real natural football player. He was routinely picked on this weekend vs. Penn State, giving up way too much cushion underneath, failing to click and close on throws with any type of initial explosion and allowing receivers to easily separate away from him down the field. And even on his one big play where he correctly read a slant-flat combo and jumped the fullback, he still lacked the concentration to bring the ball in cleanly, tipping it up three times before securing the catch. I might be nitpicking, but the guy is a former baseball player, turned wideout, turned cornerback, who simply doesn't have the kind of feel to hold up in an NFL secondary. He's a much better athlete than cornerback at this stage and watching him get abused vs. a very average Penn State receiving corps was enough for me to give this guy nothing more than a speed free agent grade.
Mislead on paper
At 6-4, 297 pounds, Auburn defensive tackle Mike Blanc has been coming up a lot in draft circles as a guy who potentially has the ability to make the move to a five-technique position in he NFL. And from a pure frame standpoint I would have to agree. He's a tall, long-armed kid with a thick lower half and looks to have the ability to anchor and fend on blocks on the outside in the NFL. However, that assessment is made more so purely from paper than from actual tape. Because when watching the play of the guy you will quickly learn that he possesses no real explosive element to his game. He doesn't have a great first step, routinely fires off the ball too high and struggles to anchor on contact, allowing himself to be easily turned away from the football when run at. There is really no violence or suddenness to his play when asked to shed and because of his high pad level he can too easily be driven off the football. Again, it's easy to be mislead on paper because of his size numbers, but the guy just lacks the overall physicality/explosion to his game to warrant a roster spot at the next level in my view.
Thinking outside the box
Coming into the season I thought West Virginia CB Brandon Hogan had the makings of developing into one of the nation's top cornerback prospects. However, after missing some time early in the year due to a suspension over a DUI, Hogan has yet to really take that next step and develop into the lockdown corner I thought he possibly could.
He's an explosive athlete, with good balance and fluidity when asked to turn and run. He also displays the ability to make plays on the football and tackle in the run game. However, he lacks ideal awareness when asked to turn and locate the football down the field and his given up his fair share of completions this year even when he has put himself in position to make a play. But, the guy does have pretty good ball skills when he does locate the football and has some savvy to his game, breaking off his man in the pass game to make a play on the football. Therefore, he might be ideally suited to play as a cover two-type corner who could really make a living for himself reading routes and jumping passes in the slot, much like Bears CB D.J. Moore is doing right now. But, I also think he's one of the few corners in this year's draft who could make a living a s a potential free safety prospect in the NFL as well. Like I said, he plays the ball well when it's in front of him, he's clean and explosive out of his breaks, possesses good range and showcases a willingness to tackle. Overall, I think the guy is still one of the better defensive back prospects in the country and if he's willing to clean up his act off the field and put in the work needed on, I think he's one of the few playmaking type DB's — either at corner or safety — in the entire senior class.
Follow me on twitter: @WesBunting