November 03, 2010 -
National Football Post
Scout's notebook: defense
<p>
A scout's take
on the good, the bad and the ugly from the ninth week of the college football season concerning some of the nation's top prospects.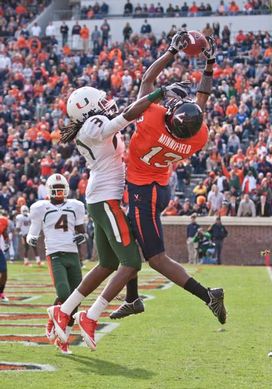 ICONMinnifield is yet another very talented junior corner who could come out early.
Add another talent to the junior cornerback list
Someone had to step up in the Virginia secondary this season in the absence of CB Ras-I Dowling and that guy has been fellow corner Chase Minnifield, who put on another strong performance this week vs. a talented Miami receiving corps. Minnifield is a tall, long-armed field corner who showcases good fluidity to his game when asked to turn and run and is at his best tracking the football down the field. He does get a bit leggy at times when asked to quickly redirect and change directions and will prematurely open up the gate off the line. However, he showcases good physicality when asked to press, is patient with his punch and has some of the best ball skills I have seen this season when going up to get the football. He finished the day with two interceptions and on both occasions was quickly able to locate the throw, keep his feet under him and maintain balance while aggressively going up and attacking the football. Overall, he's a talented kid with good speed, fluidity and ball skills and has the makings of developing into a starting caliber corner to me at the next level, if not in year one then at some point in season two.
A glimmer of hope
I've been extremely critical of USC linebacker Michael Morgan's ever since first taking a look at him last year on junior tape. He's a long, high-cut kid at 6-4, 220 pounds, and he simply lacks the ability to drop his hips and anchor with any kind of consistency vs. the run inside. And unless the guy is willing to add some much-needed additional bulk — which is very possible with his long frame — he's going to continue to never be a real factor vs. the run game. However, he does showcase some real ability when asked to play the pass. He gets a deep drop off the line, finds the football well and displays some natural coordination changing directions and closing on the throw off his frame. Plus, the guy just looks like a safety out there in the deep half with his overall physical make-up. I think at this stage he's more of a later round/developmental type prospect who has some upside because of his growth potential, but he can help out early in his career on an NFL defense as a potential nickel backer and as a solid special teams type option in my opinion.
Another interesting linebacker option
In 2008 Syracuse standout Doug Hogue finished second on the team with 232 yards rushing and two touchdowns all while averaging over 6.5 yards per carry on the year. However, in an attempt to get more athletes on the defensive side of the ball Hogue made the move to linebacker in 2009 and has been on a steady rise ever since. He possesses a thick upper body with a narrower lower half, but looks natural in pass coverage, getting a deep drop off the line and exhibiting impressive fluidity when asked to redirect and close on the throw. However, the biggest knock on him at this stage is his overall lack of ideal feel and read and react ability when asked to find the football vs. the run. He's a gifted run and hit athlete and showcases good range in pursuit. But when asked to read blocks and get good jumps on the football he often struggles to decipher what he sees and will either be slow to react or take himself out of plays with a false step. Nevertheless, the physical make-up is there for this guy to at least compete on special teams and work his way onto the field as a nickel backer. Plus, there is still some upside to his game from a mental standpoint as he has only been playing the position full time for about two years and should continue to improve just by further experience alone.
Senior safety has improved
I've been on the Jaiquawn Jarrett bandwagon ever since I first saw the Temple safety as a sophomore back in 2008. At 6-0, 197 pounds, he plays with impressive body control and balance in his drop, is fluid when asked to get in and out of his breaks and does a really nice job playing the football in the deep half of the field. Overall, he looked liked one of the cleanest athletes in space in the safety class and showed enough to warrant a potential starter grade based off his summer tape. However, he looks to have improved his game even further this season answering two big questions I had about him coming into the year.
1. Can he improve as a tackler?
2. Can he improve his overall feel in zone coverage recognizing routes and getting earlier jumps on the football?
And so far up to this point the answer has been yes on both counts. He looks more physical attacking downhill in the run game, as he takes good angles, sees what he hits and has displayed a little more thump as a wrap-up guy. And when asked to play in zone, he's doing a much better job feeling routes develop around him and quickly closing on the football. Now, the one knock on him is that he isn't the most explosive of straight-line athletes and lacks idea make-up range, which is true, as he doesn't look like a guy who will run in the low 4.4 range. However, I certainly think he is fast enough because of his ability to cleanly redirect and change directions to make plays in an NFL secondary, as he looks like one of the top senior safety prospects in the nation in my opinion.
Defensive draft snippets…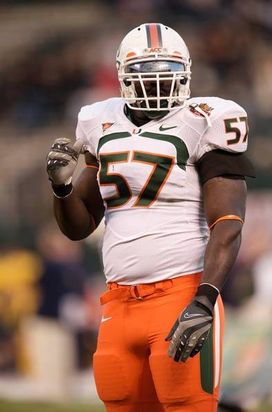 ICONBailey has been less than impressive all season.
• The further we get into the season, the more NC State ILB Nate Irving is looking more and more like the guy we saw in 2008. He's always possessed good instincts and read and react ability inside, but he seems to have his first step back in order to quickly attack downhill and close on the ball carrier. Plus, he's always been a secure wrap-up tackler and if he can check out medically, he looks like a guy who could come in and make a contribution early in his NFL career at any of the 4-3 linebacker spots.
• I am still not sold on the likes of Miami DL Allen Bailey as a highly rated, blue-chip caliber prospect. Now, there is no doubt the guy has the physical capabilities to anchor on the outside, he runs well in pursuit and can get up field and create havoc behind the line as a three-technique. However, he isn't the most natural of linemen when asked to disengage, too often getting hung up very easily on contact and I just don't see him as much of a pass rusher off the edge. He's a versatile guy who many assume can play at a number of spots across the line of scrimmage, but he looks more like a one-gap guy to me inside who needs to win off the snap with his first step in order to be effective because he simply isn't real savvy and will struggle to routinely beat blocks with his hands in any area of the game.
• Not only do I worry about Michigan State CB Chris Rucker from a character standpoint, but honestly after watching tape of him this summer and early this season, I don't even think he's that good of a cornerback. Rucker was reinstated for the Iowa game this week after serving an 8-day jail sentence for v iolating probation. And from a physical standpoint he isn't a real explosive athlete, lacks ideal balance off the line and consistently gives up far too much separation on all levels of the field. Add all that up and he's simply a cornerback who would be removed quickly from my board prior to draft day.
NFL draft/college football questions? Get them answered at Wes.Bunting@nationalfootballpost.com
Follow me on Twitter: @WesBunting