September 15, 2010 -
National Football Post
Scout's notebook: Defense
A scout's take on the good, the bad and the ugly from the second week of the college football season concerning the nation's top defensive prospects.
Triple-threat match
Iowa DE Adrian Clayborn
vs.
Miami DE Allen Bailey
vs.
Ohio State DE Cameron Heyward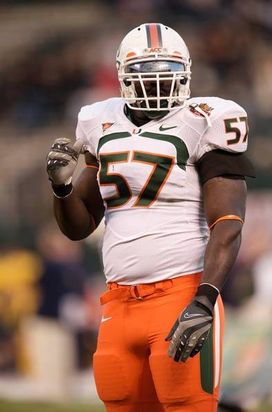 ICONBailey is loaded with upside, but has some rough spots to his game as a pass rusher.
I got the chance this weekend to really take a close look at three of the nation's top senior prospects in defensive linemen Adrian Clayborn, Allen Bailey and Cameron Heyward, and I really wanted to compare their strengths, weaknesses and overall differences in their game.
What makes these three prospects so unique is that in a time of undersized speed rushers, these three prospects are bigger, more physically put together linemen who have the ability to set the edge, overpower on contact and even kick inside to tackle on third down.
Therefore, the first guy we will look at is Miami's Allen Bailey. Bailey is the most explosive athlete of the bunch. He exhibits an impressive initial first step off the football, coils up well into his stance and has a nice combination of power and explosion to his game. He did a much better job this week vs. Ohio State anchoring at the point of attack when run at and when asked to stack a pulling guard.
Now, he still will take himself out of some plays at times, but for the most part I thought he did a much better job playing the run compared to last season. However, as a pass rusher I do have some concerns. He isn't the most aware of defenders and is rarely the first lineman moving off the snap. And although he possesses a good first step when asked to get into defenders or shoot the C gap inside, he lacks ideal body control into contact, tends to lose balance and isn't nearly as comfortable slipping blocks on contact and using his hands to disengage. He does possess some bull rush ability, but overall he's still pretty raw as a pass rusher at this stage and might be better suited kicked inside to tackle on third downs where he can use his burst to one-gap and get up the field.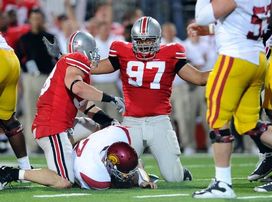 ICONHeyward is the most effective inside player.
Heyward, on the other hand, is the most efficient interior player of the bunch. He does a nice job keeping his base down, can fire off the football and knife his way into the backfield with consistency. Now, he isn't the most explosive pass rusher off the edge and isn't real sudden when asked to disengage. But, he is the most powerful rusher of the bunch who maintains his balance well when working his way toward the quarterback and smoothly changes his body angles, which allows him to fight his way through contact and collapse his side of the pocket into the quarterback's lap. Now, like Bailey, he isn't nearly as instinctive getting off the ball on time when lined up on the outside compared to at DT. But, he plays the run extremely well as a base end, recognizing his run/pass keys quickly, generating good leverage on contact and using his long powerful arms to stack and shed on the edge.
And finally, in my opinion, Iowa's Adrian Clayborn is far and way the best of the three. He isn't quite the athlete that Bailey is; however, it's his suddenness, body control and extremely quick/powerful hands that allows him to consistently slip blocks and accelerate up the field. Pair that with his overall power on his bull rush and drive when asked to fight through defenders once he gains a step and he is in my opinion the best pass rusher of the bunch. The guy also does a great job anchoring vs. the run as well. He possesses a nice blend of power, balance and range when asked to stack and shed on contact and displays the instincts to consistently find the football and make a play off his frame.
And the winner is…
Therefore, overall I think all three players have the talent to mature into very capable NFL starters and add some intriguing versatility to any defense they end up playing in. But, despite the immense physical talent and upside of Allen Bailey and the overall size and power of Cameron Heyward, after watching tape all summer of these guys and now breaking down their first real tests of the 2010 college football season, as of now, Adrian Clayborn to me is the best potential pro prospect of the group.
Snippets…
• Speaking of big defensive linemen, Wisconsin's J.J. Watt is an impressive 6-6, 292-pound defensive end who plays with a great blend of power, flexibility and overall passion on the outside. The guy was downright unblockable at times this week vs. San Jose State and consistently was jarring blockers on contact and putting them on the ground. A potential big-time five-technique prospect at the next level.
• I was really unimpressed with the Ohio State cornerback play this weekend. Devon Torrence simply plays too high in his drop and it takes him so long to regain balance and close on the football on passes in front of him. Some of those deep outs he gave completions up on were in the air for an eternity and he never even got close when asked to drive on the football. Chimdi Chekwa, on the other hand, despite his opportunistic two picks, isn't real impressive in press coverage off the line, is really leggy when asked to turn and run and consistently allowed receivers to easily get behind him. Both guys are gifted size/speed athletes, but are so raw technically that it really takes away from their ability to make plays on the football in man-coverage. Both look at best like reserve-type options in the NFL to me.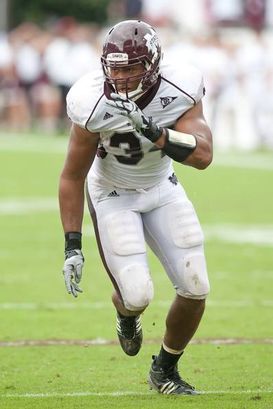 ICONWright looks like a potential starting caliber strong side backer in the NFL.
• Mississippi State standout outside linebacker K.J Wright showed the kind of pop as a downhill guy I was waiting to see on tape all last season. He did a much better job dropping his pad level into contact, keeping his head up and really snapping at the hips. It's continued improvements like this that make me think he's a potential starting strong side backer at the next level.
• Hampton defensive lineman Kenrick Ellis had a game for the ages this week, finishing with 16 tackles, two and a half tackles for loss, two sacks and a fumble recovery. He's a massive 6-4, 340-pound kid who is simply a man among boys at the FCS level. And if he can begin to put it all together this season, there is a whole lot of upside to his game in terms of draft grade and NFL potential.
• I liked the improvements made to the game of Mississippi State DE Pernell McPhee. McPhee isn't the most explosive guy off the edge. But he's a long, strong athlete who can overpower on contact and really looks a lot more coordinated and confident using his hands to shed blocks this season. He did a great job working a violent rip early in the game last week and then countering off it later with a sudden spin — something you can tell he's been working on all summer. Plus, he showed some versatility as a stand-up rush guy, as well, and could even get some looks as a p otential strong side 3-4 rush linebacker in the NFL. The future looks really bright for this guy as he continues to improve his overall game.
• There is no doubt in my mind that West Virginia CB Brandon Hogan has the skill set to play and even start at the next level, as I ranked the guy as one of the top senior prospects in the entire draft. However, he does have some past character concerns and was arrested this weekend and charged with DUI. Hogan is a tough, hard-working guy on the field who will play special teams, tackle in run support and has a real passion for the game. But off-the-field character could really hurt his stock on draft day.
• DT Muhammad Wilkerson is another of the up and coming Temple prospects who looks poised to take his game to the next level, as he finished this week with six tackles, three tackles for loss, two sacks and a forced fumble. The junior talent has a unique combination of size, burst and length, and will intrigue as both a potential starting three- or five-technique in the NFL.
NFL draft/college football questions? Get them answered at Wes.Bunting@nationalfootballpost.com
Follow me on Twitter: @WesBunting