December 08, 2010 -
National Football Post
Scout's notebook: defense
A scout's take on the good, the bad and the ugly from the fourteenth week of the college football season concerning some of the nation's top prospects.
Pass rusher who can make the switch…
Breaking down Fresno State tape this past week, there is no doubt that DE Chris Carter has some natural pass rush ability. He possesses a good first step off the snap, displays some lateral suddenness when asked to side step blocks on any kind of inside or stunt and does a decent job using his length to keep himself clean before accelerating toward the ball. However, he's not the most flexible of defenders when asked to coil up into his stance and play with his hand on the ground. Plus, he has a tendency to allow himself to quickly get upright around the edge and lacks ideal power/hand placement on contact. And at only 6-2, 240 pounds, he isn't the type of guy who can consistently sit in and anchor with much success vs. the run game.
Therefore, when projecting his game to the next level, he looks like a much better fit as a 3-4 rush linebacker than as a down nickel rusher. Plus, the move gives him the ability to mature into a potential three-down player as opposed to a situational pass rusher. He does have experience rushing from a two-point stance as well and looks much more comfortable standing up than with his hand on the ground and I think ultimately it will simply allow him to be more effective at what he does best and that's create pressure in the pass game.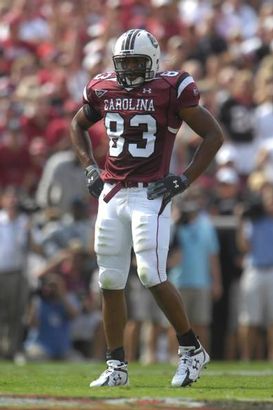 ICONMatthews has been less than impressive all season long.
Keeps on falling…
The more I watch South Carolina DE Cliff Matthews the less I like him as a prospect. He doesn't have the type of initial burst to consistently fire off the football and threaten the edge. He isn't real fluid or flexible when asked to drop his pad level down around the corner and he too often allows himself to play too high which takes away from his ability to cleanly slip blocks and generate a burst for himself toward the QB.
To his credit, he is still playing hard this season as he will chase the football from the backside, gives good effort in pursuit and displays the ability to create turnovers on contact. However, as a pure pass rusher at the next level, he just doesn't possess any elite or even very good qualities that will allow him to win his one-on-one battles routinely and create pressure off the edge. Looks more like a reserve lineman to me who will get a shot because of his past production and intriguing frame, but hasn't been real impressive on tape all season long.
Overrated because of the poor safety class…
FS Chris Prosinski: Wyoming (6-1, 210)
The best thing Prosinski has going for him is that he possesses good size and overall length for the position and when asked to get into a ball carrier he has the ability to use his length to wrap up and drag his man to the ground. However, he isn't a real physical striker by any stretch, fails to take great angles when asked to tackle in space and doesn't exhibit a great closing gear on the football in pursuit. Too often vs. the better backs he would face, he could be seen easily getting outpaced at the second level and would just flail at the back as he tried to break down and tackle him in space. Plus, he isn't the most fluid or balanced of defensive backs in coverage and it takes him too long to get back up to speed. And even once he does reach top-end speed, he still lacks the kind of range to make up for a false step and put himself around the football. Overall, if you have a safety who struggles as a tackler and doesn't run real well, he's going to have a tough time making an NFL roster.
FS Marcus Ball: Memphis (6-0, 210)
Ball is a former Florida State transfer who has developed into a solid college safety in Conference USA, as he showcases some real natural explosion to his game as a tackler at times. However, he isn't a real gifted athlete and struggles to quickly decipher information and take proper angles toward the football. In the run game, he routinely will see his angles outpaced when asked to attack the line of scrimmage and allow backs to easily/routinely accelerate past him. He also struggles to break down on contact in a phone booth and again fails to consistently wrap up and make a play on the ball carrier.
In the pass game he possesses a better second gear and range when asked to chase the ball in space. However, he struggles to get back up to speed quickly in and out of his breaks because of his overextended footwork and displays really poor instincts in coverage. Ball routinely takes himself out of plays vs. any kind of play fake, exposing the deep half of the field and allowing opposing receivers to create big plays in the space he vacated. Again, when you have a guy who isn't a consistent tackler, isn't real instinctive and lacks great speed, you're looking at someone who simply isn't cut out for the next level.
Some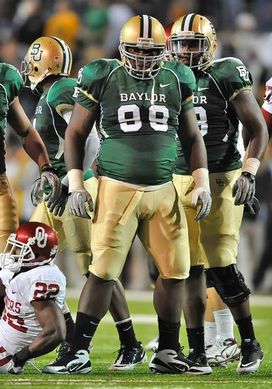 ICONTaylor is a real boom or burst prospect.
improvements have been made, but are they enough…
I will admit to being much more impressed this time around watching Baylor DT Phil Taylor than I was last summer on tape. At 6-4, 340 pounds, the guy does possess a good overall first step for his size, displays some quickness when asked to shed blocks and is doing a better job using his length and hands to keep himself clean in the pass game. Also, he's a really strong kid who has the kind of power to overwhelm on contact on his bull rush when he wants to push the pocket, can eat up blocks inside vs. the run and did an impressive job defeating slide down blocks on the move, keeping his motor running and making a play on the football away from his frame.
However, he's still raw and if he really wants to take his game to the next level he needs to learn to play with a more consistent pad level. First off, he really struggles to sit into his stance, stay compact and keep his pad level down into contact. Then, once he fires off the ball, his pad level gets far too high, which limits his power, balance and overall explosion in both the run and pass game.
Nevertheless, he's so physically gifted that he can get away with it for the most part, but he has the upside to develop into a quality NFL lineman if he wants to. Also, weighed into the equation is his overall character concerns. He's a former Penn State defensive lineman who transferred after being dismissed from the Nittany Lions back in 2008 and has had his fair share of weight problems during his college career. However, if he can put that all behind him he seems like a guy who could play just about any interior defensive line position in the NFL including even the 5-technique as a 3-4 defensive end. But he strikes me as a real boom or bust type prospect who will likely be overdrafted due to upside and will need some time to mature both on and off the field.
Follow me on twitter: @WesBunting