November 24, 2010 -
National Football Post
Scout's notebook: defense
A scout's take on the good, the bad and the ugly from the twelfth week of the college football season concerning some of the nation's top prospects.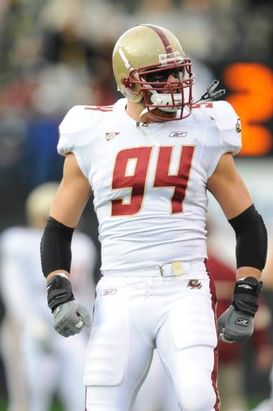 ICONIt will be interesting to see if Herzlich can ever regain his 2008 form.
He's just not the same guy…yet
Every time I break down Boston College, I'm still waiting to see the Mark Herzlich from 2008. The one that showcased that impressive closing burst and explosion for a guy his size. However, up until this point in the season we have yet to see it and in all honesty I don't know if we ever will again. Please don't take this the wrong way because as a fan I really admire what this guy has done both on and off the field, but as a football player at this stage I just don't think he's anywhere near the same player we saw two years ago. The heart, the passion and the motor are all still there. He plays hard, still possesses pretty good fluidity in the hips for a guy his size and uses those long arms well to keep himself clean and fight off blocks. However, he seems to play more so at one speed. Not showcasing that good initial burst or second gear when asked to close and wrap on ball carriers and at times he just looks like a shell of the player he once was working from the backside.
Again, I preface this with the fact that I don't know the medical on the kid, I don't know how long it takes to fully recover physically from this kind of cancer and I don't know if you even can. Nevertheless, as a talent evaluator, he is clearly not the same player he was before and it will be interesting to see how NFL teams handle him on draft day because of it. Because the days of him being a potential high draft pick seem to be long gone.
Small-school look
I got to take another look this weekend at Richmond DT Martin Parker, who is having a very solid season up until this point with 13.5 tackles for loss, 5.5 sacks and 96 tackles. He's an undersized interior lineman at 6-3, 283 pounds, but possesses a long set of arms and a really good first step off the snap. However, when breaking his game down further it quickly became obvious why such a talent like Parker isn't even more productive at the small school level — his overall pad level through contact. Parker does a nice job keeping his pad level down initially off the snap, showcasing the ability to shoot gaps inside, knife his way up the field and/or even slip blocks on contact when trying to get into the backfield. However, just about any time his initial rush is stalled, he allows himself to get very upright, losing the ability to create any kind of power or leverage on contact. This takes away from his ability to routinely anchor in the run game as well as overwhelm on contact and/or disengage from blockers as a pass rusher. He still showcases pretty good strength and quickness even when he gets upright, making him tough to block at the FCS level, but he simply doesn't display the type of balance or overall coordination to free himself from blocks and find the football consistently inside. Therefore, he's still pretty raw as a prospect and when you add that in with his size and level of competition, he looks nothing more than an intriguing free agent type guy for more of a one-gap scheme.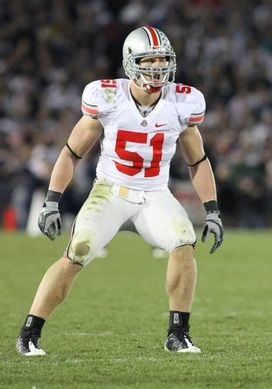 ICONHoman looks like a solid, yet very average NFL linebacker prospect, nothing more.
He's not the second coming
When the preseason rankings came out this summer, Ohio State OLB Ross Homan was not only one of the highest graded outside linebacker prospects in the nation, but in some circles he was considered as one of the highest graded senior prospects overall. And I didn't see it then and after watching him closely in back to back weeks, I certainly don't see it now. Homan is solidly built kid, possesses good read and react ability and he knows how to find the football. Plus, he has a good feel in zone coverage, gets early jumps on throws and can mask some of the tightness in his footwork and hips because of it. However, I have been shocked in recent weeks by how many tackles this guy has missed both in a phone booth as well as in space. He showcases some natural power to his game, which can be seen when asked to take on the lead block or even anchor vs. offensive linemen pulling in the hole. But, he isn't a guy who is real long armed and doesn't have the ability to routinely shed once he is able to stack at the line. And as a tackler, he doesn't seem to possess a great closing burst through ball carriers, routinely falling off his target and not having the ability to get into their core and wrap around their legs. There were at least three occasions in the first half alone this week I noticed his struggles wrapping up and that was after underlining the same thing vs. Penn State last week.
Now, he is coming back from an ankle injury that has been nagging him since the Wisconsin game, but even when healthy last season I still saw him as an average NFL prospect who looks more like a utility backer in the NFL than a clear cut starter that you know you can win with.
Defensive prospect one liners…
Speaking of Buckeye prospects, CB Chimdi Chekwa is going to need to play in more of a press-scheme at the next level where he can use his physicality to get his hands on receivers off the line. The guy gets way too high and choppy with his footwork in his drop when asked to play in off/zone and simply wastes too much motion trying to regain his balance and click and close on the football in front of him. He also still gets high in his transition when asked to turn and run down the field as well, but he at least has the type of make-up speed to give himself a chance to make a play vertically. However, I still have some questions about the guy's ball skills and ability to locate the football quickly down the field, which still make me very leery concerning his potential to start on the outside in the NFL.
There is just something about Washington LB Mason Foster that just really wears on you. He isn't the most physical of anchor players when asked to take on blocks inside, but he does a nice job using his hands to disengage, has really good instincts and consistently puts himself around the football. Plus, he's a very solid wrap-up tackler, displays above-average fluidity in the hips when asked to redirect in coverage and just looks like a very solid, yet unspectacular, starting caliber linebacker who could play at a number of spots on an NFL defense.
Finally, when watching the Cal defense this weekend vs. a very physical Stanford team, two things really stuck out to me…
1. DE Cameron Jordan has been as dominant on a weekly basis as any defensive lineman in the country. His combination of power, coordination and suddenness in both the pass and run game allows him to consistently shed blocks and get after the football. Not only do I think he's a better prospect than 2009 Cal lineman Tyson Alualu, who went tenth overall last season, but I am now starting to think he could end up going just as high.
2. LB Mike Mohamed still possesses good range when asked to get after ball carriers on perimeter runs. However, he consistently is knocked off balance and slowed in pursuit vs. any kind of contact toward the edge. He's really slow to fend off blocks and doesn't do nearly a good enough job of keeping himself clean through traffic as you would like to see in a potential starting caliber linebacker prospect. Therefore, he looks more like a special teams guy and nickel backer to me at the next level.
Follow me on twitter: @WesBunting