October 27, 2010 -
National Football Post
Scout's notebook: Defense
A scout's take on the good, the bad and the ugly from the eighth week of the college football season concerning some of the nation's top prospects.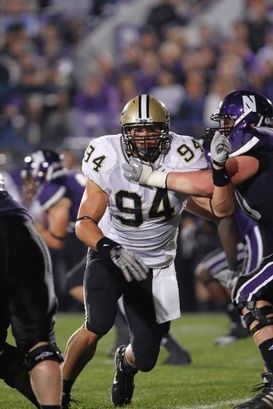 ICONKerrigan is a nice pass rusher, but needs to improve vs. the run.
Some cracks in the armor
One defensive lineman who has done a nice job all season rushing the passer is Purdue DE Ryan Kerrigan. He's currently at 6.5 sacks on the year and has the ability to suddenly change directions on his pass rush, use his hands to keep himself clean and just displays a really savvy about his game when asked to get after the passer. He was once again routinely able to create pressure off the edge this week vs. Ohio State, slipping blocks and using his motor to get after the QB. However, the one aspect of his game I wasn't a real fan of was his overall inability to consistently anchor vs. the run game and find the football. He had a tendency to get upright into blocks, wasn't real violent with his hands when asked to shed and took himself out of too many plays on the edge. I have read in some draft circles that this guy is considered a potential first-round pick. And although I like his ability to rush the passer, I don't think he's ready to come in and play the run at a real high level in year one. That doesn't mean he won't be able to with some time, but as of now I have some concerns. Plus, scouts in the region I have talked with have all told me this guy will fall some as we get closer to draft time because he's simply not that great of an athlete. Overall, I still think he's going to be a very solid NFL player for a defense, but he's more of a dirty starting caliber guy to me who needs a year or two to mature into a capable three-down option.
Catch the football
One of the most overlooked qualities when evaluating a defensive back is ball skills. And not only the ability to locate the football and knock the pass away, but the ability to catch the football and create a turnover. Who cares if a defensive back is able to break up a pass when he had a legit chance to create a turnover, if on the next play the opposing offense is able to score a touchdown. Therefore, when breaking down Iowa State safety David Sims — who in all honesty I like a lot as an athlete — poor ball skills and concentration is an aspect of his game that is hard to overlook. He's a shorter, compact kid who does a nice job getting out of his breaks, finding the football and he can really create a jolt on contact as a striker in both the run and pass game. Plus, he puts himself consistently around the football in the pass game. However, his inability to maintain concentration through the play and come down with a pair of relatively easy picks this week vs. Texas were two plays that are really tough for me to overlook. It's hard to be a real ballhawk in an NFL secondary if you can't catch the football, and that seems like the case for Sims at this point, which could end up being the determining factor in whether I give him a reserve type grade or potential starter grade.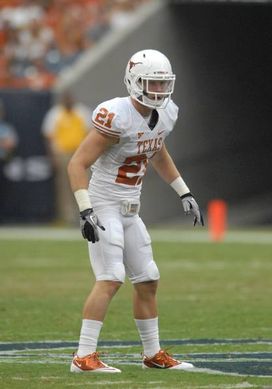 ICONGideon has flaws in both the run and pass game.
Another poor safety performance
I've been getting a lot of questions from Texas fans about the potential pro prospects of safety Blake Gideon. And after watching him this week I came away far from impressed. He does possess solid overall size and does a nice job putting himself in position to make plays on the football in both the run and pass game, meaning he displays pretty good instincts. However, he lacks ideal range and consistently is forced to play the man on passes down the field and not consistently the football, even when he puts himself around the throw. And as a run defender he showcases very little pop as a tackler, routinely failing to wrap up on contact and get his target on the ground. So despite his nice size and overall instincts, it's tough to grade a safety out highly who lacks great range and will struggle to make plays on the football in the pass game as well as break down as a tackler.
Just don't bet against him
Sometimes different prospects just continue to pop out to you in every aspect of the game, which is exactly the case for Rutgers safety Joe Lefeged. I came into the year thinking of Lefeged as a guy who lacked ideal range and overall speed in all areas of the game and possessed pretty inconsistent instincts, sometimes making the proper reads and other times quickly taking himself out of plays. However, this season he's done a better job putting himself around the football and creating turnovers both in the run and pass game. But, his real calling card might come on special teams where the guy has been on a terror this year, working hard on coverage units, blocking punts and simply getting after the ball. Overall, I still wouldn't trust him as a potential starter in an NFL secondary, but as your team's last safety on the roster who can give you production on special teams, I think this guy really has a chance to make an NFL 53 because of it.
A move that matters
Did anyone else notice Illinois ILB Martez Wilson get a chance to play on the outside this week and rush off the edge? The 6-4, 250-pound specimen finished the game this week vs. Indiana with 12 tackles, one QB hurry and was in the backfield all game long. We have always known the high-cut Wilson had the talent, but he always struck me as a player who was better suited to simply go get the football rather than try to read and react on the inside as a MLB. Therefore, I will be really interested to see how he fares when asked to play on the outside the rest of the year, because as an NFL prospect rushing off the edge as a potential 3-4 guy is where I think this guy could have a lot of value at the next level.
Another redshirt sophomore makes his case
I was really close to having Michigan State defensive tackle Jerel Worthy on my redshirt sophomore watch list last week, but decided to keep him off because in all honestly I didn't think there was any way he came out at the end of the year. With that being said, there has still been nothing to change my position on that, but the kid had one heck of a game this week vs. Northwestern. Displaying an explosive first step, a strong punch and good leverage — keeping his legs under him through contact — the guy was able to consistently just overwhelm opposing linemen into the pocket and really push the pocket on passing down. He's still learning how to use his hands and doesn't display much in the form of lateral suddenness when asked to slip blocks. But, as a guy with two more years of eligibility, the skill set is most certainly there for him to end up maturing into one of the best defensive linemen prospects in the country with some time.
His rise to the top
Finally, the defensive prospect of the week had to be Auburn defensive tackle Nick Fairley, who was absolutely dominant throughout the LSU game this past weekend. At 6-4, 295 pounds, he packs one of the strongest initial punches on contact of any lineman in the country. He does a great job using his length, hands and leverage to consistently shed blocks in both the run and pass game. But ev en more impressive in my opinion was his ability to find the football. He showcased a great feel for the game, displayed impressive awareness inside and his combination of power, flexibility and burst was simply too much for any single- or double-team thrown his way. The guy also has the frame and power to get some hard looks as a potential five-technique in the NFL. But his calling card looks to be getting after ball carriers and creating havoc behind the line as a three-technique prospect and as of now you would be hard pressed in convincing me that there is a better defensive tackle in the country than Fairley.
NFL draft/college football questions? Get them answered at Wes.Bunting@nationalfootballpost.com
Follow me on Twitter: @WesBunting