November 10, 2010 -
National Football Post
Scout's notebook: defense
A scout's take on the good, the bad and the ugly from the tenth week of the college football season concerning some of the nation's top prospects.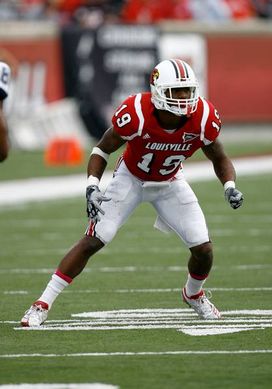 ICONPatrick has made some much needed improvements to his game.
Some improvements
Breaking down Louisville cornerback Johnny Patrick this summer, I came away thinking that the guy wasn't much more than a size/speed free agent at that stage. However, after watching him a couple more times this year he has shown some real improvements and now has me thinking that he is indeed worth a draft pick. He looks much more comfortable sitting into his drop off the line than a year ago, keeping his feet under him, staying more compact in his back-pedal and maintaining his balance better when asked to click and close on the football underneath. Plus, he showcases good physicality to his game breaking down as a tackler and using his long arms to be physical and press off the line. He isn't the most polished of pressmen, at times pressing with both hands initially into contact and just using his size/power to overwhelm undersized wideouts on contact, but he does have a willingness and the overall physical skill set to mature in that area.
However, the biggest concern I still have for his game is his ability to get back up to speed quickly when asked to turn and run. He still allows himself to get too high and leggy out of his transition, which really takes away from his initial burst down the field as he too often allows receivers to gain separation behind him. He looks a bit high hipped, as well, which is something he will have a tough time overcoming. But he does show improvement in press coverage and as an off man, and because of his size/speed numbers possesses enough talent to warrant a draftable grade.
The interception return for a touchdown that didn't help his draft stock…huh?
I like Maryland ILB Alex Wujciak. He's a big, physical kid who showcases a good feel at the line sniffing out the football and is a sound wrap-up tackler. However, watching him try to run after both his interception returns this past weekend wasn't real easy on the eyes. He's stiff in the hips, has absolutely no second gear to his game and I'm guessing based on watching him try to weave his way in and out of traffic, the guy looks nothing more than a 4.9 guy to me. Nevertheless, he's a football player and not a track star. Therefore, is there still a spot for him in the NFL? Absolutely.
He doesn't strike me as a guy who can play linebacker in a 4-3 where he is forced to cover more ground and run sideline-to-sideline more often. However, as a potential jack backer in a 3-4 who is asked to consistently play on the strong side, take on pulling guards and keep his fellow inside linebacker clean, I really do think the kid has a good chance of making a roster. He possesses the size, is physical at the point of attack, displays a nose for the football and has the kind of nasty mentality needed for the jack LB position. So in no way am I writing the kid off as a player in the NFL. He may not be able to run, but the guy can play football and will likely find a spot in the NFL because of it.
Can't get away with it<br /> The middle linebacker spot is the one position in the NFL where you can really get away with not having an ideal physical skill set. Therefore, a guy like Georgia Tech's Brad Jefferson</strong>, who at 6-1, 243 pounds, can't be overlooked just because he is undersized. However, when watching him again this past Thursday, he not only lacks ideal size, but is stiff in the hips, lacks range when asked to make plays off his frame and doesn't have the ability to cover much ground in coverage. But, again, there have been plenty of 'backers who lacked great range as well that made it in the NFL.
However, the biggest knock on Jefferson is his lack of ideal feel and instincts in both the run and pass game. The guy consistently runs himself out of plays vs. the run game inside, struggles to find the football and is slow to redirect and get himself back in the play. He also really isn't natural in zone as he too often gets caught ball watching and will drift away from his man, allowing big throwing lanes to open up over the middle of the field. So when you add him up as an undersized, stiff-hipped 'backer who lacks range and ideal instincts, the end result is that despite how physical he is as a downhill guy, he doesn't project as an NFL linebacker in my book.
Small-school watch
Going forward keep a close eye on Northwest Missouri State cornerback Ryan Jones. Jones is a solidly built 5-10, 193-pound athlete who showcases good range and closing speed in the pass game, along with an impressive feel for locating the football. He currently has six interceptions on the season and has been a real ballhawk in the Bearcats secondary ever since getting his first playing time during his freshman year. Now, like all small-school guys, he is a bit raw with his footwork. But there is certainly enough body control, coordination and fluidity to his game and when paired with his range and ball skills he has the ability to really move up some draft boards with a strong postseason bowl performance.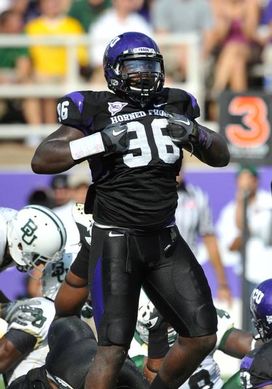 ICONDaniels knows how to reach the quarterback.
TCU snippets…
A lot of impressive talent was on display in the TCU/Utah matchup from this past weekend and here are just some initial impressions of two of the top prospects on the TCU defense.
DE Wayne Daniels (6-2, 250)
An undersized defensive end prospect who can coil up into his stance, keep his feet under him and doesn't waste much motion off the ball. Exhibits a good first step and is a really savvy pass rusher who does a nice job changing gears and directions, keeping his pad level down into contact and working his way toward the quarterback. Also, exhibits some violence with his hands when asked to slip blocks on his inside move and displays the suddenness to break off a clean up and under move inside in order to gain a step. He has a motor that runs nonstop, closes quickly on the football and did a nice job creating a turnover from the backside after overrunning a play. Looks like a stand-up 3-4 backer to me who has the ability to get after the quarterback in a variety of ways at the next level.
DT Cory Grant (6-1, 305)
A shorter, stout nose tackle who knows his role and does a good job playing within himself. Has the lower body strength and flexibility to sit into his stance and is really tough to move off the football. Consistently is able to hold the point of attack inside vs. the run game — even when he see a double — and allows defenders around him to cleanly work toward the football. Possesses a solid first step off the snap for his size, but is more of just a linear lineman. Struggles to quickly change directions in any area of the game and isn't going to slip blocks as a pass rusher. However, he does do a nice job gaining leverage off the snap, keeping his head up and pad level down and can work his legs through contact, overwhelming opposing blockers inside. Isn't a big-time prospect by any stretch, but has the ability to anchor vs. the run game and give an NFL defense good reps as a two-down run stuffer as a 4-3 nose.
NFL draft/college football questions? Get them answered at Wes.Bunting@nationalfootballpost.com
Follow me on Twitter: @WesBunting