October 20, 2010 -
National Football Post
Scout's notebook: defense
A scout's take on the good, the bad and the ugly from the seventh week of the college football season concerning some of the nation's top prospects.
My takes…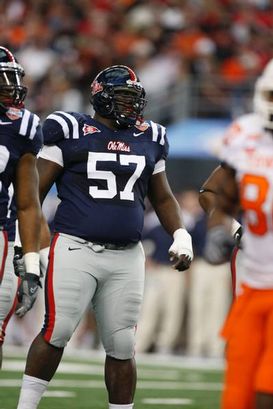 ICONPowe needs to do a better job finding the football.
He can't find it
Watching Ole Miss defensive tackle Jerrell Powe this season, there is a clear difference in his overall level of range and work rate in pursuit compared to years past. He seems to be working much harder play in and play out, gets to more ball carriers down the field and possesses a bit more endurance because of the loss of weight. However, despite his impressive first step for his size and overall pop on contact, watching him vs. Alabama this weekend there still seems to be something missing, as Powe just doesn't do a great job of finding the football. He has the ability to push the pocket, or gain a step and make his way into the backfield, but consistently takes himself out of plays and isn't around the football nearly as much as he should. Pair that with his limited lateral ability as a pass rusher, his past character concerns and the fact that he will be 24 years old come draft time, and I really would have a tough time taking this guy in the first round. And I think he can be a solid contributor for an NFL defense, but I don't ever see him playing quite up to his physical capabilities because of his lack of feel for the game.
Not a draftable cornerback
Oregon State CB James Dockery possesses a nice, long, lean frame and from a pure body standpoint, I can see why so many people where high on him at the beginning of the year. However, after watching him this summer and again this season, I just don't see how you could trust this guy to play man-to-man coverage for you in the NFL. He plays too high, struggles to maintain balance and keep his legs under him when asked to redirect and lacks the ability to quickly transition and run down the field with college-caliber receivers. Therefore, the idea that this guy can line up vs. the likes of NFL-caliber receivers is just completely out of the question in my mind. Nevertheless, because of his size I still think he will get a shot in an NFL camp. However, there is no way he's worth a draft pick in my mind and doesn't look much more than a size free agent to me.
He just jumped out
I was taking a good look at the Washington defense this week, in particular to break down LB Mason Foster and S Nate Williams. However, the one guy who kept popping out and making play after play was the other outside linebacker Victor Aiyewa. And after doing some research on him I learned that the guy is a senior, he's a former safety and at 6-1, 220 pounds he has made the move to 'backer this season to add more athleticism to the field, and boy did he ever. He displays a deep, coordinated drop in the pass game, good read and react ability and ball skills when asked to click and close and simply looked really comfortable in the pass game. Plus, he did a nice job cleanly redirecting and getting his hands on the football on the first interception of the game and consistently broke down well at the line of scrimmage, saw what he hit and wrapped up with some snap on contact. He's a guy who wasn't on the National List as a safety after starting only two games last year, but he's really beginning to make his mark at linebacker. He needs to gain some weight and continue to get bigger, but he's a really bright kid who can run and help out on special teams, and is one senior who has potentially put himself in position to end up making a roster spot because of his great senior year.
Productive, but not as impressive
One senior 'backer who has done nothing but find and tackle the football this season is Marshall's Mario Harvey. Harvey averages just over 12 tackles per game, which is currently third in the nation, and does a really nice job reading his run/pass keys, diagnosing plays and putting himself around the action. However, he is a bit undersized and limited as an athlete, lacking an ideal initial burst to close on the ball carrier off his frame and he is a bit stiff when asked to run sideline-to-sideline. Plus, his limited size causes him to struggle taking on blocks at times and despite his ability to run around/slip linemen, the majority of his tackles typically come a couple yards down the field. Now, the guy plays with a good motor, has a passion for the game and knows how to find the football. But, the combination of his lacking size and overall athleticism really hinder his chances. I see him more as a free agent guy who I would love to have compete in my training camp, but I can't say he's worth a draft pick at this stage.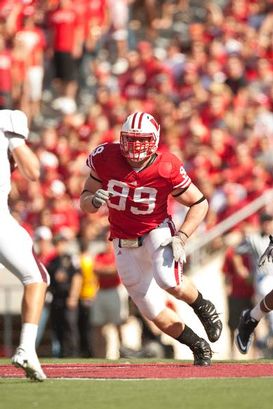 ICONWatt has the ideal skill set to play as a five-technique at the next level.
Big decision looming
It was pretty obvious that Wisconsin DL J.J. Watt was a man on a mission Saturday night. He did a great job using his long arms and strong hands to slip blocks, exhibited a better initial burst off the snap in the pass game than I initially thought and consistently commanded double teams in the run game. He finished the game with four tackles, three tackles for loss, two sacks and a QB hurry and in my mind looks like potentially the draft's top five-technique prospect. And with more and more teams playing in a 34 front, the demand for Watt on draft day could be rather high. Coming into the year, I didn't think there was any way this guy comes out early. But he has played really well all season, has the kind of frame, length and strength to set and anchor on the edge and just looks like a ten-year vet who can come in and start for you very early in his NFL career and mature into a very good five-technique option down the line.
Keeping my fingers crossed
I'm really hopping Iowa MLB Jeff Tarpinian is able to get back onto the field in the near future because the guy really caught my eye during the first part of the season. He had 32 tackles through his four games this year and showed the ability to find the football, run sideline-to-sideline and break down on contact. However, what's even more interesting with Tarpinian is that this is really his first year of playing linebacker. He's a former option quarterback in high school, who played defensive back in 2007, made the move to linebacker in 2008, played predominantly special teams the next two seasons and is finally now getting his chance to shine. Plus, the coaching staff loves him there, as he's a hard-working kid who is going to test out really well during the postseason process, according to sources close to the program. He has had a tough time dealing with injuries throughout his career, but he showed enough on tape early in the season to make me think he's definitely a guy who can make an NFL roster and possibly end up fighting for some playing time down the line if he can stay healthy. But, we'll see how quickly the guy can get back on the field.
The cornerback no one is talking about
With the impressive group of potential junior cornerback prospects who could all end up entering the draft in 2011, it's easy to forget about Utah standout Brandon Burton. However, after watching some tape of him earlier in the season, the guy looks ready to come in and play early in his NFL career. He's a tall, lean kid at 6-0, 185 pounds. However, he's at his best when asked to play up near the line of scrimmage. Burton isn't overly physical and looks more comfortable playing press-bail, but is really patient in his drop, possesses good balance when asked to turn and run and does a great job quickly locating the football. Plus, he possesses the body control to stop on a dime and high point the football down the field. He's also pretty impressive in zone coverage where he can click and close on throws in front of him and does a nice job breaking down and tackling in space. He does have some struggles in off-man, as he will get a bit upright and narrow with his footwork causing him to struggle to quickly redirect and close. However, overall, he's an impressive corner who can play tight man and zone, tackle and make plays on the football. He's also shown very well this year vs. top-tier competition and no matter who comes out he should end up being right there in the mix as one of the nation's top cornerback prospects.
NFL draft/college football questions? Get them answered at Wes.Bunting@nationalfootballpost.com
Follow me on Twitter: @WesBunting
Want to work in the NFL? Click here to register for the NFP's "Chalk Talk" seminar in Chicago on October 22nd.