September 29, 2010 -
National Football Post
Scout's notebook: defense
A scout's take on the good, the bad and the ugly from the fourth week of the college football season concerning some of the nation's top defensive prospects.
Safeties that can't run have no chance in the NFL
Dom DeCicco: Pittsburgh
I like DeCicco as a college player. He's tough, physical, has a passion for the game and knows how to find the football. However, at 6-4, 230 pounds, he's going to have a really tough time manning a safety spot in the NFL. The guy is stiff when asked to turn and run down the field and lacks any type of gear to make up for a false step and close on the football. Now, the good news is at his size he could be in a position to get some looks as a linebacker at the next level, as you also know you're getting a solid special teams player out of him. But the idea that this guy can play in an NFL secondary, in my opinion, is completely out of the question.
Davonte Shannon: Buffalo
Despite his above-average instincts and ball skills in the secondary, Shannon really has a tough time taking proper angles to the football in pursuit and simply doesn't get up to speed real quickly. He's a guy who doesn't possess much of a second gear and lacks ideal range and closing speed when trying to get after the football in the deep half. Now, he's a smart enough kid to routinely put himself around the action. However, with the increase of playing speed in the NFL, I really see him struggling trying to keep pace in the secondary. Plus, the fact he isn't a real consistent wrap-up tackler when asked to break down one-on-one and doesn't seem to cover much range when asked to shoot into his target doesn't bode well. Overall, I think he's a nice MAC safety, but at only 6-0, 205 pounds, and with his lack of great athleticism, he's going to have a tough time showing enough to make an NFL roster.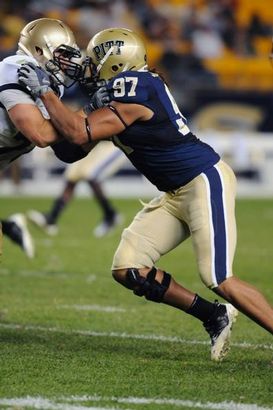 ICONSheard has the ability to get after the passer in a variety of ways.
His time to shine
Many thought that with Pittsburgh DE Greg Romeus out of action for the next couple weeks that his counterpart on the edge, Jabaal Sheard, would see a drop in effectiveness. However, that was certainly not the case on Thursday night as he consistently was able to create pressure in the pass game. Now, Sheard isn't the most explosive guy off the snap and lacks ideal flexibility when asked to sit into his stance. However, what makes him so effective, in my opinion, is his overall savvy as a pass rusher — being able to work his full pass rush arsenal in order to keep opposing tackles off balance. He displays the type of natural balance and bend to drop his shoulder and flatten out around the corner, he can be physical on contact with his bull rush and exhibits the body control to work a sudden arm over back inside. Plus, the guy plays effective on both the right and left side and has a good motor that runs at a pretty consistent rate. Now, he does have some character issues that were brought to fruition before the season started. However, I was told when I first started scouting that…
"If a defensive lineman was a good character guy, he would play offensive line, you have to like a defensive lineman with a little bad boy to his game."
Which is exactly what Sheard possesses.
Can he make the move?
South Carolina defensive back Chris Culliver made the move from safety to cornerback this offseason and one of the biggest questions in draft circles at this stage is: Where will he play in the NFL? Well, when watching him this week vs. Auburn, I was a bit more impressed with his ability to break down on contact, wrap up and bring his legs through the play as a tackler than I was all of last year. However, in coverage, especially when asked to play in off, the guy just really doesn't have a good feel concerning how much room to surrender off the line, as he gave up far too much of a cushion for opposing receivers to operate underneath. Now, he is new to the position and still might be trying to work on his feel for different situations. But, a lack of instincts and overall awareness was a trait that followed him around during his time while at safety and it's just something I don't think he will ever be able to overcome. Athletic ability, range and body control are all definitely not question marks for this guy, but I just don't think he's a guy who will ever live up to his athletic skill set because of his questionable instincts for the game.
Other defensive snippets…
Talked with a scout this week who said the biggest thing that stands out about LSU DT Drake Nevis is how small he is. Said he's a guy who can get away with it at the college level, but isn't much more than a rotational lineman in the NFL. I agree with him 100 percent.
It's not Davonte Shannon you should be watching in the Buffalo secondary; it's CB Josh Thomas. Thomas is a smaller 5-10, 186 pound corner who simply flies around the football field and isn't afraid to hit in the run game. Plus, he showcases some natural body control and bend in his drop, maintains balance when asked to change directions and possesses good speed closing on the football. He will get a bit impatient at times when asked to press and can get crossed up with his footwork, but overall he's a good looking prospect who has the makings of contributing to an NFL roster as a sub-package guy.
I thought Temple safety Jaiquawn Jarrett really played well Saturday vs. Penn State in his limited opportunities. On one play he did a great job breaking down in a phone both, generated a snap through his hips and brought his legs through his wrap, taking the back off the ground. On another play he keyed quickly in the secondary, cleanly changed directions out of his drop and accelerated quickly on a play to the corner of the end zone, knocking the football away. He's a talented kid without much fanfare attached to his name, but is one of the few senior safety prospects I could see starting in the NFL.
Fresno State pass rusher Chris Carter isn't the most natural of benders when asked to play from a two-point stance, but boy can he get off the football. He displays the type of burst to routinely threaten the edge, has some lateral suddenness to his game when asked to set up opposing linemen with a jab step and can drop his pad level down around the corner. Now, he does get upright as a pass rusher and if an opposing tackle is able to get his hands on him he can be easily pushed past the play. However, he also exhibits the ability to rush from a three-point stance and although I think he could end up being a solid nickel rusher, his real calling card looks to be as a potential 3-4 OLB with some real pass rush potential in the NFL.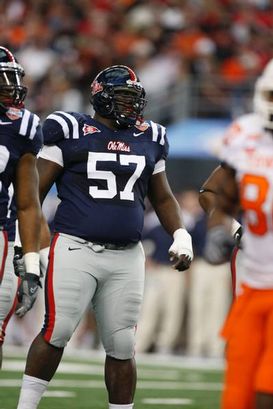 ICONPowe has been rather unimpressive so far this year.
Haven't been real impressed with Mississippi DT Jerrell Powe up to this point and didn't think he was real special Saturday night. He's your typical wide-bodied player who has a good first step for his size and can generate leverage on contact. And although he looks much more athletic when asked to make plays off his frame this year, he doesn't offer much lateral agility as a pass rusher — is more of a push/pull guy — and needs to do a better job protecting hi s legs because at this stage the guy ends up on the ground far too much.
Finally, one guy who I am really starting to fall for is Stanford nose tackle Sione Fua. Fua is a thick, squatty kid who fires off the football low, does a nice job getting his hands up, sitting into his stance and can really anchor inside on contact. Plus, he has the type of body control and strength to fight off blocks, two-gap on either side of him and bring down the ball carrier. Now, he isn't much more than a bull rush guy inside vs. the pass game and I would like to seem him do a better job locating the football inside. But as a two-down, physical run plugger, I think Fua has a chance to start for you in a 4-3 front.