September 08, 2010 -
National Football Post
Scout's notebook: Defense
A scout's take on the good, the bad and the ugly from the first week of the college football season concerning the nation's top defensive prospects.
My takes…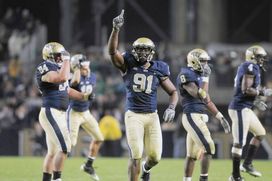 ICONRomeus is proving to be anything other than number one right now.
Flat-out lazy
One of the last things you would expect from one of the "top" defensive linemen in the country on opening weekend would be a half-hearted effort, but that's exactly what you got from Pittsburgh DE Greg Romeus. Utah's OT John Cullen consistently kept Romeus at bay off the edge and once Romeus realized he wasn't going to easily be able to win his individual matchup on the outside, he seemed to almost pack it in. There was no fire, passion or violence to his game and at times he just didn't look like he wanted to be there. Now, what does something like this do to Romeus' prospects at the next level? Well, the guy is a physically gifted specimen who has a long set of arms, can get into opposing tackles and when his motor is running he can be violent, shed and accelerate toward the football. But, he does play a bit high off the snap and lacks the great burst to consistently turn the corner. Therefore, if his motor isn't running on full tilt, he's simply not a real gifted pass rusher because of his lack of elite initial get off speed. I do worry about the overall passion and maturity level of a guy like Romeus after watching him this week, because while Cullen is a good prospect, there are a lot better offensive tackles he's going to have to face in the NFL. And if he's going to shut it down whenever the going gets tough, much like he did against Utah, it could end up being another case of a guy who simply doesn't ever live up to his physical capabilities.
Defensive Tackle fight night
If you got a chance to watch USC on Thursday night and LSU Saturday evening then you most likely noticed the play of defensive tackles Jurrell Casey (USC) and Drake Nevis (LSU). Both men were extremely productive, using their explosive first steps and low pad level to quickly fire off the football, fight off blocks and make their way into the backfield. Casey finished the game with four tackles, two tackles for loss and a sack, whereas Nevis finished with four tackles and one sack. Therefore, the question is: who is the better prospect at the next level?
Well, physically I think both guys have similar make-ups. Casey, at 6-2 and 305 pounds, is a little heavier and does have some sloppy weight around the mid-section, while Nevis is a little taller and leaner at 6-2 and 285 pounds. However, the biggest difference I saw from the two players on the field was the discrepancy in overall balance and body control inside. Both players have the ability to win with their first step, bull their opponent into the backfield and fend off blocks in the run game. However, Casey showcases impressive suddenness and change of directions skills working his arm over inside and was much more balanced when asked to play off blocks laterally in the pass game. Nevis on the other hand allowed his pad level to get too high when trying to slip blocks, would lose balance easily and simply was on the ground too much, as he could easily have the rug pulled out from under him on contact. Now, to his credit, Nevis did show a lot of improvement extending his arms into blockers and fending off linemen in the run game. But, balance and body control is so important when trying to beat blocks and create pressure inside vs. the pass and it's the main reason why I think Casey could end up being a very good starting three-technique in the NFL and Nevis looks more like a borderline starter in a one-gap scheme/rotational guy.
Even a squirrel finds a nut once in a while
Watching tape this summer of Virginia Tech, I caught my first glimpse of senior defensive end Steven Friday, who up until Monday night had yet to start a game during his time as a Hokie. However, on tape I saw a long, lean pass rusher with an explosive first step and pretty good bend around the corner. Now, because of his lack of starting/playing time he wasn't rated on many preseason draft rankings. But I am sure that all started to change Monday night vs. Boise State. Friday consistently was able to threaten and even turn the corner on a very good offensive tackle in Boise State's Nate Potter and not only registered his first sack of the year, but was routinely forcing quarterback Kellen Moore to step up in the pocket to avoid his rush off the edge. Now, listed at 6-4, 250 pounds, he doesn't have the type of bulk to hold up vs. the run game at the next level and is still developing a counter move off his speed rush. However, you can't teach his initial burst and I fully expect him to have a great year rushing the passer and become one of the biggest risers in this year's draft. Looks like a potential starting caliber 3-4 OLB to me at the next level if given some time.
Snippets…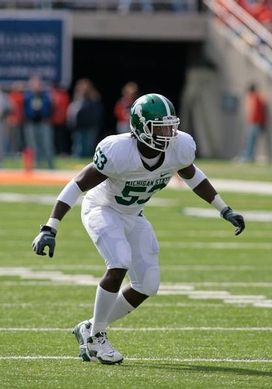 ICONJones plays with good instincts and intensity inside, just want to see him make more plays in the pass game.
• Michigan State ILB Greg Jones picked up where he left off last season. The guy possesses a great feel for reading his run keys inside, is rangy in pursuit and loves to go after the football and create fumbles as a tackler. However, he isn't quite as instinctive in coverage — which could be one reason why he has yet to record an interception over the course of his career at Michigan State — and doesn't take the most consistent of angles when asked to close on a receiver after the catch.
• Speaking of Michigan State defenders, cornerback Chris Rucker looked really stiff when asked to turn and run on Saturday. He doesn't seem real comfortable when asked to press vs. shifty wideouts and consistently gives up too much separation down the field.
• Another pass rusher to keep an eye on this season is Georgia's junior OLB Justin Houston. Houston plays as a 3-4 rush linebacker, but can also rush with his hand on the ground. He exhibits an explosive first step, drops his pad level well and can accelerate when asked to turn the corner. The hybrid speed rusher could be poised for a big year.
• After watching tape of Notre Dame OLB Brian Smith this offseason, I simply didn't see what the big deal was about the guy. He wasn't real physical when asked to take on blocks or real athletic when asked to range and play the pass. However, after watching him this week I am even more down on him because of his terrible instincts and overall discipline vs. the run game. I know he was a former big-time recruit coming out, but he simply isn't anything more than a very average college player who I can't see making an NFL roster.
• Penn State defensive tackle Ollie Ogbu isn't the biggest of defensive tackles inside at 6-1 and 285 pounds. But he's explosive off the snap, can play low and showed much better instincts in week one finding the football inside. He consistently was able to play with proper ball side leverage, fend off blocks and create havoc behind the line. Now, I know he was only playing Youngstown St ate, but he displayed the ability to put himself in position to make more plays because of his improved awareness, something that will follow him throughout the year.
• Finally, it was a brutal night for Boise State cornerback Brandyn Thompson. Thompson plays too high in his drop, lacks great footwork and balance when asked to change directions, and failed to take proper angles when asked to come up and tackle after a completion. Now, I will give him credit for knocking the deep pass away on Virginia Tech's final drive Monday night, but even that was an adventure as he seemed to have misjudged the flight of the football. He came into the year as a potential draftable prospect according to some. However, I simply don't see it.
NFL draft/college football questions? Get them answered at Wes.Bunting@nationalfootballpost.com
Follow me on Twitter: @WesBunting