November 08, 2010 -
National Football Post
Scout's notebook: offense
A scout's take on the good, the bad and the ugly from the tenth week of the college football season concerning some of the nation's top prospects.
I'm slowly warming up to him
Coming into the season I was less than impressed with the play of Florida offensive lineman Marcus Gilbert and was even more confused due to the fact that in some draft circles he was ranked as one of the top offensive tackles in the nation. However, after watching him a number of times this year, I still don't think he's an NFL-caliber left tackle, but he showcases good enough power, balance and fluidity in my opinion to hold his own on the right side of an NFL offensive line. He possesses a thick lower half, has a good first step off the football, keeps his base down through contact and knows how to extend his arms under the pad level of defenders and drive his man off the snap. Plus, he showcases good balance not only through the play in the run game, but when asked to redirect and quickly pick up a free man at the second level. As for the pass game, he isn't overly rangy off the edge and will get caught having to open up his hips and lunge into blocks toward the corner. However, he displays good body control and can regain his balance quickly. Is a physical, coordinated puncher and does a nice job anchoring at the point and moving his feet through contact. Overall, he's not in the same class as some of the other top offensive tackle prospects, but this guy definitely has the ability to mature into a potential starting right tackle at the next level.
A tale of three junior wideouts
Damaris Johnson: Tulsa (5-8, 170)
Sure the kid is undersized, but when asked to describe him as a prospect the words "dynamic playmaker" quickly pop into my head. Johnson currently leads the Tulsa offense in receiving yards, is second in rushing and is an absolute threat anytime he gets his hands on the football. He's sudden, shifty and possesses electric lateral ability with the feel and first step to find a seam and quickly explode into daylight. Plus, he showcases good balance as a route runner as well, cleanly and sharply getting in and out of his breaks, setting up his routes and is real tough to cover from the slot. He does need to add some weight, as the guy possesses a thin overall frame. But there aren't too many players out there with his kind of "make you miss ability" as he has the talent to fill a void in a number of spots on an NFL offense and as a return man as a potential dynamic option.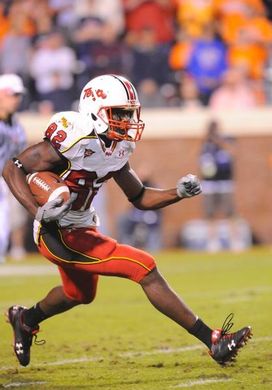 ICONSmith lacks polish as a wide out at this stage.
Torrey Smith: Maryland (6-1, 200)
If it was athletic ability and straight-line speed alone that made you a good wideout, Maryland's Torrey Smith would be near the top of any list. However, despite his great initial burst and vertical speed down the field, he still has a long way to go. Smith struggles as a route runner to cleanly change directions and quickly get out of his breaks, chopping his feet in order to gear down and regain balance before making his cut and working his way back toward the football. Plus, he isn't a real natural plucker, seems to often fight the football into his body and overall lacks ideal body control when asked to quickly regain balance and adjust to the play. Overall, the skill set is there for this guy to make big vertical plays at the next level, but he still has a ways to go if he ever hopes to be more than just a gifted athlete trying to run away from defenders at the next level.
Julio Jones: Alabama (6-4, 220)
Don't close the case just yet on the nation's top wide receiver prospect, as Alabama's Julio Jones — who has been brilliant for most of the year — had one of his signature games this weekend vs. who many suspect to be the top cornerback drafted come April in LSU's Patrick Peterson. Jones was singled up for most of the day with Peterson and finished the game with 10 catches for 89 yards and a touchdown and seemed to really keep his focus and concentration throughout, one of the biggest questions I had about his game coming in.
Watching Jones last season he looked a bit too bulky for his own good, losing some of the impressive explosion and fluidity he displayed for such a big guy as a freshman. However, he looks a little leaner this year, which has really helped his play dramatically in the process in my opinion. He's not only doing a much better job cleanly changing directions and accelerating out of his breaks in order to gain separation on sharply breaking routes, but his overall feel as a route runner has really improved. He's doing a much better job changing gears in order to set up routes, which allows him to consistently gain a step and then use his big, long frame to adjust to the football. He showcased great body control and focus on one back shoulder throw Saturday and at times is simply too good, making a play on the football even when covered up. Now, I am not going to say that Jones is hands down the better prospect over A.J. Green, but he does add more of a physical element compared to Green and depending on what your flavor is, it wouldn't surprise me at all to hear some teams liking Jones a bit more that Green come draft day.
TCU/Utah Snippets…
A lot of impressive talent was on display in the TCU/Utah matchup this weekend and here are just some initial impressions of the top prospects from the offensive side of the ball on each side.
TCU
OL Marcus Cannon (6-6, 358)
A massive, thickly built athlete who is strong through his upper and lower half. Possesses a good first step off the football for his size and can consistently seal on the edge or create a significant push in the run game. Displays above-average range for his size in the pass game, but I still don't think he's rangy enough to play left tackle in the NFL. Gets sloppy with his footwork trying to reach the corner, but my biggest concern was his inability to get of the snap count on time for the most part of the game, allowing defenders to often get in and under his frame off the snap.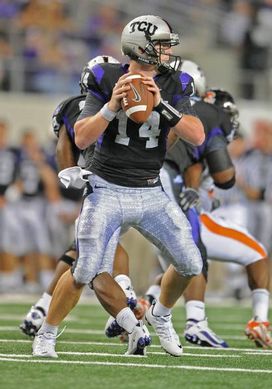 ICONDalton has enough tools to warrant an NFL roster spot.
QB Andy Dalton (6-3, 220)
Possesses a cool/calm demeanor, the game never seemed to be too big for him as he was always in control. Showcased good zip on some big NFL-caliber throws, tossing the deep out from the opposite hash with plenty of zip. Generates good torque from his lower half and when he has time to set his feet and step into a throw. Did a nice job a couple times working his progressions across the field and cleanly re-setting his footwork with the target, but doesn't consistently maintain his balance and transfer his weight as well from his back foot, which causes him to not get as much zip on the football on some deeper throws. Is a good enough athlete to buy time and keep plays alive, but occasionally can be slower to decipher information. Will hold onto the ball too long at times and I wish his mental clock would go off a bit sooner. His accuracy overall is solid, but his ball placement at times keeps him from completing passes on all levels of the field. Displayed nice touch down the field, both from the pocket and on the move, and overall didn't force many throws and took better care of the foo tball, which was one of the bigger questions I had about his game earlier in the year.
WR Jeremy Kerley (5-10, 192)
Lacks great height, but possesses decent overall muscle tone and girth through his frame. Isn't asked to run many/any NFL caliber routes and does most of his work in the screen game. However, he's a natural plucker and is savvy and creative after the catch. Possesses the type of body control and short-area quickness to not only make a man miss, but also can mature into a good route runner from the slot with some time to learn the trade. Will likely need a bit more time to develop than some of the other undersized slot guys in this year's draft because of his limited route-running repertoire. But, he's the kind of guy who can create with the ball in his hands and he can also help out in the return game as well. A nice luxury pick.
Utah
OC Zane Taylor (6-2, 309)
He's a strong, natural bender who does a nice job quickly extending his arms/hands off the snap and getting into his opponents frame quickly. Lacks great lateral quickness when asked to snap and set and will struggle at times to reach defenders shooting off his frame. However, he possesses good lower body strength when asked to sit into his stance and anchor, displays good lateral agility and balance when asked to stick to blocks through the play. Looks like one of the better centers in this year's class.
Don't sleep on him
Finally, it's time to give some props to Alabama QB Greg McElroy. The guy has been known throughout college football as simply a game manager. However, if you really evaluate this guy with an open mind, he's much more than that. McElroy does two things as good as any quarterback prospect in the nation.
1. He throws a really accurate football on all levels of the field and it's his ball location that really makes him tough to defend.
2. The guy has a great feel for deciphering information quickly, finding his secondary options and delivering the ball on time in the face of pressure.
Now, he lacks a great arm — which will improve a bit in the NFL — and he needs to become content throwing the ball away and not take so many sacks. However, I feel like McElroy has just been written off as a quarterback prospect before the year ever even started and if you look over the entire senior quarterback class, outside of Jake Locker, I think he stacks up quite well with the best of them.
NFL draft/college football questions? Get them answered at Wes.Bunting@nationalfootballpost.com
Follow me on Twitter: @WesBunting