November 29, 2010 -
National Football Post
Scout's notebook: offense
A scout's take on the good, the bad and the ugly from the thirteenth week of the college football season concerning some of the nation's top offensive tackle prospects.
Offensive tackles getting some time in the spotlight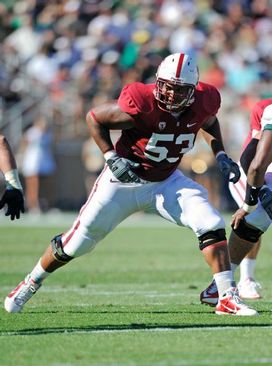 ICONHall is a good run blocker, but needs to tighten up his footwork in pass protection.
Underrated senior…
If there's one thing we know about the Stanford offensive line it's that it knows how to block in the run game. And that's exactly what you get in fifth-year senior right tackle Derek Hall. Hall is a 6-5, 305-pound first-year starter who has made the move from the defensive line during his time as a Cardinal. He's still a bit raw in pass protection as he isn't the most natural of benders, tends to get doubled over at the waist, will lunge into blocks and because of his overextended footwork will lose balance at times trying to redirect. However, he's a good enough athlete to hold his own out there, understands angles and does a nice job pushing defenders past the play when asked to reach the corner. But his real calling card is in the run game where the guy has the ability to get off the football quickly, gain leverage on contact, showcases good hand placement and works hard through the whistle. He lacks elite power and isn't a guy who consistently overwhelms on contact, but he can create a good initial snap at the point, is coordinated enough to stick to blocks through the play and can either turn his man from the football or at times can simply drive his target off the line and into the ground.
Again, he does need some more polish in the pass game, but he's only a one-year starter and I think there is still enough upside to his game for him to mature and warrant a spot on an NFL roster as a rookie…with some growth potential down the line as well.
Overrated senior…
Arizona senior left tackle Adam Grant is a massive 6-6, 326-pound kid who displays a strong upper body and can be a real Velcro player once he gets his mitts on you. He displays the ability to anchor with some consistency through contact because of his size and has the type of hand strength to seal on the edge and stay engaged through contact. However, he isn't a real natural bender and struggles to sink his hips and really sit into his stance in all areas of the game. He allows himself to play too high in pass protection causing him to struggle to maintain balance when asked to redirect and isn't overly rangy toward the corner. Also, he fires off the football too high in the run game and isn't the type of athlete who can really snap his hips into a defender and generate a lot of pop on contact. Grant too often simply rolls his hips into defenders, gets upright and is forced to lunge into blocks when trying to create movement, while lacking the body control and power to drive and stay on his target. Now, the size and upper body strength is there, but he's another one of these offensive tackles who lacks the athleticism to play on the left side and doesn't show the kind of snap, leverage or power in the run game to play on the right side. Therefore, I could see him ending up having a tough time making an NFL roster and best case scenario, he looks more like a swing/reserve tackle to me.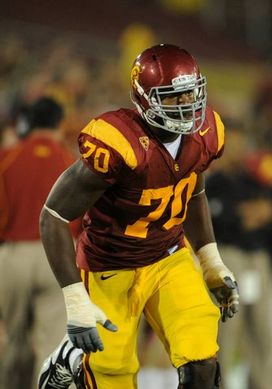 ICONSmith is the most talented offensive tackle prospect I've seen this year.
The cream of the crop…
After breaking down some early season tape of underclassmen offensive tackles this weekend, there aren't any draft eligible guys out there in the country with the type of athletic skill set possessed by USC's Tyron Smith. Smith is a former five-start recruit who came to USC as a 6-5, 265-pound blocker. And over the past three seasons he has continued to add more bulk to his frame while maintaining his athleticism and developing at the position. He's a gifted athlete who does a great job staying compact on his kick-slide toward the edge, keeps his base down and has the range to reach any kind of speed toward the corner. He displays impressive lateral quickness as well when asked to redirect and does as good a job as any mirroring in space. Smith needs to continue to work on the coordination of his punch, is a bit inconsistent at times and will allow his arms to drop after his initial jolt and I would like to see him recoil at times quickly. However, he does have the ability to do so at times, it's just being able to do it at a more consistent rate.
Smith is very impressive on the move, quickly getting out to the second level, breaking down on contact and sealing in the run game. He also possesses some natural pop to his game when asked to run block as an in-line guy. He still needs to do a better job keeping his pad level down more consistently off the snap, but he does well to drop his pad level into contact, pumps his legs and gets his hands under defenders. His hand placement and arm extension is a bit suspect at times, but he definitely has the athleticism to stick to defenders through the play and seal.
Two other concerns to his game at this stage are…
1. His overall size, listed at 6-5, 285 pounds.
2. The majority of his playing time at USC has been at right tackle.
My take on the two concerns:
He's going to gain weight. Smith has already put on about 25 pounds over the past three years and as he continues to mature the weight will naturally go up and he will continue to get stronger as well.
As for his position. I know the left tackle spot has more value, but personally I would let him play wherever he feels most comfortable. He does have some experience at left tackle, serving as a reserve there as a freshman. So the guy does have experience kick sliding from both sides and is a highly gifted athlete. Therefore in all likelihood he should easily be able to make the move to the blindside, it's just something that needs to be looked into.
Either way after breaking down a couple of his games so far this year, he looks far and away like the most talented offensive tackle in the class if he were to come out.
Not the same type of glowing results…
BYU offensive tackle Matt Reynolds was/is considered by many as one of the top offensive tackle prospects in the nation. However, after taking a look at him this weekend for the first time in 2010, he still doesn't strike me at all as a potential blue-chip guy and in all honesty I wouldn't trust the guy as a left tackle in the NFL as he looks more like a right-sided player or even a guard to me. Reynolds is a big, strong kid who displays good coordination in pass protection and has the ability to slide his feet and maintain balance both in space and through contact. However, he isn't a real impressive athlete when asked to reach the edge as he allows himself to get upright at times when trying to reach speed and his footwork will get a bit overextended trying to redirect — especially off his initial step.
Now, to his credit, the guy does dominate when asked to seal defenders away from the football on the outside in the run game. He has the type of initial quickness to step and seal very quickly as well as displays some pop/power as an in-line guy. But, he isn't real effective on slide down blocks because his feet seem to get heavier the more space he's asked to play and he will lunge into defenders at times off his frame causing him to quickly fall off blocks. Plus, the guy doesn't seem to have a great frame for the position. He looks short armed and has a really soggy midsection with a lot of unnecessary girth.
Nevertheless, he's still a strong kid with natural coordination when asked to mirror in pass protection, but he does need some work tightening up his footwork and will likely need to make the move away from the blindside at the next level in order to maximize his skill set.
Not much to write home about…
Finally, I wanted to take a look at an intriguing size prospect this weekend in Tulane's left tackle Pete Hendrickson. The 6-8, 314-pound lineman displays above-average initial flexibility and pop off the line as an in-line run blocker. He showcased the ability to keep his base down into contact, gained leverage with his hands and finished well through his lower half. He also did a nice job maintaining his balance through his kick-slide in the pass game and kept his hands up ready to uncoil a punch at any time. However, he's a long-legged athlete who struggled to keep his base down through the play in pass protection and was really stiff through the hips anytime he was asked to redirect or range toward the edge. Plus, he had a tendency to lunge into defenders on his punch and wasn't nearly as violent or powerful when asked to reach defenders off his frame in the run game. His size alone will likely get him an invitation into an NFL training camp as a free agent after the draft. However, he seems simply too stiff in the hips to ever be able to hold up in pass protection at the next level and be an effective reserve type option for an NFL team.
Follow me on twitter: @WesBunting