September 27, 2010 -
National Football Post
Scout's notebook: Offense
A scout's take on the good, the bad and the ugly from the fourth week of the college football season concerning some of the nation's top prospects.
My takes…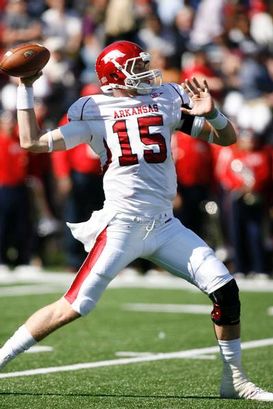 ICONMallett is not the type of elite prospect many are making him out to be.
The Mallett debate rages on
We had a chance to see Arkansas quarterback Ryan Mallett vs. the best defense in the country on Saturday — Alabama — and there were a couple things that really stood out to me.
1. When given the opportunity to step up in the pocket and look down the field, the guy can really make some impressive throws at the second and third levels. He can spin such a clean football and his accuracy almost seems to be better down the field when he can really let it go and step into the throw compared to underneath.
2. Anytime he's forced to move his feet in the pocket the guy has no chance. His second interception was a direct result of this, where he had time to reset his feet and align his footwork and body up with the throw down the seam. However, he instead decided to throw with his front foot facing toward the right of the intended receiver, which is exactly where he ended up throwing the ball, and because he lacked any balance in his lower half, the pass sailed on him.
3. Finally, where is the ball placement? Mallett has done a better job this season completing passes underneath in the short passing game. However, when you get a chance to watch against even a guy like Alabama QB Greg McElroy go throw for throw in the fourth quarter, it was obvious who was the more accurate QB. For the most part, McElroy did a nice job getting the ball out in front to his receivers at eye level where they could pluck and run at full stride. Mallett, on the other hand, really hurts his receivers' run after the catch ability because he is far too inaccurate with his ball placement, putting it either right on receivers where they have to slow down to catch or behind them where they have to stop to catch. Ball placement is the accuracy within accuracy and with the small windows you have to throw through in pro football, it's key.
Overall, you can't ignore the fact that Mallett has the skill set to put pressure on defenses down the field vertically and can make any throw asked of him. But, he's really limited in the type of plays he can run for an NFL offense because of his lethargic footwork. And in all honestly I don't think there is much separating him from a guy like fifth-round pick John Skelton from a year ago and he isn't the type of quarterback who can come in and you can expect to play from day one. I would give him more of a "potential starter grade" at this stage.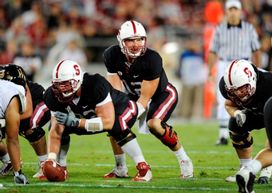 ICONLuck possesses a rare savvy for a kid his age.
Still learning to fly
I still believe that the top potential quarterback prospect in the country is Stanford's Andrew Luck. Luck has an uncommon savvy about his game for only being a redshirt sophomore, moving his eyes in the pass game, looking off safeties, understanding defenses in his pre-snap reads and quickly going through progressions in the pocket. Plus, he's an accurate quarterback who has the athleticism to move around in the pocket and displays a good enough arm to make all the throws. However, this week vs. Notre Dame I saw a guy who at times was trying to simply be too perfect with the football and seemed a bit hesitant at times to really sling the football. His timing, anticipation and touch down the field are all impressive attributes to his game and he did showcase the ability to throw receivers open on a line at the second level on the deep dig routes.
However, at times he tries to be too cute trying to drop the ball into tight coverage on bucket throws, giving defenders the opportunity to drive on the football and make a play. Now, maybe it's a case of giving his receivers a chance to make a play and simply not overthrowing them, but in some cases he needs to do a better job getting the football out there with a little more zip to keep secondary defenders from getting over and being able to make a play, i.e. his first interception.
Overall, the thing I need to keep reminding myself and I keep telling others is that this is only his second year starting as a quarterback. And when watching his game side by side with Mallett, there is a noticeable difference in his balance and footwork in the pocket when asked to step up, as well as in his ball placement and accuracy. Because with all due respect to the Stanford receiving corps, they don't generate the same type of separation as Arkansas, and Luck needs to be much more accurate with the football compared to Mallett in order to complete the same type of passes, which is one of the main reasons why this guy's game will translate much better to the next level.
Another offensive tackle look…
James Carpenter: Alabama
Carpenter is a longer, leaner athlete who does a nice job off the snap extending his arms/hands into the opposing lineman's frame and possesses a lot stronger hands than given credit for on contact. He displays the ability to be a bit of a Velcro player through contact in pass pro and can be difficult to disengage from once he locks on. However, he isn't real balanced or compact in any area of the game, as he exhibits long footwork off the snap, consistently doubles over at the waist in an effort to stay on blocks and will struggle to cleanly redirect when he doesn't have his hands on you. He's more of a grabber than puncher at this stage, as well, and he's not a guy I would trust playing on my blindside at the next level.
Tyler Donahue: Bowling Green
Donahue isn't the biggest, strongest or most athletic offensive tackle in the country and in order for him to have a chance at the next level he needs to continue to get strong in his lower half. However, he stood out to me a bit Saturday vs. Michigan with his ability to sit into his stance on his kick-slide, maintain balance through contact and understand angles. He consistently was able to reach speed off the edge whenever Michigan brought pressure, as well as stick to blocks through contact vs. their five-technique ends. Now again, he could eventually be overpowered on the bull rush and isn't a guy who is going to drive anyone off the football. However, as far as later round, developmental type options go, I would much rather have a smoother, more coordinated tackle who can bend, redirect and understands the game than just a pure athlete who will need much more work than an NFL coaching staff has time for.
David Mims: Virginia Union
If nothing else, at least his size should get him some attention. At 6-8, 350 pounds, Mims is a massive blocker on the edge who displays a long wingspan, a strong upper body and has the ability to absolutely dominate on contact. However, what stood out to me most so far this season was his ability to get out to the second level for a man of his stature and then just destroy opposing targets on contact. The guy had quite a few "wow" blocks in the run game, which was enough to open up my eyes. Now, obviously he's technically raw and relies squarely on his ability to dominate with his leng th and power on contact. But, he showcases some bend when lined up with his hand on the ground in the run game and was a pretty coordinated athlete when asked to redirect through contact in pass pro. At worst, he looks like an intriguing late round guy who has the size and talent to possibly develop. But, he could also be that small-school tackle who sees a spike in his stock during the postseason with a couple good performances.
Other snippets…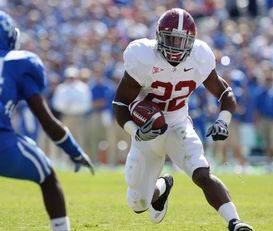 ICONI'd have no problem taking Ingram at ANY point in the first round if I had a major need at the running back position.
• It really is a pleasure to watch Alabama RB Mark Ingram carry the football inside. The way he picks his way through traffic, keeps his pad level down and then just accelerates quickly into the open field really is second to none. Plus, he's so strong with the football in his hands, exhibits great balance on contact and simply doesn't fumble the pill. I don't care how early I'm drafting, if my team needs a workhorse back, I would feel content taking this guy however early need be in round one to secure his talents for 2011. He's that good.
• Keep a close eye on Florida Atlantic wideout Lester Jean going forward this season. The 6-2, 200 pound kid has 22 catches for 317 yards through three games on the year and in all honesty could be this year's Marcus Easley. He's a tall, lean guy who has some suddenness to his game with the initial burst and deep speed to get behind defenders vertically. He's proven to be the new go-to guy in the FAU offense this season and has been one of the better senior wideouts I have seen so far this year.
NFL draft/college football questions? Get them answered at Wes.Bunting@nationalfootballpost.com
Follow me on Twitter: @WesBunting
Click here to win cash today playing fantasy football with the NFP and FanDuel.