November 01, 2010 -
National Football Post
Scout's notebook: offense
A scout's take on the good, the bad and the ugly from the ninth week of the college football season concerning some of the nation's top prospects.
Miami's running back situation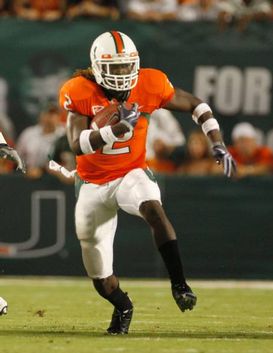 ICONCooper is slowly making his way back.
Graig Cooper: (6-0, 205)
The further we get into the season, the more we begin to see flashes of the 2009 version of Miami running back Graig Cooper. He's still a long way away, but watching him this weekend vs. Virginia you can tell he's slowly starting to get his mojo back. Cooper had three carries for 30 yards and did a nice job on one occasion being decisive at the line, pressing the hole, dropping his pad level and churning his strong legs for an impressive gain. Later on he displayed the type of lateral suddenness that made him so dangerous last season, breaking a defender down and effortlessly making him miss before accelerating into the open field. However, the burst and second gear still isn't there yet and you can tell he hasn't had a ton of touches because of how loose he was with the ball on a couple occasions. But overall, he's a potential dynamic option if he can heal up fully and Miami does have a very solid track record of guys recovering from severe knee injuries and making something out of themselves at the next level. Obviously, a situation like this is going to hurt a guy's draft stock a lot, but as a later-round flyer, Cooper is a nice guy to take a shot on, because if he does end up bouncing back and regaining his 2009 form, he can be one of the most dynamic backs in the entire draft class.
Damien Berry: (5-11, 210)
Someone had to step up as Miami's lead back this season in the absence of Cooper and that guy has been Damien Berry. Berry has been a solid producer for the 'Canes all season, averaging nearly 5.0 yards per pop and is on pace to run for over 1,000 yards on the year. However, watching him his weekend I came away less than impressed with him as an NFL prospect. He is a tough, hard-nosed runner who pumps his legs through contact and routinely is able to fall forward. However, he runs too upright, exposes a lot of his lower half to tackles and simply isn't real shifty or dynamic with the ball in his hands. He doesn't possess much of a burst when pressing the hole and has only one gear when trying to reach the perimeter or daylight in the open field. Again, he's done a nice job this season filling in for Cooper, but as a running back prospect, he isn't much more than a free agent type, camp guy to me.
Small schooler is dominant
Watching the Villanova/Richmond matchup this weekend was fun on a couple levels because when you get these two teams together the overall talent level is good enough to definitely compete and even beat a fair amount of the FBS teams that are out there. But, from an NFL prospect type view, there is also one guy who is really starting to shine above the rest and that's 'Nova OG Benjamin Ijalana. Ijalana is a big, 6-4, 320-pound kid who can bend and block with leverage in the run game as well as sit into his stance and anchor vs. the pass. However, he really stood out on the move to me this weekend when asked to pull, get out to the second level as he absolutely demolished downhill attacking defenders with a compact punch and powerful leg drive. But, like any small-school prospect, he is raw, especially as a pass blocker and has a tendency to simply stand upright off the snap, extend his long arms and lock out. However, he's a good enough athlete to certainly be a player in the NFL — I see him more as a guard — as he still has a lot of upside to his game. His athleticism, physical skill set and willingness to finish blocks and dominate are all NFL-worthy attributes and he looks like a dirty starter (year two starter) at the next level to me at this stage.
Too heavy
You have to love size when looking at offensive guard prospects, but when watching Florida this weekend vs. Georgia it's clear that OG Carl Johnson simply plays too heavy and it really takes away from his effectiveness inside. He's a strong kid who possesses the ability to stick to blocks and gain a little leverage off the ball because of his adequate flexibility. However, there's just no real snap to his game off the football. He's slow to fire off the snap, doesn't pump his legs through contact and despite his size doesn't play nearly as physical as you would think for a guy of his dimensions in the run game. Plus, he's really limited in what he can give you on the move when asked to pull and looks nothing more than a size free agent.
A dime a dozen that I like
Sometimes prospects just don't quite add up physically, but there is something about their game that intrigues you enough to think they warrant a spot on an NFL roster and these two wideouts seem to fit the build.
ICON
Jeff Maehl: Oregon (6-0, 176)
Besides the fact Maehl had 8 catches for 145 yards and three touchdowns Saturday night vs. USC, the guy has simply been getting it done all season. He's not the biggest of options and needs to get a bit stronger. However, he possesses a great feel for the pass game, knows how to find soft spots in coverage, snap off routes underneath and work his way toward the quarterback. Plus, he's fearless over the middle and possesses sneaky vertical speed down the field with the body control and coordination to come down with some really impressive grabs. Now, he's not a guy who I consistently expect to make plays on the outside for you at the next level — although he does have some shiftiness off the line and has had success beating press coverage — but as a tough slot option who you work the middle and move the chains, Maehl looks like a very capable option.
Kris Durham: Georgia (6-5, 212)
On paper he looks like a long, lean athlete who doesn't run real well and projects as more of a size free agent only. And although that might be the case, I think he ultimately has the goods to potentially fill out a receiving corps at the next level. Now, this isn't a guy who I think can start on the outside and win for you vs. press coverage. However, as the big, consistent slot target who can work the middle of the field, isn't afraid to put his body in danger and come down with some tough catches through contact, Durham is your man. The guy took a real lick this weekend vs. Florida, fully exposing his frame and extending his arms in order to come down with a tough catch and that kind of play really takes guts. Plus, he does possess that sneaky, strider speed and does a nice job baiting corners as a route runner and then quickly turning up the field and getting behind DB's vertically. He's not a wideout who is going to go high in the draft by any stretch, but as a solid late round/free agent type pick up I could see this guy impressing in training camp and forcing his way onto an NFL roster.
Expectations flushed
I had higher expectations than most for Louisiana Tech OT Rob McGill coming into the year because when I first watched the guy as a sophomore he showcased above-ave rage range off the edge and with some improvements to his technique I thought he could mature into a real player. However, after breaking him down again this week, there hasn't been much improvement to his game at all. He still doesn't resemble any kind of a kick-slide off the edge — electing to simply back-pedal toward the corner vs. speed — isn't real heavy handed in any area of the game and can routinely be jolted on contact and worked over vs. the bull rush. He still showcases solid range on the move when asked to pull and get out into space, but again, he doesn't exhibit much strength in his hands and/or upper body, is easily disengaged from at the point and doesn't look much more than a free agent who offers some athletic ability.
Versatile, but soft
Finally, watching Tulsa this past weekend it's obvious that FB/TE/H-back Charles Clay possesses a nice athletic skill set. He displays the burst to quickly get down the seam, catches the football well and is a threat to create consistently with the ball in his hands. However, watching this guy as a blocker vs. a pretty soft Notre Dame defense was downright brutal to say the least. He does do a decent job as a move guy, initially sealing his man from the football. But there is not real snap to his game on contact, he gets too high in all areas of the game and doesn't use his length/hands well at all to gain inside leverage and stick to blocks through the play. So the idea that this guy is any kind of a lead blocking fullback prospect is completely off base. He looks more like an H-back only because of his size who has the kind of athleticism to intrigue, but not enough to overlook his deficiencies as a blocker and warrant a high draft pick. Looks like a later round/free agent guy to me, who isn't much more than a spot pass-catching type option.
NFL draft/college football questions? Get them answered at Wes.Bunting@nationalfootballpost.com
Follow me on Twitter: @WesBunting