October 18, 2010 -
National Football Post
Scout's notebook: offense
A scout's take on the good, the bad and the ugly from the seventh week of the college football season concerning some of the nation's top prospects.
My takes…
Gun-shy?
Florida State quarterback Christian Ponder had an up and down performance this weekend vs. Boston College, completing 19 of 31 throws for 170 yards with two touchdowns and three interceptions. And when watching him throughout the course of the game there were a couple major concerns that jumped out to me.
1. He isn't a real confident passer at this stage of the season. He seems reluctant to really cut the football loose — which could be because of an arm injury — tries to almost too perfectly drop the football into tight areas and his throws are taking an eternity to get outside the numbers. He can spin a pretty clean ball at times, but passes really seem to be hanging on him, which allowed the Boston College defensive backs to consistently get good jumps on his throws.
2. He's become really squeamish in the pocket and has a tendency to drop his head and flush himself prematurely anytime he feels any type of pressure. He's a good athlete who can create outside and throws well on the move, but the fact that his eyes have been going down so quickly really limits his ability to find secondary throwing options, which is one of the biggest reasons for his struggles so far this season.
Therefore, for a guy who relies so much so on his ability to quickly decipher information, go through his progressions and get the ball out on time, this type of discomfort in the pocket is rather alarming. Ponder has suffered a shoulder and arm injury over the past year, which not only seems to be affecting his arm strength but also seems to be a potential cause for his new skittish attitude in the pocket. Nevertheless, it's something he needs to get over quickly, because as of now the guy isn't playing good enough football and looks more like a mid-round QB option.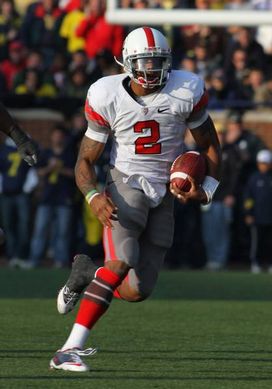 ICONPryor still has a long ways to go before being ready for the next level.
Still nowhere close to being ready
Ohio State quarterback Terrelle Pryor was starting to get some love in media circles across the nation after his recent run of strong performances at home vs. some less than stellar defenses. However, he looked like a fraud Saturday night…on the road, in a hostile environment, vs. a very solid Wisconsin defense that forced him to throw the football and play from behind all night. And the end results weren't pretty. The biggest thing that stuck out to me was how poor his overall mechanics when throwing the football. There was no balance or symmetry between his footwork and throwing motion, as anytime he saw any resemblance of an open target he just threw the football, no matter where his feet where located. This caused his accuracy to be rather poor all evening and kept Ohio State from consistently picking up key first downs through the air. I don't want to dwell on this game too much. But the facts are, he hasn't been very good all season vs. good competition and playing on the road is an entirely different monster, as Pryor showed he still has a long way to go if he ever wants to be considered anything more than a developmental guy at the QB spot.
Wideout looks
Mark Dell: Michigan State
Very quietly Dell is having a solid season for the Spartans and is making the most of his limited opportunities. Michigan State doesn't throw the football a ton, but Dell has shown the ability to consistently get open vs. man coverage and can be physical after the catch. At 6-1, 195 pounds, he possesses good enough speed to quickly eat up the cushion and gain a step from defenders off the line. However, it's his above-average short-area quickness and balance as a route runner that allows him to cleanly snap off some NFL-caliber routes, separate and pluck the football. He's not overly dynamic or explosive in any phase of the game, but his combination of size, polish and speed makes him in my opinion a legit draftbale prospect who should be able to fill out a roster spot.
Chris Matthews: Kentucky
Matthews went off on Saturday vs. South Carolina, recording 12 catches for 177 yards and one touchdown. At 6-5, Matthews isn't a real explosive option off the line, as it takes him a bit to get going and he will need some time to learn to beat press at the next level. However, he's a pretty coordinated kid who does exhibit some natural body control and change of direction skills as a route runner. Plus, he does a nice job finding soft spots in zone, using his big frame to shield and can pluck up the football in jump ball situations. There is also some physicality to his game after the catch and once he gets those long strides going he can be a tough cover down the field when asked to run vertical routes. He's going to need some time, but these big, long receivers with good body control and lanky speed definitely have a home in the NFL now, as he seems like the perfect kind of later round developmental guy for a team like the Chargers.
Offensive line takes
I've been on the Cody Habben bandwagon so far up to this point. The Washington right tackle looked like a good enough athlete on junior tape to reach the edge, showcased natural bend and fluidity in pass protection and was balanced when asked to redirect. However, he missed this spring because of shoulder surgery and has struggled throughout the early part of the 2010 season. Therefore, he found his way onto the bench this weekend vs. Oregon State and there is no timetable when he could be back in the starting lineup. And as one scout told me, back when I first started… if the guy isn't good enough to start for his college team, how can he start in the NFL? Which is a great point when looking toward the next level and is a major reason why I am starting to creep off the Habben bandwagon at this stage.
South Carolina offensive tackle Jarriel King still has yet to improve at all in his overall awareness off the snap. The guy is a talented athlete who has some decent range and body control to his game, with the natural strength to anchor. However, every time I have watched him on TV or seen tape of him he's consistently the last offensive lineman moving off the snap and rarely gets a good jump off the football. It's a trait that has popped up ever since I first saw him in 2008, and is one of the biggest reasons I see him as nothing more than a late round/free agent type pick.
One offensive tackle who has shown well in recent weeks is Michigan State's D.J. Young. Young is a 6-5, 300-pound kid who possesses good bend, is coordinated out of his stance and off the edge and does a nice job staying calm with his hands and mirroring through contact. Now, he isn't the most physical of in-line run blockers and has a tendency to fall off blocks too quickly when trying to get a push. But, he possesses the kind of lower half that can get stronger and he does a nice job staying low and blocking with leverage. Plus, he's still learning not only the left tackle position after making the move from the right side this year, but also the tackle position as a whole after making the move from the defensive side of the ball in 2007. But besides from getting a bit overextended at times when asked to quickset, Young looks like a pretty intriguing pass blocker who has the frame and flexibility to mature into a much better run guy. He's one of the more intriguing offensive tackles I have seen this season and sits right in the mix of that second-tier tackle group for the upcoming draft.
For those looking to get into NFL scouting, one of the few pieces of advice I have to offer is to simply keep an open mind when looking at a prospect, especially at the tight end position. While watching Marshall tight end Lee Smith this week I saw a big 6-6, 267-pound kid with good body control and coordination as a pass catcher. But even more impressive was his ability to bend, gain leverage and create a real jolt on contact as a run guy. He played nasty, finished blocks and rarely let his man (defensive end or linebacker) get a sniff off the play. Therefore at his size, does he have more potential as a number 2/3 tight end at the next level or is this a guy who has the frame to add some weight and make the move to left tackle? Now, it does take a special kind of person to want to make this kind of move, but the end results could far outweigh the potential wait and development. Either way, Smith is a guy who can serve a purpose on an NFL roster either as a TE or as a developmental OT.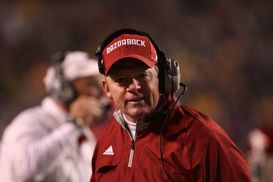 ICONIs there such thing as a "Petrino curse" for his quarterback prospects?
Food for thought…
Finally, I found it interesting that Arkansas backup quarterback sophomore Tyler Wilson was able to come in for the injured Ryan Mallett this week in the second quarter and still blitz an SEC defense for over 300 yards passing and throw four touchdown passes. Mallett is a talented kid, but Bobby Petrino's offense is really quarterback friendly and he has had great success getting big-time production out of just about any signal caller he asked to take the reins during his time in the NCAA. However, his quarterbacks have not had the same type of success once they got to the NFL. Overall, the stats are great for a guy like Mallett, but with Wilson stepping in on a moment's notice and being just as productive in Petrino's offense… it's just another concern NFL teams are going to have to take into account when evaluating Ryan Mallett.
NFL draft/college football questions? Get them answered at Wes.Bunting@nationalfootballpost.com
Follow me on Twitter: @WesBunting
Want to work in the NFL? Click here to register for the NFP's "Chalk Talk" seminar in Chicago on October 22nd.