December 06, 2010 -
National Football Post
Scout's notebook: offense
A scout's take on the good, the bad and the ugly from the fourteenth week of the college football season concerning some of the nation's top prospects.
More on Auburn than meets the eye…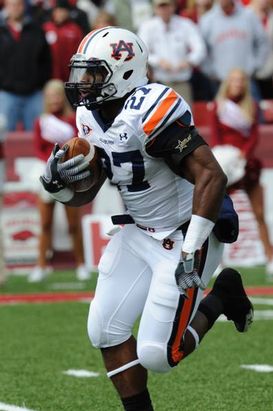 ICONFannin offers enough on 3rd down to get a shot.
RB Mario Fannin: 5-11, 228
For a guy who has only carried the football 61 times this season, it's easy to overlook a talent like Fannin at Auburn. The physically put together back was expected to see the bulk of the rushes coming into the season until freshman phenom Michael Dyer was thrown into the fold. Therefore, what do you do with a senior back who wasn't even good enough to start for his college team? Well, in my view, Fannin does have an NFL skill set. He's a big, powerful kid who has a good initial burst to his game with the footwork and fluidity to make a man miss/break a tackle and accelerate into daylight. However, the big drawback to his game and one of the main reasons why he isn't seeing a ton of playing time running the football between the tackles this season is because he isn't the most instinctive of backs when asked to allow blocks to set up, identify holes quickly and pick his way through traffic. Nevertheless, the guy does two things very well that will give him a chance at the next level…
1. He catches the football in the pass game.
2. He can help out in blitz pick-up and block on third downs.
It may not sound like much, but those two skill sets are enough to give this guy a chance as someone who can play on third downs and be worked in as a rotational back. Even so, Fannin still isn't ever going to be a high draft pick, but he's a guy who should test well for his size and still has the ability to make a roster after being overlooked during the season.
OC Ryan Pugh: (6-1, 295)
There aren't too many guys out there who have the ability to start at left tackle as a true freshman in the SEC standing at only 6-1, 295 pounds. However, that's exactly what Ryan Pugh did back in 2007. Since then the guy has moved inside to center and in my view has become one of the best pivots in the nation. He's an undersized blocker, but sits into his stance well, snaps and sets very quickly, doesn't waste any motion getting his hands into contact and generates the snap from his lower body to quickly gain leverage and create an initial surge into contact. He's not only powerful in the run game, but he displays the body control to routinely work his legs through contact and seal defenders away from the football. Plus, the guy is smooth laterally in pass protection, can slide his feet in space and has the savvy to keep his head on a swivel and routinely pick up blitzing backers. Now, size is an issue, as he can be overpowered at times vs. the bull rush against bigger defenders. However, there have been plenty of undersized centers who have made it because they are quick off the ball, play with leverage and coordinated through contact and as a late round/free agent type guy, I think Pugh can do just that and make a roster for a team as a rookie.
One unique package…
At 6-6, 270 pounds, Maryland tight end Will Yeatman has really caught my attention in recent weeks. He's a big, physical looking kid who not only has the ability to really mature as a blocker in the run game, but he's also a coordinated pass catcher who does a better job getting off the line and running down the field than you would expect for a guy of his dimensions. However, what makes him an even more interesting prospect is the fact that the guy has only designated about half of his attention throughout his college career to football due to his talents as a lacrosse player. Yeatman is a former Lacrosse All-American who was even getting looks in the U.S. National team pool this season.
However, as a football player he is still raw. He will make some impressive one-handed catches adjusting to the football effortlessly in the pass game and the next play he will drop a throw that would hit him right in the chest. In the run game he has the ability to create a real jolt on contact, but he's consistently one of the last linemen moving off the line and hasn't learned how to extend his arms into contact consistently. So he is a work in progress.
Nevertheless, when breaking down a guy with his size, frame, athleticism and potential growth, his real calling card could come as a potential developmental left tackle prospect in the NFL much like current Patriot and 2010 prospect Steve Maneri. He's going to need some work regardless of where he plays, therefore, trying to see if he can mature as an offensive tackle could make him a whole lot more valuable than a number 2/3 tight end, a position he could always make the move back to if he fails at tackle and still make a roster and play in the league as a short yardage/goal line "on the line Y."
Physically, he doesn't give himself much of a chance…
Going over some tape this weekend of Fresno State, it quickly became obvious when watching QB Ryan Colburn throw the football that he's just a bit limited from a physical standpoint and doesn't quite have the skill set needed to compete for a roster spot at the next level. He's a nice-sized kid who looks comfortable taking snaps from under center and getting the ball out on time. He's also a decent athlete who can move around in the pocket, keep his eyes down field while buying time for himself and showcases good anticipation in the pass game. However, when watching him throw the football he doesn't seem to possess a real big pair of hands as the football rarely comes out cleanly spun. Plus, the lefty doesn't display the most compact of throwing motions, as he seems to really rear back at times and will drop his arm down to more of a three-quarters release when he gets rid of the ball. His throws take entirely too long to get to his receivers outside the numbers and he has a tendency to try to overthrow balls in the intermediate pass game at times, causing some of his throws to really sail on him down the middle.
Overall, he's a hard-working kid who has done a nice job running the pro style offense at Fresno State over the past two seasons. But there are just better physically gifted quarterbacks out there with a lot more upside that will likely keep Colburn from getting much of a look on draft day and as a possible roster spot guy.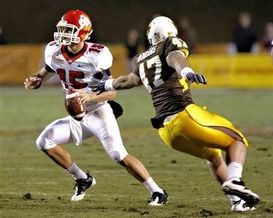 Physically, Colburn doesn't quite add up.
Hasn't come as far as I'd like, but will fit in with the right offense…
There is no doubt that the expectations for Florida State offensive guard Rodney Hudson have always been high. He's a four-year starter who has been through the growing pains on the FSU offensive line, has matured because of it and now looks like on of the better senior guard prospects in the nation. At 6-2, 285 pounds, Hudson lacks ideal size for the position, but is a gifted athlete when asked to pull and showcases good lateral fluidity and quickness in the pass game. Plus, he possesses good length for his size and is able to consistently keep opposing defenders from easily getting into his frame in the pass game. However, the two concerns I have about his game continued to stick out to me this past wee kend in his performance vs. Virginia Tech.
1. He isn't nearly as technically sound in the pass game as you would expect for someone with his athletic skill set. He has a tendency to still get doubled over at the waist and get overextended into blocks, which cause him to lose balance easily. He's a good athlete, but doesn't play nearly as coordinated from play-to-play as you would expect.
2. He's a long kid, which is a good thing in the pass game as a guard, but at times it seems like it takes him too long to uncoil his arms off the snap in the run game and quickly get into defenders and gain inside leverage. He doesn't have the kind of base strength to play in an in-line type run game anyway, but his length is just another reason why he seems better fit for a zone-blocking scheme.
Overall, you have a good athlete, but he seems like a kid who is limited to only a zone-blocking type scheme at the next level. He has the athleticism to pull, get out to the second level and mirror in space, but he won't be on a number of teams' draft boards because of his size/power, which will limit just how high he can go on draft day. Nevertheless, I think he will make some team very happy getting him at a point in the draft a bit lower than most projected, as he has the ability to come in and mature into a starter pretty early in his career as a ZBS guard/center.
Follow me on twitter: @WesBunting