September 13, 2010 -
National Football Post
Scout's notebook: Offense
A scout's take on the good, the bad and the ugly from the second week of the college football season concerning the nation's top offensive prospects.
The great Terrelle Pryor debate rages on…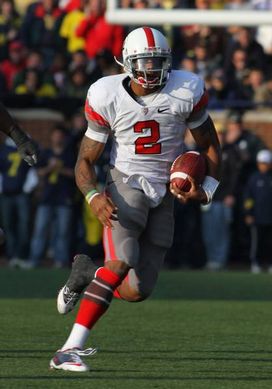 ICONDoes Pryor have what it takes to win at the college level? Absolutely. At the NFL level? I don't think so.
After breaking down Terrelle Pryor's game from Saturday vs. Miami, there is no doubt in my mind this guy is a good enough athlete/quarterback to lead the Buckeyes to a national championship. His combination of size and speed in the open field makes him really difficult to stop on third down and he has the kind of arm and touch to create big plays down the field once he breaks contain.
However, when evaluating the guy as a potential NFL prospect, I still see him as nothing more than a gifted, developmental type quarterback. He actually reminds me a lot of Vikings backup quarterback Joe Webb — just a bigger, stronger version. Pryor can be dynamic with the football in his hands in the open field and will still be a load to bring down even at the next level. But, watching the guy try to decipher fast-flowing information from the pocket and make proper decisions is still a major work in progress. I still don't think he has much of a feel for reading coverage, which was obvious when he tried to force the football into his initial receiver on an underneath hitch vs. press coverage early in the first quarter or the countless bucket throws he tried to toss into the teeth of the Miami secondary.
Now, he is improved as a "thrower" when given time in the pocket, meaning he can put the ball where it needs to be if he knows where to go. However, the guy really gets sloppy with his footwork when trying to find any type of secondary options and his throwing motion consistently tightens up as he looks to guide the football, causing his accuracy to suffer. And overall, he simply throws the football into coverage way too often. There were countless very poor decisions he made with time in the pocket Saturday that went unpunished vs. a college defense, but it's something he won't be able to get away with in the NFL.
Again, he's good enough to get away with his faults at the college level and could end up winning a Heisman Trophy and a national championship at some point over the next two seasons. But, as a productive starting quarterback in the NFL, I just can't see it.
My takes…
It's the other Boise State wideout who deserves some love
It's obvious when watching Boise State wideout Titus Young that opposing college corners are terrified of the guy's deep speed. Young does a great job exploding off the snap low, eating up the cushion and getting on top of cornerbacks quickly. And he not only has the second gear to go straight roadrunner on defenders down the field, but he's also very sharp and sudden out of his breaks. He does a nice job keeping his feet under him as a route runner and consistently is able to generate good separation on all levels of the field. Plus, the guy looks really shifty when asked to beat press and in my opinion is the much better prospect compared to the more heralded Austin Pettis.
Speaking of speed
I am becoming more and more impressed with the overall game of Florida's do-it-all threat Jeff Demps. We all knew the guy can absolutely fly in the open field and possesses the body control to side step defenders at full speed and instantly accelerate toward space. But what really stood out to me this week about his performance was his overall feel and vision running from a traditional I-formation set inside. He did a great job feeling his way through traffic, sidestepping defenders and then using his burst to get into the open field. Now, obviously I'm not saying I want this guy as my workhorse back in the NFL. But it's just another way to get the football into the hands of this potential dynamic game breaker at the next level.
He's more than meets the eye
At 6-4 and 241 pounds, Wisconsin tight end Lance Kendricks possesses a nice blend of size, speed and athleticism down the field in the pass game. He does a great job getting down the seam, adjusting to the football and using his big frame to gain a step and come up with the tough catch. However, what's even more impressive about his game is his ability to kick-out defenders and win in the run game as a move player. Kendricks offers an intriguing combination of body control, flexibility and power and does a great job going into motion, taking good angles toward his target and absolutely eliminating his man at the point. Now, he does do a solid job as an in-line blocker as well, but as a potential move H-back type option, Kendricks can win for you not only in the pass game, but as a run blocker as well.
Lacking the range
I had a chance to take a good look at Georgia left tackle Clint Boling on Saturday and thought he did a much better job sitting into his stance off the edge compared to last season, which allowed him to be more physical initially into contact. Boling is a good phone-booth player who does exhibit good redirect skills, works his hands well and can mirror through contact in tighter quarters. However, when asked to simply reach the edge vs. the speed rush in obvious pass rushing situations, he simply didn't exhibit the kind of range to consistently handle South Carolina DE Cliff Matthews, who although can be a good pass rusher, doesn't have the type of elite get off burst Boling will see in the NFL. Therefore, although I still like Boling as a potential starting caliber prospect if given some time, I think he's still best suited to kick inside and man a guard spot in the NFL.
Snippets…
• South Carolina left tackle Jarriel King also struggled reaching speed off the edge this weekend. Now, he was seeing his first real playing time of the season, but he looked heavy-footed trying to stay on blocks and too easily allowed his man turn the corner. Again, another guard-only prospect at the next level.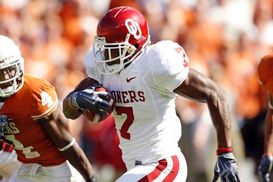 ICONMurray is the kind of athlete who can line-up all over an NFL offense.
• I have been critical of Oklahoma running back DeMarco Murray and his inability to be an every down type back in the NFL. However, that doesn't mean he still can't be a dynamic threat for an offense. Watching him Saturday line up in the slot, run a vertical down the seam and come up with a tough over-the-shoulder catch really opened my eyes. The NFL is all about mismatches, and Murray is simply going to be a match-up nightmare for opposing defenses because of his ability to make plays out of the backfield and line up at any number of spots on offense.
• Coming into the year I wasn't sure if Miami wideout Leonard Hankerson possessed the short-area quickness to consistently separate out of his breaks at the next level and routinely beat press coverage. However, after watching him cleanly/consistently slip bump coverage on Saturday, use his big frame and body control to gain a step and then extend his massive wingspan to go up and make a play, he has changed my point of view. Again, as I said this summer, he& rsquo;s not quite sudden or explosive enough as a route runner to ever generate a ton of separation on sharply breaking routes at the next level. But he can be physical/smooth off the line, is a powerful strider down the field and could mature into a solid number two-type threat with some time.
• I wasn't nearly as impressed with Miami left tackle Orlando Franklin though. Franklin made the move from guard this year and simply doesn't have the type of range or awareness to consistently get off the snap on time and reach speed to the corner. He was routinely beat off the snap by Ohio State DE Cameron Heyward — who isn't going to threaten the corner vs. anyone in the NFL — and doesn't play with the type of bend or leverage to hold up inside at guard. I think the only place the guy can play in the NFL is at right tackle, and even then I am starting to think he's more of a swing/reserve type option.
• However, one guy who is close to being ready to play at the next level is Ohio State OG Justin Boren. Boren isn't the most impressive of athletes, but he can sit into his thick stance, generate a good pop off the ball and does a great job gaining leverage and using his hands to get under blocks. He's an impressive short-area blocker and looks like a guy who can quickly work his way into an NFL starting lineup in a power scheme.
NFL draft/college football questions? Get them answered at Wes.Bunting@nationalfootballpost.com
Follow me on Twitter: @WesBunting