October 04, 2010 -
National Football Post
Scout's notebook: offense
A scout's take on the good, the bad and the ugly from the fifth week of the college football season concerning some of the nation's top prospects.
My takes…
He can carry the load
A guy who has really caught my attention in recent weeks and had a very solid outing vs. a strong Ohio State run defense was Illinois running back Mikel Leshoure. Leshoure is a 6-0, 230-pounder who exhibits really impressive footwork picking his way through traffic for a guy his size. His ability to cleanly change directions on a dime, keep his pad level down and accelerate through arm tackles really stood out Saturday afternoon. The OSU defense was consistently able to win the numbers game up front in order to try to slow Leshoure down. However, he finished the game with 19 carries for 80 yards and did a nice job just wearing down the Buckeyes up front before finally gashing some larger runs in the second half. Now, he isn't a real gifted straight-line guy and isn't going to run away from too many defenders at the second level, but he displays a good initial burst out of his breaks, is a more dynamic/shifty athlete than his frame would suggest and possesses the type of package that makes me think this guy could be a potential bell cow type back in the NFL.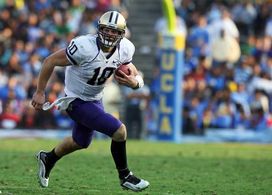 ICONLocker is at his best when asked to use his legs and play outside the pocket.
A little love where it's due, with some tempered expectations
I know I have been one of Jake Locker's biggest critics over the start of the season, but I do have to show him a little love for his final drive, a come from behind win vs. USC. He completed a big fourth-and-10 play (as awkward looking as it was) and bounced back on the road in a hostile environment. However, everything wasn't peachy keen on Locker's part as the one thing you notice when watching him play is that the guy is so much more effective and dynamic as a quarterback when asked to create with his legs and/or play outside the pocket.
When he isn't forced to be a pocket passer, he seems to decipher info quicker and simply makes better decisions with the football. But, on the other hand, the more I watch him try to throw from the pocket, the less impressed I am with his game. Even simple throws at the second level are becoming a struggle, as I saw him miss a number of easy completions Saturday night, including an easy slant where the corner is in cover two playing with outside leverage and Locker just wasn't accurate with the football, missing wide. Again, there is no denying how talented the guy is, but with question marks about his accuracy, intangibles and ability to be effective from the pocket, there's just too many factors for me to grade this guy out as anything more than a potential starter who needs significant time to develop.
Speaking of developing
It was a really poor performance Thursday night from Texas A&M quarterback Jerrod Johnson, who has now thrown eight interceptions over his last two games, and I don't think this guy is an NFL caliber starter by any stretch for a couple reasons…
1. His mechanics are still really poor. He holds the football too low in the pocket, gets really jittery with his footwork waiting for receivers to uncover and his long, lethargic release keeps him from getting the ball out of his hands quickly, which is the main reasons why he threw his first interception Thursday night.
2. He struggles to consistently diagnose coverages and doesn't take proper care of the football, and his accuracy gets spotty because of his footwork.
3. He didn't seem as gifted as an athlete or thrower than I remember seeing from him last year vs. Texas. Now, the guy is still a good enough athlete to create with his legs. But, I not only thought he was a bit faster and more explosive, but I also thought his arm was a bit stronger. Now, he did complete some NFL caliber throws in this week's game vs. Oklahoma State — including a deep out with tight man coverage. But he doesn't spin a real clean football, passes tend to hang on him down the field and he seems like a candidate for a lot of interceptions/pass break-ups because of his longer release and lack of elite arm strength.
Overall, I don't think he's much more than a late round/developmental type quarterback prospect who has the tools to get into an NFL camp, but he is going to need a lot of work if he ever hopes to see the field.
The next in line at Clemson
He's only a redshirt sophomore, but Clemson RB Andre Ellington is simply a big play waiting to happen every time he touches the football. He was able to absolutely gash the Miami defense at times this weekend, exhibiting a dynamic blend of speed, explosion and balance when asked to cut back against the grain and create in the open field. Now, at 5-10, 190 pounds, he isn't real physical inside and does go down pretty easily on contact. And what was even more concerning to me at this stage is that he seems to lack a great feel in the pass game, failing at times to get his head around and locate the football once he was able to separate. However, the skill set is there for this guy to definitely be a sub-package type threat for an NFL offense.
He doesn't offer much
I know in a lot of scouting circles Ole Miss wideout Markeith Summers was considered a potential draftbale prospect. However, I didn't see it then and definitely don't see it now. At 6-3, 205 pounds, he does possess a nice frame and exhibits the ability to locate the football quickly on all levels of the field. But, he isn't a real gifted athlete, lacks a burst or second gear to his game, doesn't generate much separation on any level of the field and despite his size isn't a real threat in jump ball situations. Summers also doesn't possess great hands and lacks the confidences to consistently extend his arms and pluck the football at the highest point, looking more content to simply go up and try to trap the ball against his chest. Overall, he's a nice-sized guy with a little production, but isn't anything more than a free agent in my book.
Offensive tackle snippets…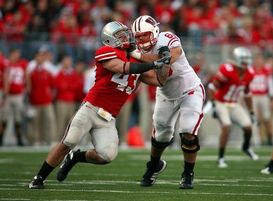 ICONCarimi may lack ideal athleticism in pass protection, but boy can he get after it in the run game.
If you are looking for a physical run blocker to man the right side of the line of scrimmage, Wisconsin OT Gabe Carimi is your guy. Carimi consistently dominated at the point of attack this weekend and just manhandled anyone put in front of him in the run game. And although I think he's doing a better job taking tighter steps on his kick-slide, he still is a bit stiff when asked to redirect, lacks great range and just seems like a much better fit playing on the right side at the next level.
Speaking of potential right tackles, Clemson's Chris Hairston is another big 6-7, 325-pound kid who does a nice job not only creating a surge at the point of attack as an in-line guy, but he also looks pretty nifty in tight quarters chipping on defenders and reaching a secondary target off his frame. However, he isn't nearly as rangy or athletic when asked to reach the edge in pass protectio n as he struggles to move his feet through contact and looks a bit heavy footed in space. I definitely think there is a place for this guy in the NFL because of his power/size as a potential right tackle, but he's going to need to improve his ability to hold up in pass pro if he ever wants to have a chance of seeing the field.
As for potential left tackles, Boston College's Anthony Castonzo possesses above-average range off the edge, does a nice job maintaining balance when asked to change directions and redirects well inside while extending his long arms/hands into blocks. However, he's just not a real physical kid at this stage. And although he can bend and sit into his stance, he is susceptible to the bull rush, doesn't show much pop on his punch and can get knocked off balance at times vs. more powerful defensive ends. Now, he's an experienced kid who needs to get stronger, and I think he will end up manning a starting left tackle spot in the NFL. But, he isn't the kind of blue-chip prospect people were making him out to be earlier in the year.
Finally, one junior left tackle prospect who I really think could end up being a really good player is Northwestern's Al Netter. Now, I don't think Netter will give any thought to the idea of coming out in 2011. But, he's a big kid who plays long, displays natural bend in his stance, displays decent range off the edge and can redirect quickly off a counter. Now, he will get a bit wild with his arms vs. speed and at times needs to open up his hips in order to push pass rushers past the QB. But for the most part he has shown the ability to handle the top defensive ends in the Big Ten and I think with one more year of maturing he should be one of the top senior tackles come 2012.
NFL draft/college football questions? Get them answered at Wes.Bunting@nationalfootballpost.com
Follow me on Twitter: @WesBunting
Click here to win cash today playing fantasy football with the NFP and FanDuel.