September 06, 2010 -
National Football Post
Scout's notebook: Offense
A scout's take on the good, the bad and the ugly from the first week of the college football season, with thoughts about some of the nation's top offensive prospects.
My takes…
Well-done JUCO
I came into the Pitt/Utah game interested to see the improvements — or lack thereof — of Pitt DE Greg Romeus. However, I came away impressed with the play of Utah and former JUCO offensive tackle John Cullen. Cullen is a long, good-looking kid at 6-6, 285 pounds and displayed impressive initial quickness off the snap, good range toward the corner and clean redirection skills when asked to mirror in space. He's also a natural bender who can sit into his stance and keeps his hands up ready to strike through his kick-slide. Now, there is some wasted motion on his punch, as he does have a bit of a wind up, which will allow longer-armed defensive ends, like Romeus, to get into his body and occasionally overwhelm on contact. But, overall, Cullen consistently was able to handle Romeus off the edge and looks like a guy poised for a big rise up draft boards over the next couple of seasons.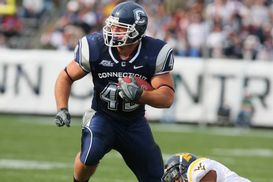 ICONSherman looks like a potential starting full back at the next level.
Leading the way
Keep a close eye on the fullback class in this year's upcoming draft as there are a slew of nasty lead blockers and gifted/versatile athletes who could all end up winning starting gigs at some point at the next level. However, one guy who really showed well for himself this weekend was Connecticut's Anthony Sherman. Sherman displayed good power on contact and has the ability to quickly locate his target, gain leverage at the point and create a push as a lead guy. But, what was even more impressive to me vs. Michigan this week was his ability to get out in space, reach defenders off his frame and seal with such poise and body control. Now, fullbacks never get a ton of love on draft day, but he is a guy worthy of a later-round pick if you need a new lead blocker.
Kick him inside
I touched on TCU offensive tackle Marcus Cannon slightly in my Weekend Primer, sharing how talented of an athlete he was for his size. But it was key to watch the 6-5, 358-pounder this weekend to see if he had the kind of range to reach legit speed off the edge. And the answer: no. Cannon routinely struggled to quickly get to the corner in pass protection, wasn't real compact with his footwork and consistently was doubled over at the waist when asked to anchor. Now, he is extremely powerful in the run game as he has the ability to coil up much better into his stance, fire off the football low and simply engulf and rag doll defenders lined up in front of him. However, he's still pretty raw with his hand placement into contact, but can simply dominate at this level because of his impressive physical power and body control at the point. Therefore, Cannon strikes me more as a guard-only prospect in the NFL who will need some additional time to develop. But he's a physically gifted kid with a strong upper and lower body and has the upside to definitely start inside; you just need to be patient with him.
Not the same rave reviews
When watching USC center Kristofer O'Dowd you just want more from the guy in all areas of the game. You can tell he's a pretty good athlete by the way he quickly gets out of his stance and can seal in the run game. However, the biggest knock I saw from him on Thursday night was his inability to keep his base down and play with leverage in both the run and pass game. Too often he allowed defenders to get under his frame in pass protection, gain a step, and he didn't exhibit the type of lateral agility to slide his feet and mirror through contact. Then, in the run game, he does quickly snap and step, but he gets too high into blocks and tries of overcompensate by getting his hands under the pad level of defenders. But too often they are too low, which takes away from his power through the play. Now, he can get his feet around and seal inside and does like to finish blocks. However, I just don't see the guy ever becoming a starting-caliber center at the next level based off his play, and that's not even including all the health concerns that are attached to his name.
Snippets…
• Liked what Western Michigan wideout Juan Nunez was able to do on Saturday vs. Michigan State. He's a long, lean athlete who showcases good body control and savvy off the line and was consistently able to quickly/cleanly slip press coverage. Plus, he showed a lot of toughness working the middle to the field and ran pretty well vertically, consistently getting behind opposing defensive backs.
• I know it's only one game, but it seems like Florida center Mike Pouncey might be better situated to play guard at the next level. He struggled tremendously with his snap accuracy from the gun this weekend and doesn't seem to have quite the same amount of versatility inside as his brother Maurkice.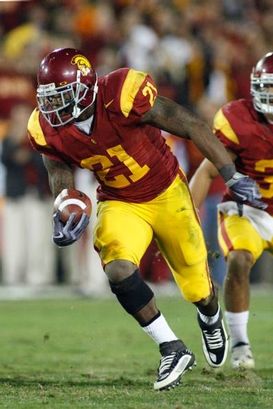 ICONPhysically, Bradford can do it all. It's his feel inside that we worry about.
• Watching USC RB Allen Bradford Thursday night it's pretty clear this guy has the physical skill set of a starting-caliber NFL runner. However, the biggest downfall to his game and the reason he is the number two running back on the depth chart for the Trojans is because of his lack of instincts inside. He showcases really sharp and sudden footwork for his size, but is slow to decipher information, slows his feet too often trying to read blocks and doesn't consistently trust what he sees. Because of this, I don't think he will ever be much more than a physical number two guy at the next level.
• Pittsburgh left tackle Jason Pinkston reaffirmed my belief that the guy is more of a guard-only prospect at the next level for two reasons.
1. The way the guy coils up into his stance and fires off the football with power, leverage and explosion makes me think he can be a really impressive in-line run guy and handle interior defensive linemen off the snap.
2. He just isn't overly rangy on the edge in pass protection and struggles when asked to mirror in space vs. gifted athletes. He's a really good athlete for the guard position, but not good enough to successfully play on the blind side in the NFL.
• Keep a close eye on Penn State senior wideout Brett Brackett this season. The 6-6, 246-pound receiver had all of 17 catches coming into the season. However, he collected 8 grabs for 98 yards and two touchdowns on Saturday and is one of those guys who you can throw the ball up to even when he's not open. Now, he is a WR/TE tweener who doesn't run real well vertically, but the one thing the guy can do is block on all areas of the field. Brackett can be downright devastating when asked to crack back down inside and has the toughness to end up playing with his hand on the ground. A nice developmental guy to monitor during the year.
• Finally, TCU QB Andy Dalton physically did look more impressive throwing the football Saturday evening. He possesses a nice combination of arm strength and athleticism and exhibits a good mental clock in the pocket. Now, he needs to take better care of the football and do a better job keeping his eyes up when trying to buy time in the pocket, but physically the guy certainly has a chance to fight for some playing time down the line with some more development. Reminds me a bit of Packers backup quarterback Matt Flynn.
NFL draft/college football questions? Get them answered at Wes.Bunting@nationalfootballpost.com
Follow me on Twitter: @WesBunting
Click here to purchase the Total Access Pass/ Fantasy Draft Guide from the NFP and receive a free Deuce Brand watch while supplies last.