November 15, 2010 -
National Football Post
Scout's notebook: offense
A scout's take on the good, the bad and the ugly from the eleventh week of the college football season concerning some of the nation's top prospects.
Not as effective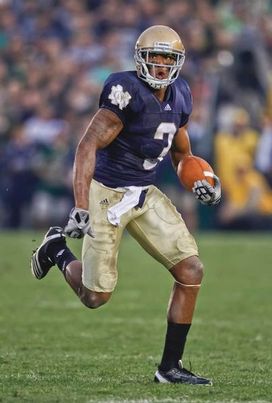 ICONFloyd needs to think long and hard about cutting down on some of his additional girth gained this off-season.
Notre Dame wideout Michael Floyd finished this week's game against Utah and CB Brandon Burton with four catches for 39 yards and one touchdown. And although he still showcases strong hands and the ability to use his big frame to box out a DB and go get the football, overall his game hasn't been nearly as impressive this season as last. He is now up to 227 pounds, which is a long way away from the 200-pound mark he came in at as a freshman — and it shows. Floyd is not generating nearly the same type of separation for himself out of his breaks, especially in the three-step game, as he did last season, isn't as shifty off the line vs. press coverage and looks more like a bulked-up possession type guy than a game-breaking No. 1 type that he seemed to be last year. Burton was routinely able to get into his frame, re-route him off the football and made it tough for him to separate on all levels of the field. Even on Floyd's touchdown catch he was jacked off the line and it took a special effort from him to adjust and make a tough snag out of his break. Now, don't get me wrong, I loved Floyd coming into the season — even thinking he might be the best WR prospect in the nation — but this additional weight has made him a tighter, less effective player which will cause him to fall some on draft day.
Receiver on the rise
Despite it being an up and down year for the Tennessee football program, wideout Denarius Moore has really shined at times with his increased role in the offense. The 6-1, 194-pound receiver has been an impressive vertical threat all season long, showcasing an initial burst off the football, good suddenness in order to set up a route and accelerates very quickly down the field. He isn't a real polished route runner at this stage and has a tendency to start to drift into his routes prematurely at times, giving himself away. However, he possesses good body control, leaping ability and hand strength to go up and snatch the football at its highest point and consistently is able to get behind defenders down the field. Plus, he has the strength, shiftiness and feel to routinely get off press coverage quickly and is a guy who can cleanly slip contact and leave defenders in his tracks. He still needs some more time to mature as an overall NFL type route runner, but he does offer some big-play ability and has enough talent to warrant a draft pick and make an NFL roster as a sub package guy early in his NFL career.
Major question marks on this major talent
Coming into the season I thought that if Southern Miss WR DeAndre Brown was fully recovered from a leg injury that took away significantly from his effectiveness in 2009 and was able to get his head on straight he could end up being one of the top WR prospects in the 2011 NFL draft. However, after missing the past six games with a lower leg strain, he was back this weekend playing at what looked to be about 70 percent, finishing the game with 3 catches for 66 yards and a touchdown.
The guy is a talent — there is no doubt about that. He's massive at 6-6, 240 pounds, is a powerful route runner who has the balance and body control to accelerate out of his breaks, go get the football and create after the catch. However, character is a major issue with the guy. Not only does he have a laundry list of medical concerns that need to be checked out. But, the guy is an immature kid. And if you have an immature prospect you know he's going to struggle to play through pain and adversity. Therefore, when you add up the facts that Brown has a long list of medical concerns and struggles to play through pain, it's going to be tough to justify taking this kid with any kind of high pick despite how physically talented he is. My advice to him is to stay in school, get healthy and dominate the competition in 2011, because if he comes out this year, the best-case scenario I see for him at this stage is starting in the mid rounds, where we saw a talent Mike Williams go last season.
He's going to be moving on up
I got to take my first look at Central Florida right tackle Jah Reid this weekend and I will admit that I still need to go back and watch some real tape on him. However, my initial TV impressions of the kid were very good. He's a big, 6-7, 325-pound tackle who carries his weight well, looks really long armed and displays natural bend in his lower half. He displayed good initial balance and body control in pass protection, kept his arms up and showcased good pop and balance when asked to extend and punch. He was also very powerful in the run game, gaining leverage on contact, displaying good hand placement and liked to pump his legs and finish blocks. Now, he does lack great range off the edge vs. speed and at times is forced to open up the gate and lunge into defenders, pushing them past the play. Plus, he isn't a real velcro player once he gets a hold of a defender despite his size. However, Reid gets off the snap count on time, seems to really understand angles and looks like one of the better right tackle prospects I have seen so far this draft season.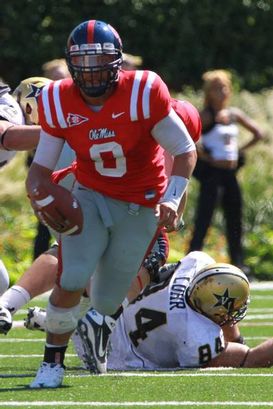 ICONMasoli has struggled to find any kind of a rhythm as a passer all season.
CFL here we come
Watching Ole Miss QB Jeremiah Masoli this season hasn't been real easy on anyone's eyes. At 5-11, 220 pounds, he's a scrapper. He's a tough kid who runs with a passion, has some wiggle to his game and possesses a strong enough arm despite his size capable of making just about any throw. However, he really is slow to decipher information in the pass game, isn't real patient in the pocket and consistently drops his eye level, limiting his ability to go through any type of progression. And when he does look to throw on the move, the game really seems to speed up for him as he rarely looks to be in control of the game. Plus, his footwork and lower body mechanics as a passer are very inconsistent, which causes his accuracy to be very spotty, and at this stage his game looks better suited for the Canadian Football League where he has more time and room to decipher info than in the NFL.
Prospect quick hitters…
• If you want a sound, smart, savvy pass-catching tight end who can also win for you at the point as an "on the line Y," look no further than Tennessee's Luke Stocker. He's a big, strong kid who plays tough as an in-line guy while also displaying the feel in the pass game to sell his routes on the double move and get down the field. He works well in tight areas, as well, leaning into defenders underneath before accelerating away from them and plucking the football in traffic. He's never going to "wow" anyone with his straight-line speed, but the guy can separate over the middle in tighter areas and looks like a very solid dual threat at the next level.
• I've been impressed with the play of Iowa QB Ricky Stanzi all season long, but I just can't tell anyone I think the guy is going to be a starter at the next level, and watching him run the Iowa two-minute drill Saturday was just another reason why. He doesn't have the type of arm to fit the ball into tighter spots, he seems a bit slow to react and decipher info when forced to throw through the teeth of a defense and he gets high and inconsistent with his footwork at times when asked to not play within himself. And despite the fact he made a big throw to keep the drive alive, there were simply too many inconsistent/poor decisions littered throughout to make me feel confident in saying, "I want this guy to start for me in the NFL." Looks more of a solid reserve to me.
• We know Georgia FB Shaun Chapas is a tough, high-character kid who can get after you as a lead blocker and likely will be able to fight his way onto an NFL roster because of that. However, watching him this week he did two things that will definitely help his draft stock further because it shows he's more than just a one-trick pony.
1. He looked natural catching the football out of the backfield in the pass game, getting down the seam on one occasion and with ease/confidence plucking the ball away from his frame.
2. He showed well in the pass game picking up the blitz, stonewalling defenders and moving his feet well through contact in order to keep his side of the pocket clean.
He's still going to make his money in the NFL as a lead guy, but being able to catch the football and block in the pass game gives this guy the opportunity to play on third down as well, which will only further add to his stock in what is a very good fullback class.
NFL draft/college football questions? Get them answered at Wes.Bunting@nationalfootballpost.com
Follow me on Twitter: @WesBunting